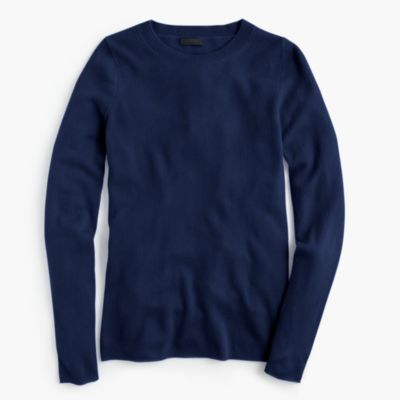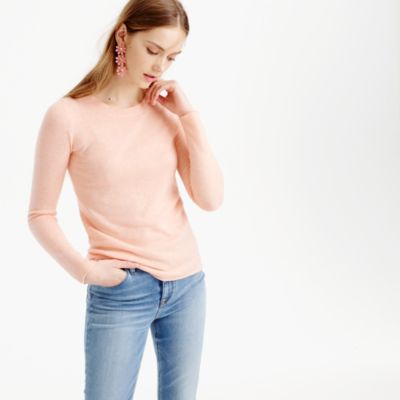 Product Details
We worked with one of the best Italian mills to create this easy cashmere T-shirt. Famously soft, our cashmere comes in completely custom colors that take us months to develop and perfect. This long-sleeve T-shirt is just like your favorite, but way more luxe.
Italian cashmere in a 12-gauge knit.
Rib trim at neck, rolled edge at cuffs and hem.
Hand wash.
We recommend folding (never hanging) and storing in tissue paper.
Import.
Select stores.
Our colors really pop, but you can't tell just how vibrant some of them are until you see them in person.
Italian cashmere long-sleeve T-shirt
Rated

3

out of

5

 by

100

reviewers.
Rated

3

out of

5
 by
mrsmay
"New" Collection Cashmere Tee
This item has been my fave for years, I own many, many colors... and this year's sweater is not made to the specifications of prior years. First off, the accompanying text on the webpage says "Tubular trim at neck, rolled edge at cuffs and hem." This is not true, they no longer make the sweater with that quality neckline. They have replaced it with a cheaper version of "3/4" ribbing, too ratty and stretchy for a polished look. I've also compared overall length to others in my closet; this sweater has been progressively skimping on yarn by getting a bit shorter every year. I'm a 36 bust but still order the xsmall for a sculpted fit, but if this sweater gets any shorter it'll have to be called "crop", yuk.
October 2, 2015
Rated

1

out of

5
 by
MiraT
Cashmere long sleeve t
I am a long time shopper of J Crew and J Crew cashmere. I purchased 4 of these sweaters. They all went back. They do not feel at all like Cashmere and in fact do not even feel as soft as good Merino wool. For the first time ever I checked the actual sweater labels to ensure that I wasn't sent the wrong product. The only way as a consumer I know I'm getting a cashmere sweater is the feel of it. This is not cashmere and if it is, it is not cashmere that should be selling at J Crew. Very disappointing. On a separate note the cashmere hoodie definitely feels like cashmere.
October 14, 2015
Rated

1

out of

5
 by
MrsOTU
Stop changing details on favorite "basics!"
I understand each season you need to bring in a certain amount of new trends to keep things fresh & current, but please stop changing design details of tried and true "basics" that loyal customers like to replenish every year! These wardrobe staples are loved for a reason---why would you change them? Case in point--the cashmere tee. Why would you change the collar? That's what made it a 'tee.' That nice "ringer" style double layer collar that kept it's shape and gave it that real t-shirt look. Now it's that ho-hum ribbed collar that looks cheap and changes an old favorite completely. Looks nothing like a tee anymore! Not to mention the shorter length! It's great to bring in some trends for fun, and we will wear those too---but we ladies still need our favorite basics (untouched) that we can rely on year after year. Please stop changing the quality, design and the length!
October 30, 2015
Rated

2

out of

5
 by
PrettyGirl
What happened?
I ordered the color vintage elm, sort of a fatigue or army green, good for Fall. When I removed the sweater from its packaging it had a very strong chemical odor to it. The fabric was softer than the last couple year's sweaters but the neckline was horrible. It is not the double layered hemmed neckline like a tee shirt. The neckline is a flat weave that is much thinner and does not suit this sweater. Reading past reviews, no one complained about the style. Complaints were about the quality of the cashmere; being scratchy and pilling easily. Bring back the usual style that has been a staple in everyone's closet. Rolled edges at the hem and cuffs, hemmed neckline, and longer length...leave alone! Get the good cashmere! I returned this sweater, no more l/s tees for me until the old style comes back and the cashmere gets better.
October 22, 2015
Rated

1

out of

5
 by
JWIce
Scratchy wool
I ordered this in light blue and promptly returned it. This is NOT cashmere. I have loads of super soft cashmere in my closet and this sweater is definitely scratchy low quality wool. Stop deceiving your customers JCrew. I will pay more for quality items. Raise the price and up the quality.
September 29, 2015