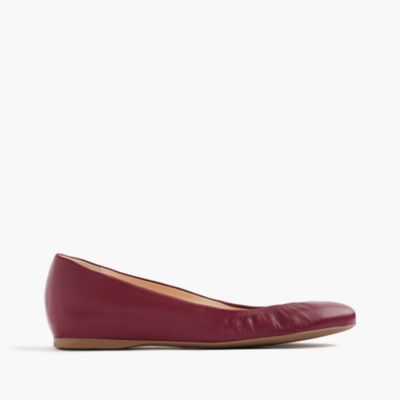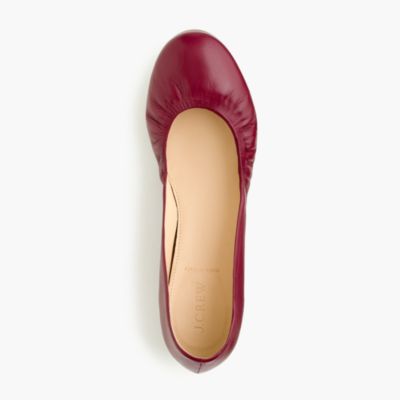 Product Details
One of our most popular ballet flats, now made entirely in Italy, just outside of Florence. Each pair features a cushiony interior, durable rubber soles and elastic around the outside for the most comfort.
Leather upper.
Rubber sole.
Made in Italy.
Cece Italian-made ballet flats in leather
Rated

4

out of

5

 by

47

reviewers.
Rated

5

out of

5
 by
Tuscansun
Finalmente, Bravissimo, & Grazie J.Crew!!!
Thank you Jcrew for listening to us long time Cece wearers. I can finally start stocking up and wearing my favorite shoes once again now that they are being manufactured again in Italy. Quality is great, fit is true to size ( I tried on a metallic color and of course the comfort factor is wonderful. So pleased that you have a beautiful blue back in the line, it's been too long. Every time I wear my older Deep Riviera color or the Positano Blue, people compliment on the beautiful shades of blue. This color a looks a little similar online. Can't wait for mine to ship. Please introduce some other colors as I have viewed in the Kiki line. I will purchase a pair in every color if possible. As they say, "If the shoe fits wear it"!
February 17, 2016
Rated

4

out of

5
 by
Vintage
It's better than last Season
It's definitely better than last season. I have so many original ceces and in comparing them this season, it still falls a little short. First, it runs half a size larger. Second, the elastic band on the front is not as tight as it used to be. Third, it's not a true tawny color. I own one and the color is more nude. This season is a little bit darker than a neutral color. However, the shoe is still way better than last year which is "Made in Imported." Glad that JCrew listened to regular JCrew loyalist shoppers. Please continue to make good products. Quality is better than quantity. Keep your customers happy by investing in good quality products made in "Italy." We pay for good products not cheap products that will not last. Remember, bad products are reflected on the company's image. Thank you for listening to us "customers!"
March 11, 2016
Rated

5

out of

5
 by
Whitticism
She's back (for real this time)!
Welcome back, Italian Cece! If you purchased a pair of Cece ballet flats in the last year & were disappointed - this shoe is for you. She's the original, just as good as I fondly remembered. A huge thank you to J.Crew for doing it right this round!
February 25, 2016
Rated

1

out of

5
 by
Clara
Poor Quality
These would be fine if you only wore them indoors, I suppose. But within a few days of buying mine, the leather at the vertical seams of the very front and very back started peeling, and the shoes began showing dramatic signs of wear. The soles on the inside also became partially detached and began sort of folding and wrinkling up when I walked. I had expected much higher quality since such a fuss was made about moving their production back to Italy, but the materials are simply not durable. It has only been a month and they look like I've had them for a year. I don't know if I'll take a chance on J Crew shoes again; for the price, at least with this style, I'd be better off elsewhere.
April 21, 2016
Rated

1

out of

5
 by
SydneyFrequentFlyer
NEW CECE NOT THE SAME AS OLD
I use to buy Cece's every time they would release a new colour but stopped buying them when J.Crew stopped making them in Italy. I was SO excited when J.Crew brought back the Italian-made Cece I ordered the Black straight away. Unfortunately they are NOT THE SAME as the old Italian-made Cece. They are not as comfortable and the toe is a little shallow which means there is more TOE SHOW than normal and the top of the foot looks a little wider because of it - not pretty. Definitely not the same quality of old. Hopefully they do some alterations and we can fall back in love with the Ceces again!
March 20, 2016