In celebration of LGBTQ+ Pride Month this year, we're donating 50% of the proceeds the first and largest organization for of our Love First tees and hats to PFLAG, lesbian, gay, bisexual, transgender and queer people; their parents and families; and allies.* Inspired by their mission, we also gathered a few of our favorite people to ask them what it means to support and be supported in their community.

Nate Berkus &
Jeremiah BrentHUSBANDS, FATHERS, DESIGNERS, AUTHOR
(NATE), SPONTANEOUS CRIER (JEREMIAH)How do you show up for your LGBTQ+ friends, family and community—and how do they show up for you?"We feel privileged to honestly and openly share what our

"We have amazing family and friends who never look at us differently or treat us differently. That feels important as a queer person—it makes it easier to be your authentic self." lives and our family look like so other families can do the same. That visibility matters."
"
The meaning of Pride It was no longer just changed when we had kids. pride for ourselves and our community, but also creating a world where our children feel seen, heard and accepted.
"
Maurice Harris
FOUNDER OF LA FLORAL STUDIO BLOOM &
PLUME, HOST OF FULL BLOOM ON HBO MAX,
BEAUTY CREATOR, PROUD OWNER OF PRINCE
LEROY PLUME THE STANDARD POODLE
How have you felt supported in the past, and how have you
supported your own community?
"I'm a queer Black entrepreneur at a time when supporting my community is 'trending,' so what means the most to me is the consistent support we've been blessed with over the last few years. As a Black-owned business in a country where we've never been given fair opportunities, the struggle we go through to stay open is a form of community service. Truly."
Describe a moment that's made you feel proud
of your identity.
"When my mother finally said to me, 'I'm so proud of you as my Black gay son.' That happened when I was 37, and I'm about to turn 40. I live my life to make my parents proud and the fact that my mom has finally seen the full magic of who I am as a Black gay man means the world to me. It wasn't easy for either of us to get there."
Raquel Willis
ACTIVIST, WRITER, MEDIA STRATEGIST
What makes you feel the most supported?
"When folks actively listen to what I have to say about my identity and my experience, and when people who claim to be allies have made a consistent commitment to building a better world for LGBTQ+ folks—these things make me feel supported."
How do you think Pride has changed in recent years?
"There's been a collective awakening around truly honoring queer and trans history and our long fight for liberation on the margins. It's not just about throwing parties; it means constantly turning over every stone of oppression that we encounter, whether it's ours or someone else's."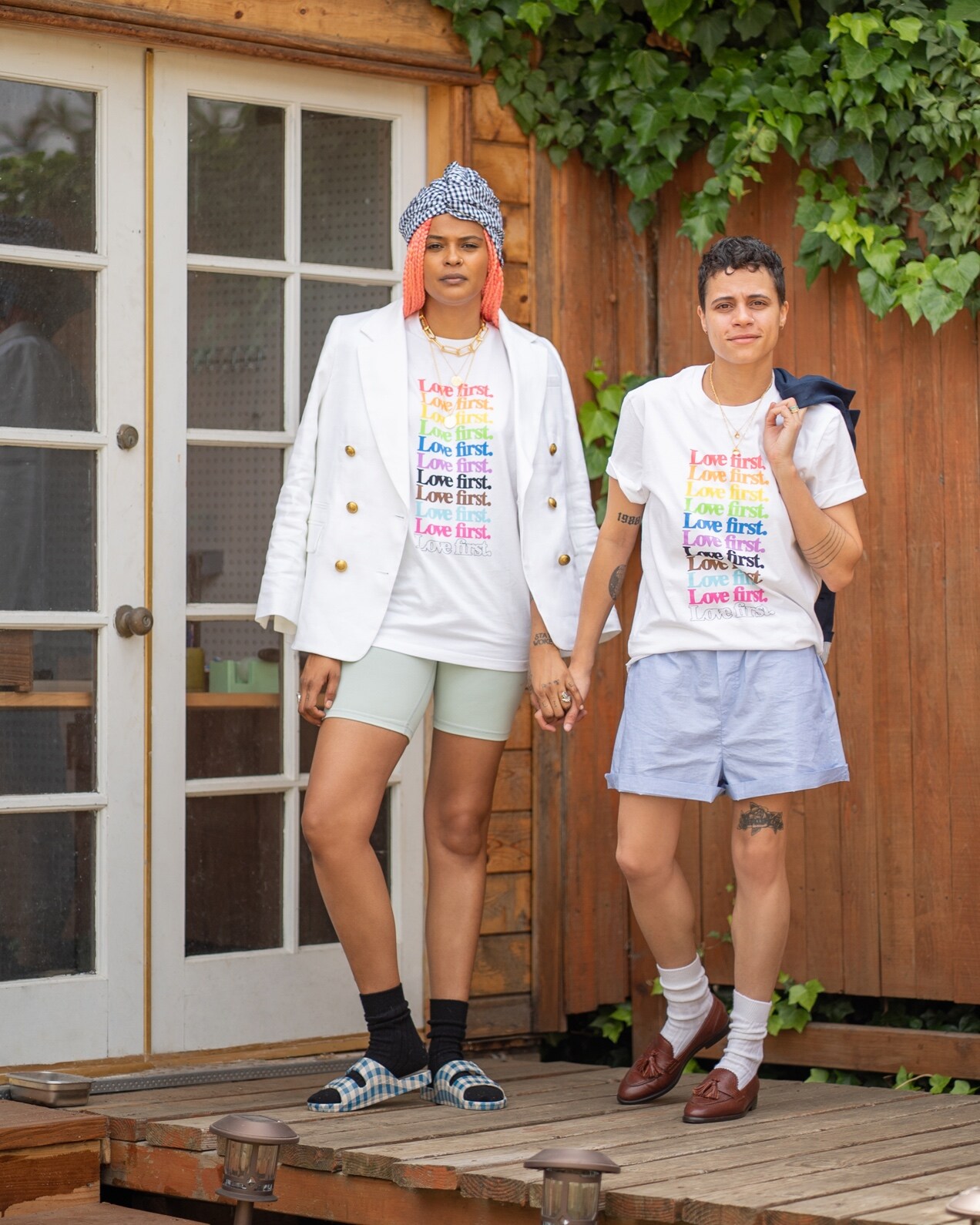 Crystal Anderson
& Kiesh
COFOUNDERS OF A VERY GOOD JOB (AN
EVENT PRODUCTION AND CONTENT HOUSE),
DOG PARENTS TO BLANCHE
Describe a moment that's made you feel
proud of your community.
"Last summer's March for Black Trans Lives in Brooklyn was a life-changing experience. Seeing thousands of people galvanized in love and support of trans lives was something I'll tell my children about. To finally have trans people centered and hear them speak their truths was history in front of our eyes."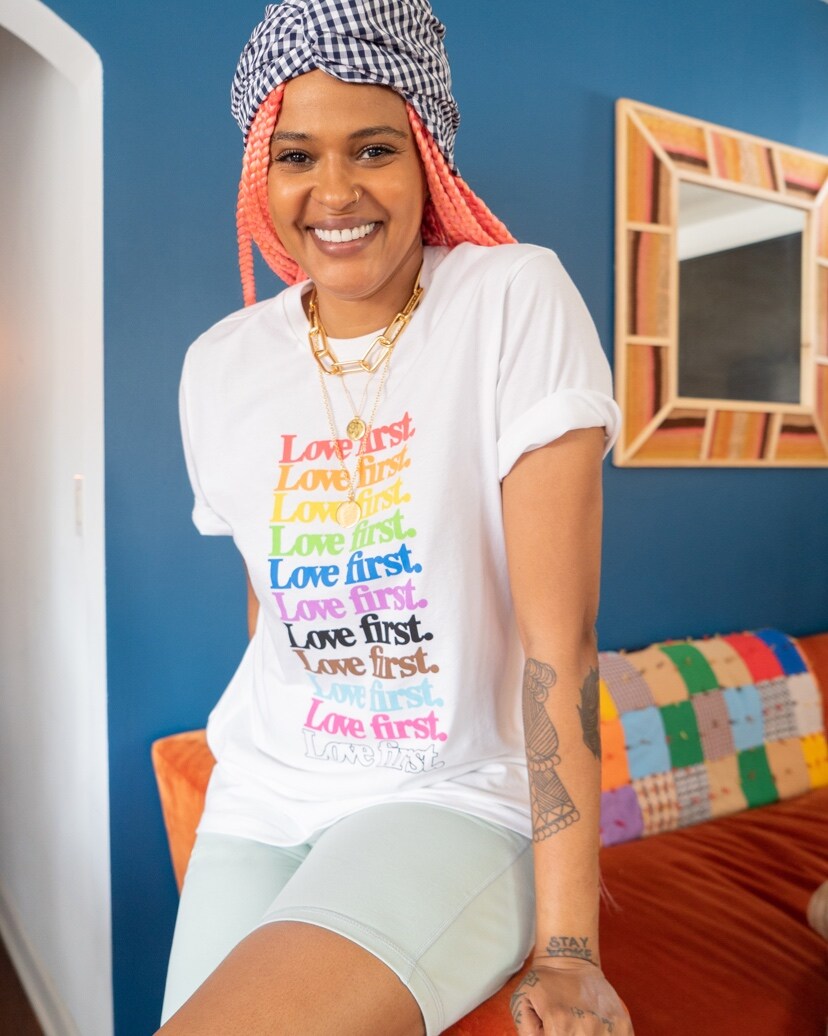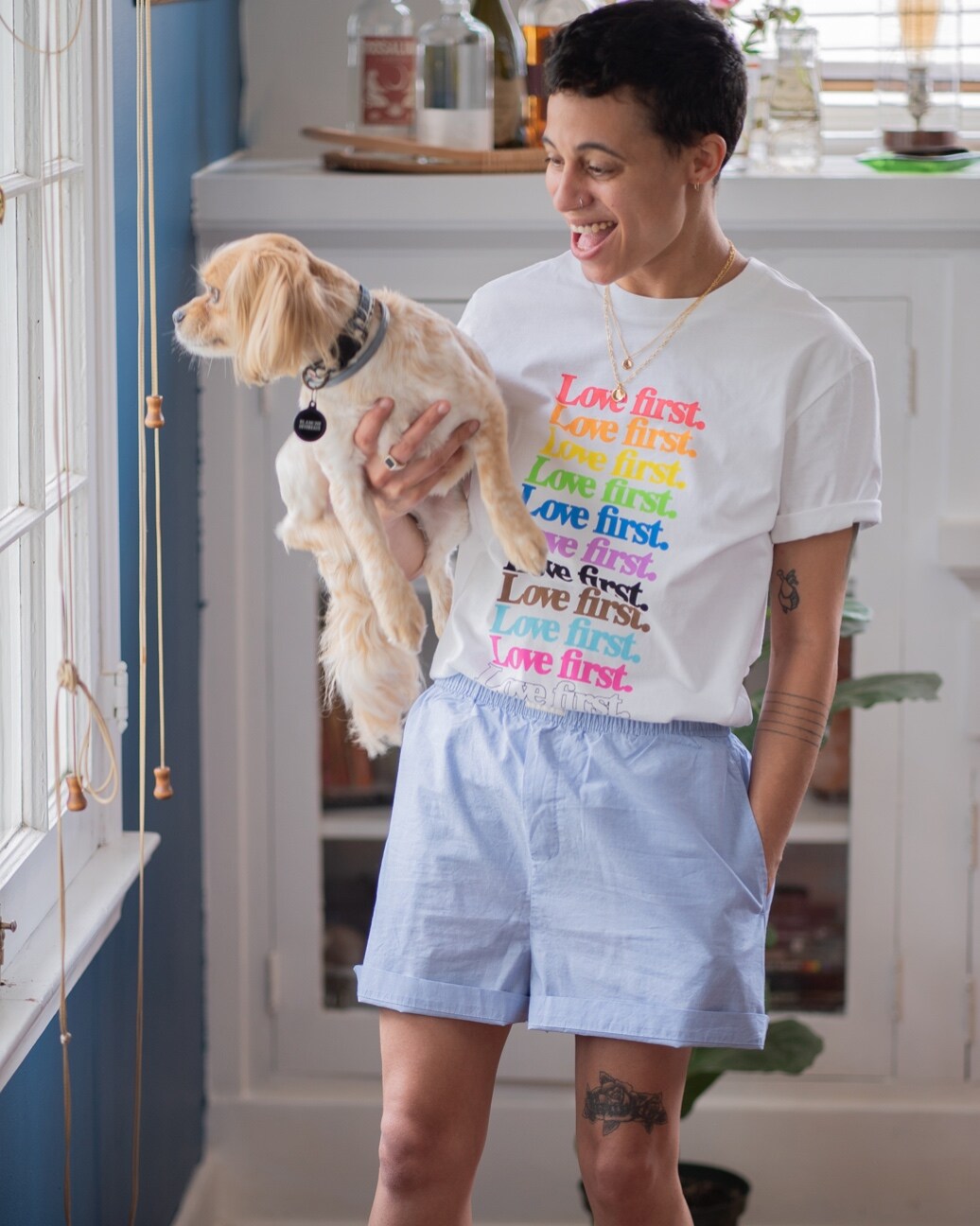 "
Queer folks celebrate
Pride every day. To live in
our queerness is
something to be
celebrated not just in June,
because to live as freely
as we do is in itself
a revolution.
"
DeVonn Francis
CHEF, ARTIST, FOUNDER OF NYC-BASED
HOSPITALITY COMPANY YARDY WORLD
How do you show up for your LGBTQ+ friends,
family and community?
"I co-organized a Queer API+ Solidarity Rally recently and raised over $30,000 of funds for Asian-led community partner organizations. There are so many groups working to protect Asian lives and they need our time, energy and funding!"
How are you celebrating Pride this year?
"I designed a zine full of recipes for the queer community and am donating a portion of the proceeds to a Black mental health fund. I only recently started to invest money and time into my own mental health in a serious way. It's really important to have resources to combat grief and shame, and reinforce a positive perspective on identity."
*J.Crew will donate 50% of the purchase price of each item sold from the Pride collection to PFLAG from May 17, 2021, to May 17, 2022.