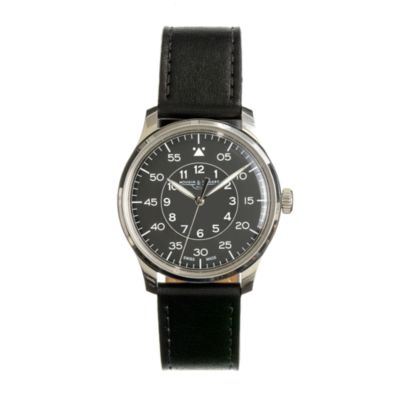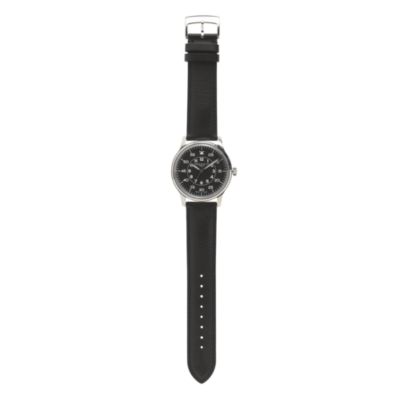 Product Details
Mougin & Piquard might be the greatest watchmaker you've never heard of. (Hint: It's pronounced mooj-awe and peek-are.) Started by the Mougin family in 1852—Piquard joined in the 1920s—the company later shut its doors, and its watches have been collectors' items ever since. Now, thanks to watch authority Tourneau®, this once-defunct brand is back just for us. Based on sketches from the archives and details from our designers' own collection of antique watches, this 1920s-inspired style boasts state-of-the-art functions. Each one is hand assembled in Switzerland using Swiss quartz movements (and you won't find them anywhere but here).
Stainless steel watch case.
Leather strap.
Swiss quartz movement.
Made in Switzerland.
Size & Fit Details
Diameter of watch case: 41mm.
Mougin & Piquard™ for J.Crew Grande Seconde watch in black
Rated

2.9

out of

5

 by

7

reviewers.
Rated

4

out of

5
 by
Nick
Looks great, but major issues with the band
I got this watch almost a year ago. In that time it has gotten some scratches from banging into things, but for the most part an eraser gets rid of those just fine. I've received many compliments and I think it looks and sounds. However, in less than a year, but the band has fallen apart. JCrew does not appear to sell replacement bands in store or online, which is in my opinion a pretty big issue.
August 27, 2014
Rated

2

out of

5
 by
Brent
Looks great but dial cover scratches easily
I was excited to buy this watch because I love the look. The band and case are high quality and pretty cool. But after having worn it about 10 times over a year for social engagements, I noticed the watch face (dial cover) was scratched. Wondering how a watch this expensive could scratch so easily, I looked into it further and found that the dial cover ("crystal") is made of a plastic - they call it plexiglass. Whatever it is, there is no way this should happen to a watch that cost this much. It's not fun to be wearing around a watch with a scratched face, so I have to say don't buy this.
September 26, 2014
Rated

3

out of

5
 by
neemers
Beautiful faces get ugly when scratched
the watch is great and I got compliments all the time. I tried to be very careful with the face but that didn't matter. It got scratched pretty bad. J Crew said it was a glass face BUT after speaking to Tourneau they said it was quite the opposite. This watch was created to give it a vintage feel and they chose this type of Crystal to go with the look. also, this kind of face was meant to be durable and buffed every now and again. For this price point one would expect higher quality from J Crew and Tourneau. Luckily Tourneau came to the rescue. For the price I say go with a better Tourneau model.
January 12, 2015
Rated

1

out of

5
 by
Erin
Stylish look, Poor Quality
I am writing this review after reading several other reviews that coincided with my experience with this timepiece. I received this item as a birthday present and it literally fell apart within months of receiving it. First the face was cracked and severely scratched from normal daily wear. After delving further into how this could have happened, I too, noticed that the face was made of plastic and not crystal. The band completely fell apart and I have not been able to find a replacement. Unfortunately, the watch has been sitting in my jewelry box for almost a year unused because I can not wear it without a band and looking the way that it does. Please do not purchase this watch! It is way too costly for such poor quality.
June 10, 2015
Rated

5

out of

5
 by
NWguy5
Excellent design, misinformed buyers
This is an excellent watch and it's clear the J.Crew designers paid close attention to vintage timepieces when finalizing the watch's design. It's unfortunate that so many people are complaining about the acrylic crystal, as they simply do not understand watch history (not their fault). J.Crew used a domed acrylic crystal because that was the crystal used by all major and high end watch manufacturers decades ago. Domed acrylic is hard to find on watches today. Watch enthusiasts love vintage watches with acrylic crystals because the scratches accumulated over time add character. For those complaining about the scratches, they can be buffed out in a matter of minutes. Just search for "how to buff out acrylic watch crystal" and you'll find a link to the most widely used product for buffing acrylic that costs almost nothing. I hope J.Crew doesn't switch to flat mineral crystals (cheap and no character) in future watches because of uninformed complaints about the acrylic crystal.
July 23, 2015