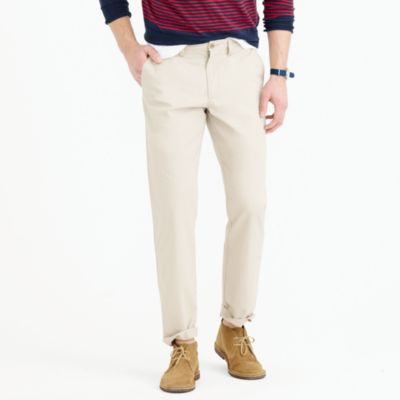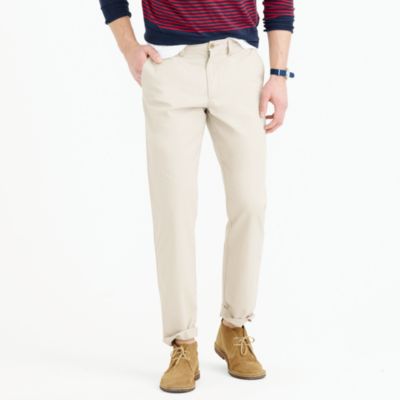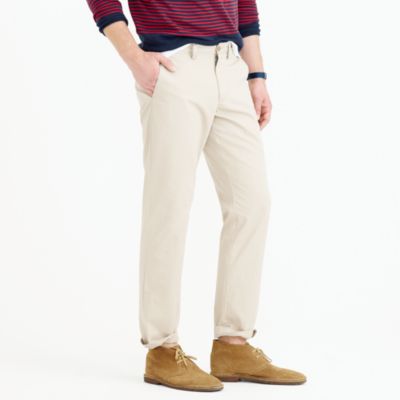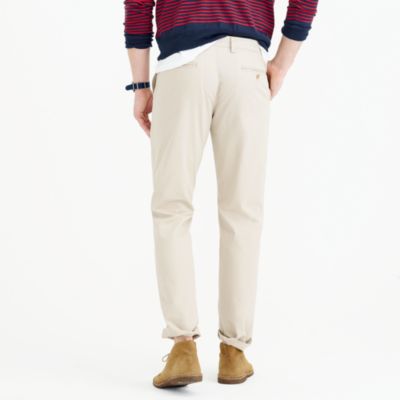 Product Details
The chinos for the guy who's looking for a slim fit that's actually easy to move (and sit) in. Made from our famous warm-weather cotton twill, these chinos are specially washed for softness and a broken-in feel from day one.
Cotton twill.
Zip fly.
Off-seam pockets.
Machine wash.
Import.
Size & Fit Details
Sits below waist.
Slim through hip and thigh, with a narrower leg than our classic fit.
14 3/4" leg opening (based on size 32/32).
Lightweight chino in 770 fit
Rated

4.4

out of

5

 by

64

reviewers.
Rated

3

out of

5
 by
OnTheFly
Cheap Zipper
The Lightweight Chino pant is reasonably nice for the money, but immediately upon trying it on I couldn't help but be disappointed by the inappropriate, heavy gauge zipper. It's the same zipper you expect to find in a much heavier fabric pant, but in this application it's wrong and cheap feeling. Please, spend the extra 12 cents, J Crew, and put in a proper zipper, This lack of attention to detail and penny-pinching diminishes my perception of the brand.
February 28, 2016
Rated

4

out of

5
 by
Thejeffdickens
Dig 'em but a little looser than expected.
I have pretty ripped man-calves so the 484s are usually little too tight. I've got a couple pairs of regular urban slim chinos that seem to be cut slimmer than the lightweight ones but maybe it's just that these feel looser because they're lighter weight? I still like them a lot though.
June 2, 2014
Rated

5

out of

5
 by
GTDAYLA
Terrific Color
I am a "484" guy most of the time (jeans and chino). I originally ordered these exact pants in the 484, but they were not flattering on me, so I exchanged them for the 770 and they were perfect. I think the 484 got a bit "tighter" this season (or perhaps I am fatter?) but these hang nicely and can transcend to both work & play. I bought them to replace an older pair of chinos from JCrew in "Positano blue"; That was a great color, but this "Naples Blue" is slightly darker and i might actually like them better.
March 2, 2016
Rated

3

out of

5
 by
JoeBob
Mediocre
The style and quality are okay. They're certainly slim, which my wife favors. Almost too slim. The rise is quite low, especially in the back, so it requires a tight belt to feel as though it's not slipping down my rump. I purchased grey. It was not what I was expecting. The pants are darker than depicted in the picture, sort of a bland color, like the color of a janitor's uniform. My biggest disappointment is that I strongly suspect the material, although lightweight and 100% cotton, is of a nature that would not particularly breathe well on a hot day. The pockets should be a bit deeper. I suppose some guys might like them just fine. I am not in the least fastidious about clothes but I am don't think they meet J. Crew's usual quality, especially as they're rather pricey.
April 12, 2016
Rated

5

out of

5
 by
Arrow
10 Stars out of 5!
I was lucky to be able to grab a bunch of Navy Blue in my size, but other great colors have been sold out for a while. PLEASE bring back these pants while the exact material is still available. Please bring back the colors graphite (dark gray) and warm umber (dark khaki similar to melted caramel). They sold out so fast and I have no doubt they would again. Please make more.
June 13, 2014
Rated

2

out of

5
 by
Rbw1
What happen to classic fit
Disappointed that J. Crew no longer offers classic fit in lightweight Chino. Also upset that J. Crew does not offer size 30 in length or more colors. Not everyone is an urban slim. Classic secret wash shirts are hard to find too.
July 25, 2015
Rated

5

out of

5
 by
DrRob
Awesome Chinos!
Love, love, LOVE these chinos! Fit is true to size, weight is perfect, and the wear is just what you'd expect from J.Crew! I will definitely be buying more of these!
October 13, 2016
Rated

5

out of

5
 by
BUMPUS
bought three pairs
These are my summer pants for 2016. They're thin, fit great, and very comfortable. The fabric has a very nice, soft finish. Couldn't recommend them highly enough.
July 5, 2016
Rated

5

out of

5
 by
Tank
Comfort & Style
I recently started a new job and I needed some new pants for the summer for work and these are going to work perfectly for me, not only did I buy one but I have all four colors. I hope they get some new ones in because I'll be back.
May 15, 2016
Rated

5

out of

5
 by
Jack
Great pants
Couldn't be happier with this great pair of chinos. Great fit, style and value.
April 30, 2016
Rated

5

out of

5
 by
geopoetsf
Practical + Lightweight
Great fit, sharp detailing and uber comfortable. This lightweight slack can easily be dressed up or dressed down. A must have for any man's wardrobe.
April 7, 2016
Rated

5

out of

5
 by
crewguy
Love these pants!
I usually buy regular weight khaki's but decided to try something a bit lighter weight. These are WONDERFUL! In fact I ordered an additional pair in another color. They fit great and look great. Highly recommend.
April 5, 2016
Rated

5

out of

5
 by
Paulyd
Looks great , perfect color
Looks great , fits perfect . Looks good for work .
April 1, 2016
Rated

5

out of

5
 by
Doug
Perfect warm weather pants!
I bought two pairs of these for the spring/ summer and I wear them all the time. They work regardless if you're dressed up or really casual. These pants are super comfortable and lightweight... perfect for warmer weather. I'm going to get a couple more pairs!
March 31, 2016
Rated

5

out of

5
 by
John
perfect for summer time
I love these pants. I have them in several different colors, and they are perfect for the hot summer months.The fit is great. Slim but not uncomfortable.
September 3, 2015
Rated

5

out of

5
 by
Cindy
Great summer pant
I bought the pant for my son. He likes the thin and softness fabric. It is very comfortable. I ordered 2 pants but they were out of stocks and only sent me one. Definitely will purchase the same style in different color.
August 25, 2015
Rated

5

out of

5
 by
KimVrim
Love this lightweight fabric
I love the feel of this light weight fabric. The fit is neat. These 770 fit creates a nice straight line between my calves and bottom. The 484 fit does not look as pleasing on me. 484 is tight at the claves, thighs, and bottom. Not my style. This 770 is fitting but doe not trace every curve on my leg and bottom like the 484. I cannot rave enough about the feel of this fabric. I wish all pants would feel this light and soft. When I walk up and down the hallways at work, I feel unimpeded. Squatting down to pick up things is effortless. I have stopped wearing jeans and ordered 6 pairs of these light weight pants. It pains me that I've been splattering burger juice on them. I love them so much, I have been wearing a different color each day. I used hand soap to treat the burger juice and oil stain. Rinse the hand soap, apply another round of hand soap, work in the soap, and rinse a second time. Hang to dry. Next morning, stain is gone. Love this fabric!
August 20, 2015
Rated

5

out of

5
 by
Vincent
Great, stylish and light Chino
The material is soft, light and good for humid and hot weather. The sizing is perfect. Love it.
August 20, 2015
Rated

5

out of

5
 by
Kenny
Awesome Summer Pants
These pants are perfect for the office when the temperature rises. They don't wrinkle too much and look sharp for a more business casual environment. As others have noted, it would be great if more colors were offered, although the white is a little too transparent. It would also be great if they offered the Browery in this material for a little more polished work look.
August 17, 2015
Rated

5

out of

5
 by
Matt
My favorite casual khaki-like pants
I really love the urban slim fit (soon to be named differently). I have four different year-round pairs and 4 summer wear urban slims. They've held up well. Perfect fit and comfort for a 5'10, 170 lb. guy like me. I pair them with a casual dinner jacket, most frequently with short-sleeve polos and button-downs. I recently purchased the new olive (dark green) color and really like the color.
August 12, 2015
Rated

5

out of

5
 by
Jamc
Son loved them
Twenty something son called to say he received these pants and really liked them. Great for high summer temperatures, walking to work. Bought a few more!
August 8, 2015
Rated

5

out of

5
 by
nycdav
great fit and feel
Love these pants. Order two more. I only wish they had more color selection more appropriate for office wear.
July 23, 2015
Rated

5

out of

5
 by
Bryan
Perfect for summer
These are the perfect fit and the light weight material is great for hot weather. I tried the 484 fit but it was too snug so it defeated the purpose of the light weight material, the urban slim fit was perfect. I wanted something to wear when it's hot but the setting calls for something a little more formal than shorts. I got one in dark flannel at first and I liked it so much I bought 3 more in different colors.
July 22, 2015
Rated

5

out of

5
 by
Keith
Nice warm weather pants.
Nice and lightweight canvas-like material, good fit. Can be dressed up or down. Great all around pants for the warmer months.
July 13, 2015
Rated

5

out of

5
 by
jdgo
perfect lightweight
it is the perfect chino for a place where I live, since we are in the tropic and the weather is kind of the same all year around. I already have 2 pants in different colors and looking to get more...
July 10, 2015
Rated

5

out of

5
 by
Marcus
The Perfect Summer Pant
I live in Atlanta where temps are already in the 90s in early May. I've been looking for lightweight pants to where to work, but still a little dressy and office appropriate. I stumbled on these in the store over the weekend and had to get them. The material feels awesome, the fit is great, and they look really nice. I just ordered 2 more pair. I pair them with an unconstructed blazer and I'm set for summer!
May 18, 2015
Rated

5

out of

5
 by
Nich
Wonderful Summer Pants
Where I live sometimes the summer can be unbearable but, with these pants the summer is no problem. The pants are very light and breathable. I bought the urban slim fit in Dusty Mint and I absolutely love them! Plus, I always receive complements when I wear them too!
March 19, 2015
Rated

5

out of

5
 by
Chewy
Great summer pant...except white
I wish I had bought these sooner. I live in the southwest and having a light weight pant is a must. They fit very well, I tried the 484 light weight chino but the legs on those were much too tight on me, though I do have big legs. The urban slim seems to be my Goldilocks pant...not too loose, not too tight, just right. My only caution is that the white is very see-through, not really a huge deal but the the pockets show through so much that the pants in white look ridiculous and really are unwearable. I would steer clear of the white and go dusty mint instead.
February 13, 2015
Rated

5

out of

5
 by
Oscar
the casual business wear pants for South Florida
These pants are ideal for warm weather. I work in a business casual environment, and the tailored fit of these pants is much more complimentary than other brands I own. I'm 6'3 and walk around at 200 lbs. I have an athletic build - I do a lot of squats :-) I've only been able to obtain them in khaki. Come on guys - bring the other colors back!!!!!! I'm checking several times a week to see if the navy option comes back in a 34/34. I like the sun faded chinos in the 484 fit as well, but the fabric is too heavy for the summer months in FL. So those are in my closet waiting for the December / January months to come around. Great pants. I highly recommend them.
September 22, 2014
Rated

5

out of

5
 by
Petey
Perfect any-time wear!
The lightweight chino in urban slim fit are the best for easy fit and comfort.
September 16, 2014