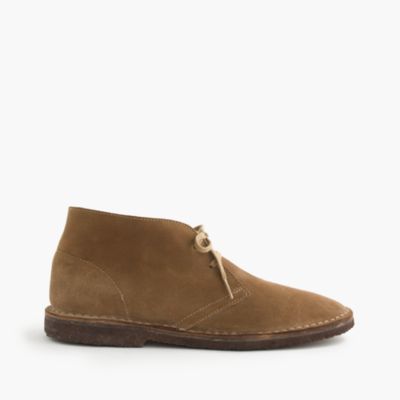 Product Details
Inspired by the crepe-soled boots worn by British officers in WWII, our MacAlister boots are made from the finest Italian suede and only get better with age. We purposely left them unlined for a more casual feel.
Italian suede upper.
Cotton laces, natural eyelets.
Stitched-out welt construction, authentic rubber sole.
Made in Italy.
Online only.
Size & Fit Details
Unisex sizing: Women, please order two sizes smaller than your regular size.
Rated

4.7

out of

5

 by

46

reviewers.
Rated

4

out of

5
 by
Nigel
My Macalister's
I purchased both the dark suede and gray suede shoes. I love them both but the gray suede is really a taupe and not a true gray. Maybe it was just the pair I received but it's definitely taupe.
June 5, 2014
Rated

5

out of

5
 by
bookshelves
Great everyday shoe
I have liked the look of these boots for a long time but thought maybe they were a tad bit too tomboyish, even though I embrace that description stylewise. That being said, I decided to try them and have been pleasantly surprised. I've worn them a lot this summer, even in the heat. They are casual, but dressier than Converse, which works great when I go to the museum or am out & about. They were comfortable right out of the box and true to size for me. I am super happy with these boots.
July 30, 2014
Rated

5

out of

5
 by
HRHDavidHH
Must Have Boots
These are so versatile that every man should have a pair. They are lightweight enough to pack when you travel. They look great with denim, chinos and wool bowery pants. I plan to always have a pair or two of these. I recommend to order a half size up, they are a bit narrow, but very comfortable. The support is on the minimal side, so they would not be ideal for long walking tours, but just right for work or an evening out.
July 2, 2014
Rated

4

out of

5
 by
Alex
TTS -- don't size down!
A lot of people say that desert boots stretch out a half to a full size with a little wear. Since I have small feet to begin with, I ordered a 6 instead of my usual 6.5. While they've stretched out a little, the toe box is still a bit narrow, and I find them mine too tight to wear for long periods of time comfortably. If I'd ordered my usual size, though, the Macalisters would be great: they're a little more structured than other brands of DBs I've tried on, and seem to be holding up well after about a month of wear.
October 27, 2014
Rated

4

out of

5
 by
Greg
Excellent desert book for spring or fall
Classically styled desert boots in good quality suede. Fits well and package arrived quite quickly.
July 5, 2014
Rated

5

out of

5
 by
Blake
Perfect Boot for ALL Seasons
I love my Macalister boots. After losing my first pair to the viscous amazon of Peru, it was a mandatory necessity to get another pair ASAP. These boots blow out the competition in ALL areas. The comfort lasts the from the first time you put them on until the last time that you put them on (or until you see them floating down the Amazon river)
June 17, 2014
Rated

5

out of

5
 by
Gingerjoan
My new favorite!
Really loving these sweet shoes. Incredibly comfortable. I have sensitive feet and these shoes felt so good right out of the box that I did not want to take them off. I wear an 8 and ordered 2.5 sizes down to a 5.5 after reading the posted reviews. They are boyish but also surprisingly feminine. They look really cute with a plaid skirt!
November 1, 2014
Rated

5

out of

5
 by
EDM123
Can't have too many...
I love the MACALISTER boot. I have them in 4 colors and wear them year round. They look great with jeans, khakis and shorts. No socks (low unseen socks) in the summer is a great look.
August 20, 2014
Rated

5

out of

5
 by
James
Great, classic shoe!
I've had my eye on these for a while and purchased them recently. Definitely impressed with the quality and style! It's a sleeker, slimmer style than other desert boots out there, but I think that goes with the slim style of pants that are in style right now. The inner sole is padded and along with the gum sole, they make for a comfortable step.
August 9, 2014
Rated

5

out of

5
 by
Chaz
Great Shoes!
I've never bought a bad product from J. Crew. These shoes are awesome, comfortable and versatile.
August 8, 2014
Rated

5

out of

5
 by
wzmp
Great!
These run a little large but they are fantastic. So comfortable, like walking on clouds. Only had them a few weeks so not sure about durability just yet, but so far so good!
July 29, 2014
Rated

5

out of

5
 by
Oysterizer
Best Desert Boot
Slim bottom with the gum outsole, can be easily dressed up or down. Great quality on both materials and construction. Not that much support as far as the full structure of the boot and runs slightly narrow.
July 28, 2014
Rated

5

out of

5
 by
ChrisLW25
A near perfect desert boot
Except for running large (I sized down a half size), this may be the perfect desert boot. I love the dark khaki color (a rich brown), and yesterday, I wore them from 8:00 am in the morning until after midnight, and found them comfortable for the whole day.
July 11, 2014
Rated

5

out of

5
 by
evan
As expected / good buy
Shoe fit true to size and really love the color.Good buy!
July 8, 2014
Rated

4

out of

5
 by
Teresa
Great Fall boot
I really like the style of this chukka boot. I wear a size 7-1/2 - 8 womens' and I ordered a 5-1/2 mens. They fit well except the height of the toe box seems a little shallow. I'll have to wear thin socks with them otherwise they'll be a little tight. Hoping they will stretch out with wear as leather usually does. Wouldn't mind another color but hard to know if a 6 would be too long since they are a final sale.
August 4, 2014
Rated

5

out of

5
 by
Sara
Versatile, Stylish Shoe
I bought these for my boyfriend--they are his second pair of Macalister boots. They are the perfect casual shoe that look great with everything. He wears them in summer and winter. As long as J. Crew keeps making these, he will keep wearing them :)
August 18, 2014
Rated

4

out of

5
 by
Steve
Great looking and comfortable
Only problem is the grey color is not the one pictured. I even returned and got a replacement pair, but they're still a more taupe color which I already had from last year. I really wanted the grey as pictured Hard to get replacement shoelaces. J Crew doesn't carry them.
January 1, 2015
Rated

5

out of

5
 by
Rockhound
Prefect desert boots
Not much new to add to the other glowing reviews other than to echo the sentiment that these are prefect desert boots. They are incredibly comfortable and feel broken in from the first wear. As others have mentioned, for men's sizing, I'd recommend going with a half size smaller than your measurement. I measure as a size 8, and these are prefect in 7.5. The Anchor Grey color is more of a putty color, but it's a great color for all sorts of chinos and jeans. I will note that I intended to purchase another brand's desert boots, but upon trying them on I found them uncomfortable and stiff. They likely needed broken in, but these Macalisters were exceptionally comfy from the start. I also prefer how flat the toe portion is on the Macalisters versus other interpretations of the style; it helps differentiate them from other boot styles. Highly recommended.
April 4, 2015
Rated

5

out of

5
 by
Scooters
Perfect gift!
I bought this shoe in the anchor gray suede, size 8.5, for Christmas for my fiance and he loves them! I did size down half a size based on other reviewers comments which worked out perfectly. They are a great casual shoe that goes with everything he wears. The only thing I would say is, given we live in a rainy weather climate, to make sure to protect them before wearing. Overall I definitely recommend!
January 5, 2015
Rated

5

out of

5
 by
Briant
Great all around shoe!
Perfect all around shoes. Looking forward to getting a few more pairs in different colors.
December 23, 2014
Rated

5

out of

5
 by
PPPP
great take on the desert boot
I have sneakers that are less comfortable than these boots. They also fit pretty true to size, unlike certain other desert boots I've tried in the past. I liked these so much I ended up getting two pairs, and both are still going strong with fairly frequent wearings.
December 18, 2014
Rated

5

out of

5
 by
AnnieM
Perfect Fall/Winter Boots
I found these boots to be true to size and extremely comfortable. I have worn them for a full day and have had no issues - most boots will leave my feet a bit sore. I liked them so much I purchased a second pair (originally purchased the dark navy then purchased the dark khaki).
December 5, 2014
Rated

5

out of

5
 by
WalkingTall
Perfect casual footwear!
The Macalister desert shoe provides great comfort for the orthopedically–challenged foot, and great style—to boot! The fit, the craftsmanship, and the materials make for a sure fit for those who want—and must have—quality in footwear.
October 18, 2014
Rated

5

out of

5
 by
AMYLES
Perfect match for Autumn
There could not be a more perfect match for fall! I absolutely love the androgynous style (my husband has them too!) They are comfortable, and go with everything! I've already recommended them to people!
September 3, 2014
Rated

5

out of

5
 by
tjb2467
Great deal
Took a chance and got these on final sale. They are great for the price and high quality. Worked out great.
August 8, 2014
Rated

5

out of

5
 by
SirIthe1st
Love
I ordered the Navy,it is a true very dark navy which is classic like the style of this boot. I have not and will not wear them until Fall but I am sure they will be comfy and last several years.
July 15, 2014
Rated

5

out of

5
 by
Upsilon
Back to the future
Purchased these for styling of a pair I owned years ago. Could not be more pleased for the comfort and style that go with many kinds of pants from casual to out to dinner. A great addition for me.
July 3, 2014
Rated

5

out of

5
 by
Kimmie
CLASSIC MACALISTER BOOTS IN SUEDE - Excellent
Boot made very well and looks great with everything. Bought for my 2 older sons and they both loved them. Bought them on sale which was even better. Very Fashionable for sons who are extremely metro and into their looks and appearance.
July 1, 2014
Rated

5

out of

5
 by
Enrico
A surprise find!
Looked at different brands and settled on this. Liked the color, styling, and fit, and best of all, Italian made. Extremely happy with my purchase.
June 19, 2014
Rated

5

out of

5
 by
adamcammack1
Great year round boot
Waited and waited for these to be on sale, and finally made the purchase when they were. It was a great decision! The leather is soft, comfortable, and well-constructed. Highly recommend for anyone trying to decide between these and a knock-off.
June 19, 2014