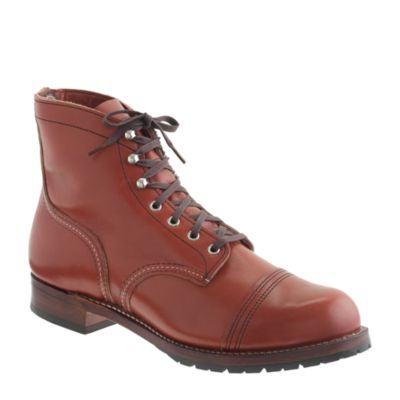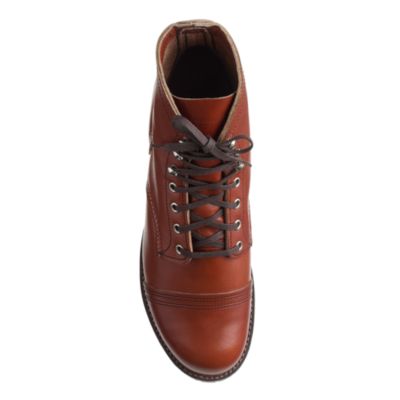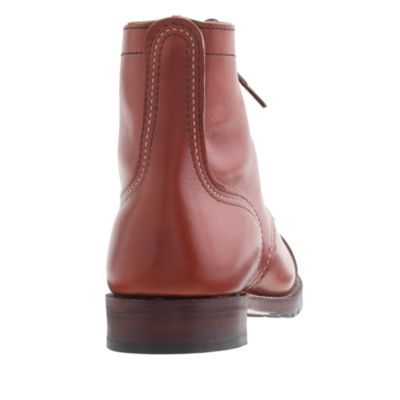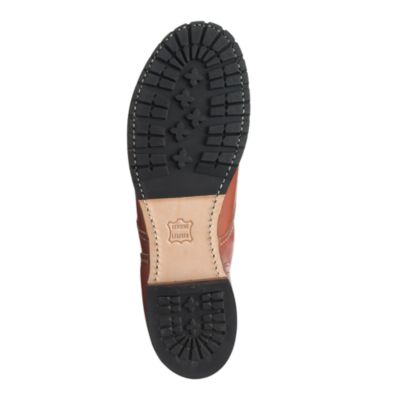 Product Details
We know a good thing when we see it. These heavy-duty boots are a trip in a time machine, back to when American heritage-style work boots were built like they would be your last pair. The oil-resistant sole, classic shape and exclusive-to-J.Crew leather body make the Iron Rangers quite possibly the toughest you'll ever own.
Leather upper.
Made in the USA.
Online only.
Size & Fit Details
For the best fit, we recommend ordering a half size smaller than your usual size.
Rated

3

out of

5

 by

6

reviewers.
Rated

5

out of

5
 by
bartleby
a perfect boot
You must size down a half to a full size with these boots, which is typical of Red Wing. These were a fair deal stiffer than other pairs of iron rangers i've encountered, which I consider a very good thing. A few coats of mink oil and two weeks of break in and these softened up a fair deal and feel comfortable and sturdy, while the color has darkened significantly making these boots look very rich and rugged. Especially happy that the J. Crew version includes a half-lug sole, excellent addition to the stock IR design. I love forward to these being an every day wear for many years to come. A home run.
November 21, 2014
Rated

4

out of

5
 by
baldwin
Solid boot
These boots are definitely stiff out of the box, but as is typical with Red Wings they begin to soften with wear. Love the integration of the Vibram sole on the Iron Ranger. Very well made, sturdy, and I intend to enjoy these for a long time.
October 9, 2014
Rated

2

out of

5
 by
RayRay
Poor Quality Control
I am having a horrible experience purchasing these pair of Red Wings. The first pair that was shipped to me had blemishes, deep scratches, discoloration and the stitching on the back heel was unaligned. Seeing that I really loved the look of these boots, I returned my first pair due to defects and gave it another try. My second pair came in today. Although many of the defects I found on my first pair were not prevalent on my second pair, the tongue of both boots had areas where the leather was deteriorating. I am really disappointed with the quality control on these specific models. This is unacceptable, especially for the price you pay for these. Now that my size is sold out online, I am very frustrated as I really love the style of these boots. Quality seems like a hit-or-miss. Remember to inspect your boots carefully if you decide to buy these specific models.
March 20, 2015
Rated

2

out of

5
 by
hassansa
Poor quality control
I have been looking at the Iron Ranger for awhile and decided to get these due to the more rugged sole. The color is a little brighter than expected. The color was more orange than red. The color for me was not the main problem. I received these and as I took them out of the box I noticed two areas at the medial aspect of the right boot which were darker as if there was some paste. There were two areas that had deep gauges which someone attempted to cover up. very disappointed. Will return as soon as possible. Just finished looking at the reviews and apparently this is a known problem.
March 1, 2015
Rated

2

out of

5
 by
Brett
Potentially not worth the hassle.
I've been looking at Iron Rangers, and the half-lug sole is a most welcome addition. It is worth noting that the leather on these is smooth finished, not the oiled leather of most IRs, which is a bit perplexing with the more rugged sole. The overhead image is pretty close to true to color, which is fairly red/orange. The large toe can make these go a bit Ronald McDonald, but as long as you're aware of it, you should be fine. I suspect the color will mellow with age and wear. There seems to be a quality control issue. I ordered three pairs of these to get the sizing right--online only. Of those three pairs I've opened two and both pairs had defects. The 10.5 had a deep gouge in the left toe, and the right boot has a strip of cut, unstained leather on the toe of the outer sole. The left 10 has an outer sole with leather that was never cut flush, and the right a tongue cut from too-thick leather, causing a painful pressure point when laced. I'll be trying my luck again, but be warned.
February 20, 2015