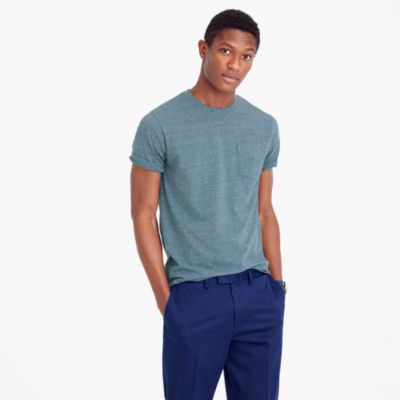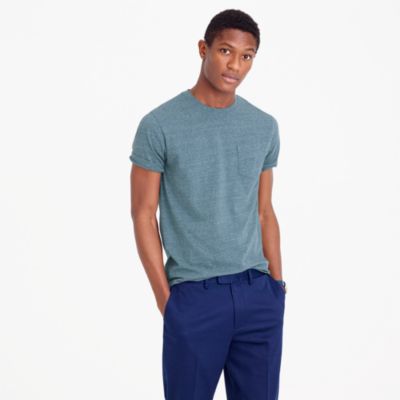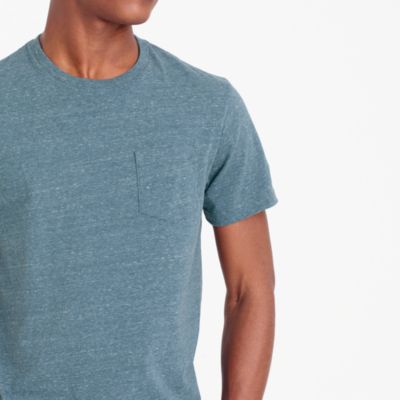 Product Details
Specially washed for softness and a broken-in appearance, this T-shirt (that's been part of our line since 2004) looks and feels like the well-worn favorite you had in college.
Cotton jersey.
Rib trim at neck.
Chest pocket.
Machine wash.
Import.
Online only.
Rated

3.8

out of

5

 by

40

reviewers.
Rated

1

out of

5
 by
Sucker
Terrible Quality
Great colors and fit. Pocket seams come undone after as little as two washings on every shirt, every time.
January 2, 2016
Rated

1

out of

5
 by
voidwalker
will not buy these anymore
I've been wearing these shirts for 10+ years, but I am now searching for a new brand. The biggest problem is the rib trim at the neck doesn't stay flat after the shirt has been washed and dried. It distorts and rolls up after one trip through the laundry. It makes the shirts look cheap and worn out even when they are new. I shouldn't have to iron the neck of my t-shirts to make them presentable. This shirt has been a staple of my wardrobe for years, but no more. Please fix this, J. Crew. The rib trim needs to hold its shape after being laundered.
December 15, 2015
Rated

2

out of

5
 by
Alton
Disappointing fit
I am a size large, but I always purchase these tee shirts in x-large because I prefer the loose fit. However, this new stock came in a tighter, snugger fit. After the first wash I measured the shirt against my last purchase and found it two inches smaller around the body of the shirt. Also, the neck trim pulls away at the back and doesn't sit flat. The material seems a bit different, perhaps not as "broken in" as in the past. I purchased this one at full price before waiting for the discount when I would have purchased a set.
February 13, 2016
Rated

5

out of

5
 by
NYCDAVID
My Go-to t-shirt, bar none.
Perfectly comfortable, perfectly sized. My go-to t-shirt. Just the right length, somehow both soft, lightweight, and sturdy. I have 7 of these, in case I need one every day, which I do often. All in black- New Yorker...
March 22, 2016
Rated

5

out of

5
 by
Billie
Best T-Shirt on the Market
I have tried all brands of t-shirts, and J. Crew Broken-In (with or without pocket) Tee is the absolute best on the market. I wouldn't wear any other brand. I gave all of them away so I only wear J. Crew Tee.
January 10, 2015
Rated

5

out of

5
 by
Jerry
better than last year
I've purchased broken in pocket tees for years and have been a bit disappointed with the length and collars. To two I received recently however are a bit longer and the collars don't seem to be rolling like some last year. I appreciate the improvement and will surly purchase more.
May 14, 2014
Rated

5

out of

5
 by
Mike
PERFECT TEE
Great tee! Love the fit and soft feel of this shirt
May 3, 2014
Rated

1

out of

5
 by
JCLA
Way too big
I've own many J.Crew t-shirts so I couldn't believe how large this "medium" was. Mediums sized t-shirts in J.Crew are usually more consistent, so I'm not sure how it was decided that this was a medium.
August 8, 2014
Rated

5

out of

5
 by
citykitty
The BEST Mens Tee Shirt!
Hubby and my nephews will only wear JCrew Broken-in Tees! The fabric is soooo soft, the shirts are totally comfy and every year there great new colors to add to the collection. :)
January 1, 2015
Rated

5

out of

5
 by
Stanley
Best Basic Tee Out There
I've had my shirts for about 3 years now and I wear them every week. After at least 50 washes, they have not pilled (gotten those little fuzz balls) at all, whereas, every other brand shirt I've tried starts to pill after 5 washes or so. There is some slight variation on the fabric and sizing because I ordered at different times, hopefully that gets ironed out, but other than that, it's the perfect tee.
December 14, 2014
Rated

5

out of

5
 by
Pingbrad
The Best T's
After years of buying J Crew t-shirts, I've always thought that they needed a little more length to them to prevent that annoying 'tail creep' that occurs from too short a length. The designers have evolved the latest J Crew t-shirt into the best there is on the market. Style, color offering and price make this an ever revolving staple in my wardrobe.
November 7, 2014
Rated

5

out of

5
 by
LindaBee
Nice Shirt
This was a gift and he liked it. Good color and nicely made.
January 10, 2015
Rated

5

out of

5
 by
fennie
nice everyday t-shirt
I bought this for my husband. t-shirt is made of good materials, soft, comfy, and true to size.
May 21, 2014
Rated

5

out of

5
 by
sauron69
Like An Old Friend
I was looking through my T-shirts and I came across a couple of old J Crews. I noticed that they looked better after 10 years than some I had bought a few months ago. So, I went and ordered a couple of new ones to see if the quality was still there. It is. Unlike so many things today, these are still the old friends you can count on.
August 6, 2016
Rated

5

out of

5
 by
Woody
Perfect spring,summer polo
Love this shirt. Looks and feels great! Plan to purchase at least one more before holiday.
June 6, 2016
Rated

5

out of

5
 by
Marco
Perfect
I could use one of these ones everyday. Love the colors and fits as expected.
September 14, 2015
Rated

5

out of

5
 by
Matt
Finally!
I've purchased these tees quite a few times over the years now, but never really loved the fit. I've always thought they were good not great. This year I feel like J. Crew nailed the fit. It's not too tight but not too loose; I love the length. They do shrink a little bit (not substantially, and for full disclosure, I wasn't trying to avoid shrinkage. i.e. machine wash warm, medium heat), but that made the fit even better in my opinion. For reference, I'm 5'11'' 165lbs. with a pretty athletic build, and I love the way the medium fits.
July 12, 2015
Rated

5

out of

5
 by
DHSF
Perfect Tee for ME
I have found the fit for me. These tees are perfect in length, tapered just enough and the shoulders hit correctly. I think I need to replace all my tees with these. Please don't change a thing! I am 6'1" and the Medium is just right. I tried the slim fit but I have wide shoulders and overall these are better for me.
June 20, 2015
Rated

5

out of

5
 by
Jesse
Perfect for all season
This BROKEN-IN POCKET TEE goes with everything, you can use it with other layering or by itself. The colors are awesome and the broken-in look looks great and feels awesome. I have a wide variety in these tee's and will definitely be buying more. Would like to see some vibrant colors Royal Blue, Pink, Purple, and Green.
February 28, 2015
Rated

5

out of

5
 by
dalcorn
D
Great for casual looking very lite weight and great for warm or hot weather
July 24, 2014
Rated

5

out of

5
 by
Hank
Always the perfect piece
Timeless, cool, trim, and clean defines the always correct J Crew Pocket T. Wear it with chinos, jeans, blazers, even lounge wear and look effortlessly great. Get a stack.
June 19, 2014
Rated

5

out of

5
 by
rm88
Perfect
Bought this for my boyfriend and he looks great in it. TTS. Perfect T.
May 1, 2014
Rated

4

out of

5
 by
Sher
A good basic at decent price
I bought this for my husband.We love gray T-shirts--and the pocket is practical!
October 12, 2016
Rated

4

out of

5
 by
Paul
Cool Style But Too Big and Loose
I bought the Highline Grey pocket tee after trying on a bunch of colors in the store. The saleswoman loved the color against my complexion, and she was right. When I wore the shirt for the first time, my girlfriend liked it on me so much, she said I should buy 17 of them in the exact same color and style. The fabric feels great, too. The only problem is that the medium I bought is HUGE. The shoulder seams hit an inch or two below my shoulders and the shirt hangs down to my mid-thigh, like a nightshirt, making it look silly untucked. In other T-shirts, I'm a medium or large.
August 6, 2016
Rated

4

out of

5
 by
Mfitros
Great shirt, though fabric inconsistent
I have bought dozens, many dozens, of these shirts over the years. They fit me perfectly, and the color options are great. They tend to last me a pretty long time, and often get better with age. They are usually pretty thin, so small holes do tend to form around the lower front center, where I'm probably catching them in my fly zipper. Only complaint i really have, is they are inconsistent in fabric. The Heathered ones tend to be thicker and bulkier, and I definitely prefer the thinner ones. The few I bought last year were all thicker than in the past, so hopefully the ones I ordered this year are like the classic ones I've grown to love.
May 23, 2016
Rated

4

out of

5
 by
Wiaru
Basic pocket T
Just your average crew T shirt with a pocket. Colors looked good, the fit was good (not overly slim, but tapered enough so its not like wearing a bag), the cotton seems soft and comfortable, and the thickness and quality seems right. Just your basic T that is nice enough to wear by itself.
March 9, 2016
Rated

4

out of

5
 by
Catherine
Wardrobe Staple
I've been buying J. Crew pocket tees for my husband for years. He won't wear any other brand.
April 1, 2015
Rated

4

out of

5
 by
DMinAUS
Great shirts but...
Love the shirts and have many colours and most like the black and lighter colours are nice and worn-in thin and then some like like the navy and light grey are rather thick...plus the 'thicker' colours also fit a bit tighter although all marked medium.
August 31, 2014
Rated

4

out of

5
 by
Jason
Versatile Tee
This is a great tee that can be dressed up or down. Its soft and the fit is just trim enough. Its a bit closer to a true grey in color then a "faded black" but overall I would recommend the item to anyone looking for a basic tee for summer.
May 12, 2014
Rated

3

out of

5
 by
Rich
Hoped for perfect white Tee
All well except white shade is a bit creamy. Was hoping for optic white but perhaps the broken in process tints the colour?
May 17, 2016