THE GIFT EDIT
From Olympia,
to Her Nearest & Dearest
Our head of women's design got her holiday shopping done
early this year… Get inspired by her thoughtful, creative picks for friends and family.
FOR HER HOMEBODY BEST FRIEND
Staying-in essentials
"A beautiful candle and tarot cards to keep around the house."
Shop now
FOR HER HUSBAND, MATT
A monochrome moment
Navy tuxedo blazer, navy cashmere beanie, navy anchor
socks…I know he'll wear this all together."
Shop now
FOR HER HOMETOWN GIRLFRIENDS
Toasty extras
"I'm from Canada, where it gets very cold, so we
take our outerwear seriously! This Italian space-dyed set is really thick and warm."
Shop now
FOR HER FIVE-YEAR-OLD SON ULYSSES
Classics, made mini
"Ulysses likes to wear chambray shirts open over a T-shirt,
and he's just grown out of his last one. Plus, these suede desert boots are so cute."
Shop now
FOR HER J.CREW FRIENDS
All kinds of good vibes
"These crystal necklaces are such an easy and special gift.
There are five to choose from, and they all come with a card that was illustrated by hand to reflect the mood of each stone."
Shop now
Limited-edition baby cashmere one-piece in stripe
FOR HER EIGHT-MONTH-OLD SON AALTO
Sweet stripes
"We just launched baby cashmere and it's so cute, soft
and warm. I love this sailor stripe on everything."
Shop now
FOR HER TRAVEL-BUG FRIEND
A bundle of energy
"We designed this Crystal Voyager X J.Crew set with travel
in mind. It's a little something you can put in your purse or suitcase and take everywhere."
Shop now
FOR HER PARENTS
Fireside ideas
"My mom is the queen of robes—she's going to be so
impressed with this luxe puffer version. And Dad, well, the man likes a lantern."
Shop now
Olympia's creative gifting tipsPICK A POINT OF VIEW
"I like to focus on a bigger theme or color palette when shopping for all things holiday, from the gifts to the wrapping paper and cards."THINK OUTSIDE THE (GIFT-WRAP) BOX
"I have a lot of old magazines and I often use the pages as wrapping paper and greeting cards. I try to find images that work with the theme, which is a trick I learned from my mom."MAKE IT PERSONAL
"I think about what's special about the person I'm shopping for—from their hobbies to their sense of style—and try to come up with a unique expression of whatever they enjoy most."
More stories to explore…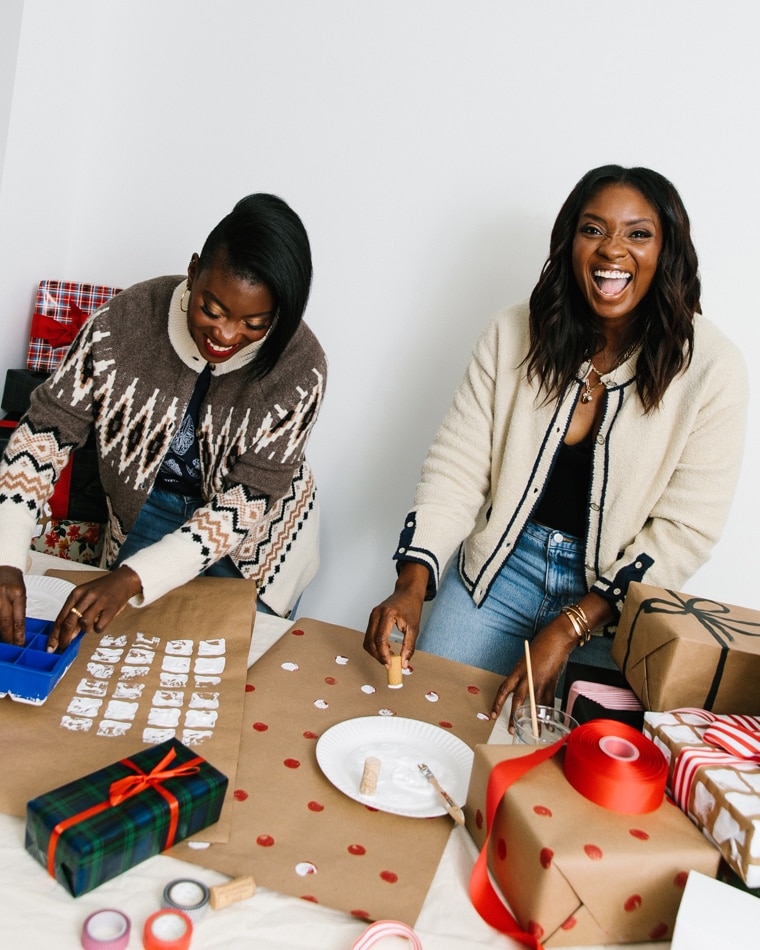 That festive feeling with Nikki and Lola Ogunnaike
See how the sisters celebrate
A

(

holiday

)

party of two with Beverly Nguyen & Woldy Reyes
Host like the pros