SUMMER STYLE MUSE
Juliana Salazar
The LA-based stylist, creative director and self-proclaimed "ideas person" is a pro at mixing feminine pieces with menswear. So we asked her to show us how she's suiting up this season, in every sense.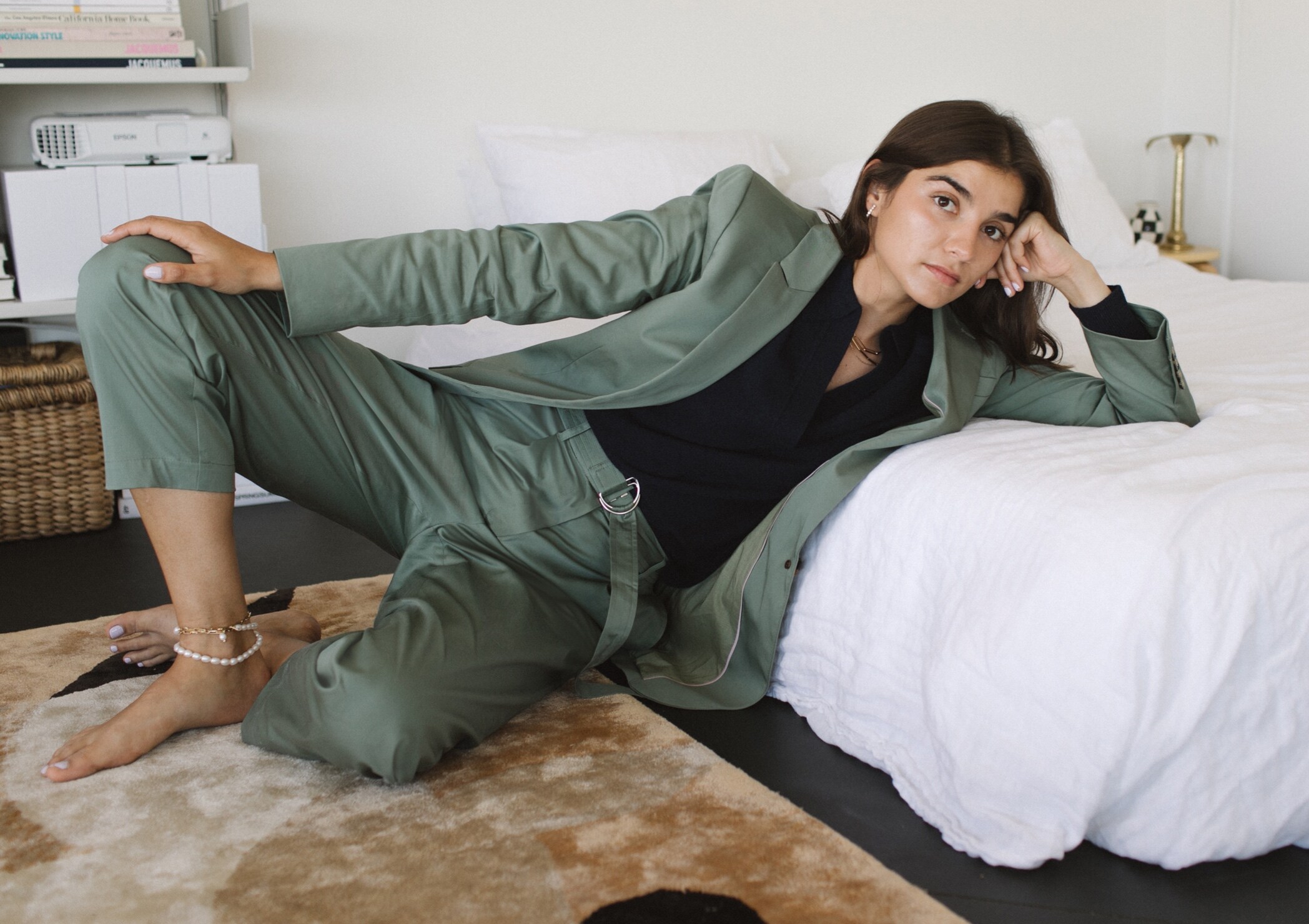 "
Wear something that speaks to you, and is an extension of you, versus putting on someone's costume.
"
"
When getting dressed, everything's an opportunity to express yourself.
"
A quick Q&A with Juliana
What are you up to these days? Workwise, or otherwise…
"I'm starting my own brand, so that's been very time-consuming. I've worked with brands for years consulting on product, but it's a whole different game when it's your own thing. I'm still undecided on a launch day, so I've been staying pretty hush about it. Otherwise, I still work with clients, building out ideas and art direction, and have taken up tennis and Pilates. I was never physically active before, but now I'm hooked."
Where do you play tennis?
"My instructor teaches at this John Lautner house in Silver Lake and it's such a really dreamy, idyllic scenario. The owners are really great about respecting the tradition of letting people experience it, which is a sweet sentiment."
How has your style evolved since you moved from NY to LA?
"I've toned it down a bit. I spend way more time in sweatpants, but I'll put another level of thought or detail into it. Still, sometimes I feel like I have 'girl who just moved from New York and works in fashion' stamped on my head. I go to this Pilates class where everyone's in matching sets and sneakers, and I'll show up in a big vintage T-shirt with leggings and crystal slides."
And how else has life changed?
"Living in LA has helped me focus. The physical space really translated into mental space. I'm more intentional with my time, it's been a good change of pace and I'm way more active here."
Can you share some of your favorite menswear styling tips?
"People think they should size down in menswear, but I always size up. My favorite size in a men's button-down is medium or large. There's even something happening now with slouchier, lower-rise trousers. I'm definitely a high-waisted person, but I styled a shoot recently with boxer shorts under loose jeans, and now I see it everywhere. You could do the same with high-waisted bikini bottoms under a loose pair of menswear pants. I like those unexpected moments."
"
I don't look at inspiration images to make an outfit, but I look at them all day long for work. And it's kind of my hobby. I love going down internet holes—houses, architects, philosophers. I just sent art direction for a project with a '1969 California feel.' So all of these things, subconsciously or not, inform my brain.
"
Juliana's camera roll
SUMMER FRIDAY EDITION
From staying active to switching up the scenery, here's how she makes time for herself during a busy workday at home.