"
I set out to create spaces for the conversations of my origins and invite people to the table.
"
Hawa's go-to summer recipes
Bariis
"Bariis is a rice pilaf that Somalis often serve with cooked meat. The combination of cooked onions, warm spices and sweet raisins is very typical of Somali food. Bariis even makes for a wonderful breakfast with a fried or soft-boiled egg. Rinse and soak the rice ahead!"
Ingredients
1 cup basmati rice
2 tablespoons extra-virgin olive or canola oil
1 small red onion, thinly sliced into half-moons
1 two-inch cinnamon stick
2 whole cloves
2 garlic cloves, minced
Pinch of ground cardamom
1 small tomato, finely chopped
Kosher salt
3 tablespoons golden raisins or regular raisins
1 tablespoon xawaash spice mix
1 ½ cups boiling water
Preparation
Place the rice in a fine-mesh sieve and rinse with cold tap water, stirring the rice gently with your hands, until the water runs clear.

Place the rinsed rice in a bowl, cover with cold water and let it soak for at least 10 minutes and up to 30 minutes.

Warm the oil in a medium saucepan set over medium heat.

Once the oil is hot, add the onion and cook, stirring, until it begins to soften, about 5 minutes. Add the cinnamon and cloves and cook, stirring, until the mixture smells very fragrant (about 5 minutes).

Stir in the garlic and cardamom and cook, stirring, until they're also quite fragrant, about 30 seconds.

Add the tomato and a large pinch of salt, then increase the heat to high.

Cook, stirring, until the juice from the tomato has evaporated and the mixture is like a thick paste, about 2 minutes.

Drain the rice and add it to the pot, along with another large pinch of salt. Reduce the heat to low, cover and cook, stirring, until the mixture is quite dry and the rice smells nutty and is opaque, about 5 minutes.

Stir in the raisins, spice mix and boiling water. Reduce the heat to low, cover and cook until the rice has absorbed the liquid and is tender, for about 15 minutes.

Turn off the heat and let the rice sit, covered, for at least 10 minutes before fluffing with a spoon or fork. If you can find the cinnamon stick and cloves, fish them out and discard them (otherwise, just warn your guests to avoid eating these). Serve the rice immediately, while hot. Leftovers can be stored in an airtight container in the refrigerator and rewarmed in a 300-degree oven or in a skillet over low heat.

Serves four.
Kachumbari
"This crunchy, fresh salad is enjoyed in Kenya and throughout East Africa. You'll find similar versions in Tanzania and beyond. Its main components are tomatoes and onions, but cucumbers and avocado are regular additions. You can also add minced fresh chilies. Serve with anything you can think of, from fish to chicken or alongside legumes. If you wait to add the avocado until you serve, you can make the salad a few hours in advance and keep it covered at room temperature. Stir in the avocado just before serving."
Ingredients
1 tablespoon kosher salt,
plus more as needed
1 cup boiling water
1 small red onion, thinly sliced into half-moons
2 large tomatoes, diced
1 cucumber, peeled, seeded and diced
3 tablespoons freshly squeezed lime juice
1 ripe avocado, pitted, peeled and diced
Preparation
Dissolve the salt in the boiling water in a small bowl.

Add the onion and mix well. Let the onion soak while you chop the rest of your vegetables. This soaking will reduce the intensity of the raw onion.

Once the onion has soaked for at least 10 minutes, drain and transfer it to a medium bowl.

Add the tomatoes, cucumber and lime juice and stir well to combine.

Season the vegetables to taste with salt if needed (it will depend on how much salt the onions held on to).

Gently stir in the avocado.

Serves four.
In conversation with Hawa
What's important to you when creating a recipe?
"You can tell when love is in the food and intention is behind it. I think of who the dish is for and the flavors they love. If I cook complex flavors for my partner, there will be a layer of earthy spices like cumin, cardamom, cinnamon and sweet and savory flavors. I use lots of fresh herbs: rosemary, thyme, cilantro and parsley."
What's a significant misconception that people might have about African cuisine?
"Africa isn't monolithic, and the foods can be approachable. If you like rice, there are many easy recipes, and you'll learn the spices and cultural context. In Bibi's Kitchen is an introduction to that. I set out to create spaces for the conversations of my origins and invite people to the table."
How do you like to serve?
"I love big bowls and ceramics! If you're able to create a space and ambiance for people, you should do it from the highest place in colors that bring you joy."
Where do you like to eat when you're not cooking?
"I eat a lot of sushi from Sushi of Gari in Tribeca and Silver Rice in Brooklyn. I've recently enjoyed a lot of Hawaiian food: ahi tuna made with fresh seaweed, edamame and rice. I go to Wiki Wiki at DeKalb Market."
Are there other chefs who inspire your cooking?
"Yewande Komolafe inspires me—she's a chef, recipe developer and cooking writer at the New York Times. The London-based chef and author Yotam Ottolenghi does too. And the Australian culinary community blows me away. The melting pot of Afghani people and proximity to the ocean there creates originality in the food."
More stories to explore…
CREATE YOUR SUMMER
Your new favorite to-go order, courtesy of Hannah and Marian Cheng, the sisters behind Mimi Cheng's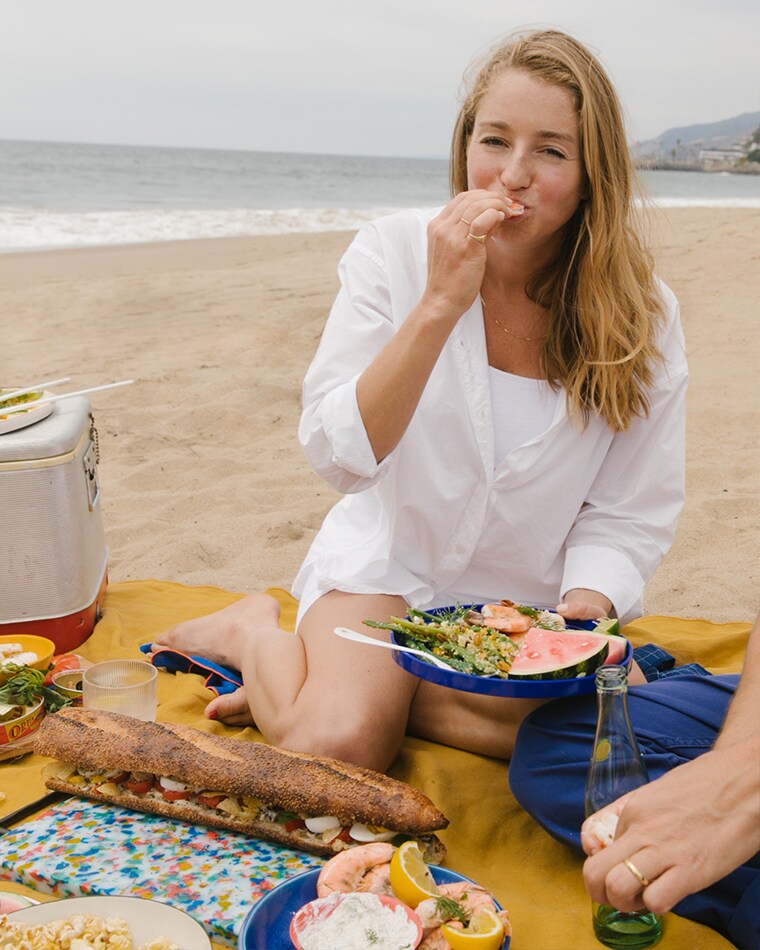 CREATE YOUR SUMMER
Pack the perfect beach picnic with a little help from chef and cookbook author Molly Baz