C
R
E
A
T
E
Y
O
U
R
summer
with
Congrats are in order—the sisters and owners of Mimi Cheng's (best known for their handcrafted Taiwanese dumplings, inspired by their mom's recipes) just opened their third NYC storefront! We met them there, on a sunny day in the Upper West Side, to talk food, family and the power of community.
"
We want to make sure each menu item is something we love, that is fun and reminds us of our home cooking. Dumplings are a great canvas for different flavors and mixing cultures.
"
—Marian (in stripes)
In conversation with the Cheng sisters
What are your menu favorites?
HC: "It's hard to pick but my favorite is always our namesake—the Mimi Cheng's organic chicken and zucchini dumpling. It's really juicy, light and full of fresh ginger flavors. Our cucumber salad is a nice accompaniment—it's cold, crunchy, garlicky and spicy at the same time."
What do your customers love the most about your food?
MC: "That we make it fresh every single day. We have people in each store that are handcrafting the dumplings with love, right in front of you. Plus, it's a very specialized menu."
When you're in the Mimi Cheng's kitchen, what do you wear?
HC: "We keep it casual—jeans and T-shirts. And we really love the chef aprons from Tilit, another small family-owned business in the Lower East Side."
When your mom visits, who does the most cooking?
HC: "We always ask her to cook, but she wants to go out and eat at all the NYC restaurants. There's definitely some negotiation. One dish she makes that we don't have on-menu but love is her version of this sour tomato soup with pork, cilantro, scallions, egg, tomato and greens, in a bone broth with vermicelli noodles."
Tell us about your Dumplings for Doctors initiative!
HC: "Being a restaurant, we really felt the effects of COVID early on. Some of our team members had hospital workers in their families, who said that the only food options were vending machines. We had a kitchen and a willing team who wanted to serve the community, so we started a GoFundMe and ended up raising over $70,000, which also brought in larger companies who wanted to sponsor meals. Now, we're working with Rethink [an NYC nonprofit committed to reducing food insecurity] to distribute community meals."

MC: "Our customers would even handwrite notes to include with the meals—and email us to see how else they could offer support, by buying frozen dumpling kits or donating to the initiative. It was amazing to see how generous, thoughtful and supportive people can be."
See more of our day with Hannah & Marian
The Chengs' camera roll
A look inside the sisters' lives, through their own lenses.
More stories to explore…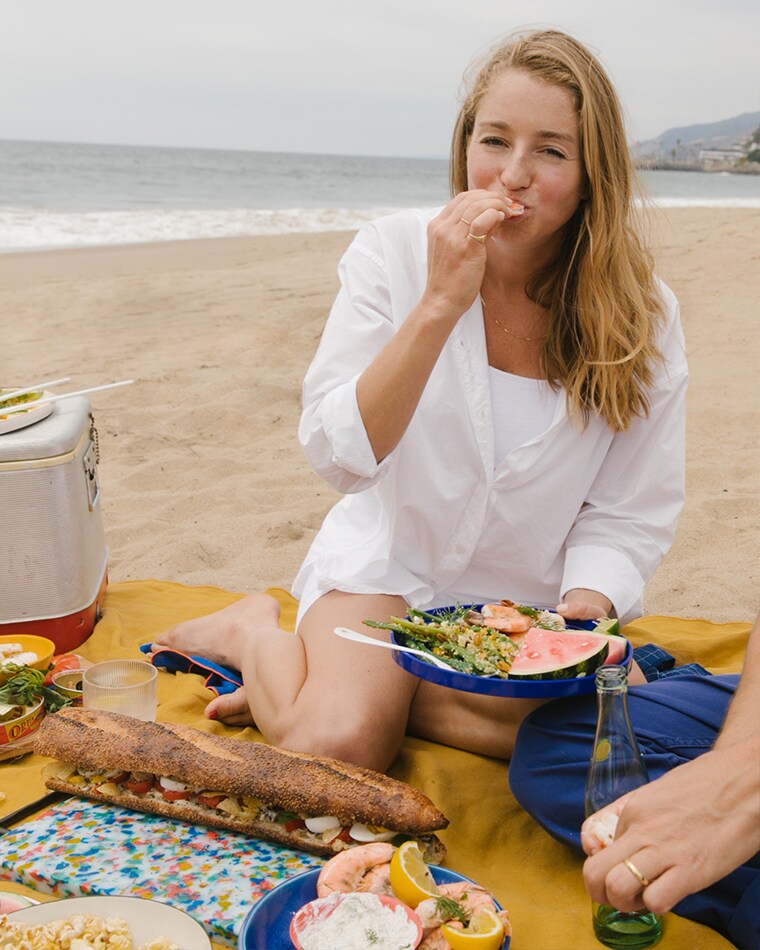 CREATE YOUR SUMMER
Pack the perfect beach picnic with a little help from chef and cookbook author Molly Baz