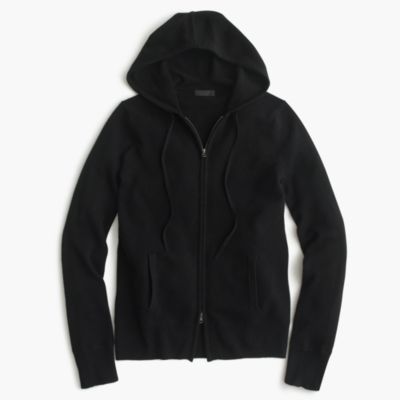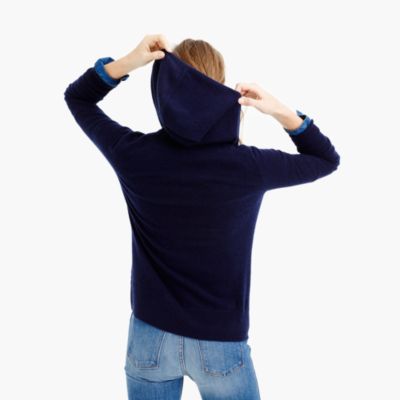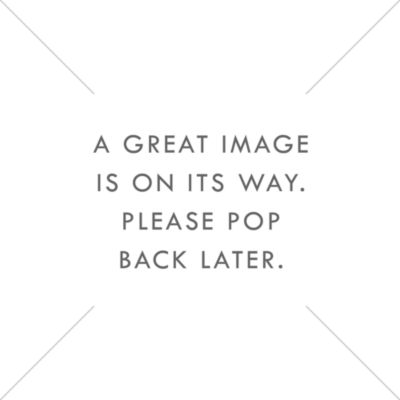 Product Details
Just because it's summer doesn't mean you have to put away your cashmere sweaters. We work with one of the best Italian mills to create our cashmere—it's famously soft, comes in completely custom colors and, if you treat it with love, it will last forever. This one fits like your favorite hoodie, only it's way more luxe.
Italian cashmere in a 12-gauge knit.
Zip closure.
Off-seam pockets.
Hand wash.
We recommend folding (never hanging) and storing in tissue paper.
Import.
Italian cashmere zip-front hoodie
Rated

3.7

out of

5

 by

81

reviewers.
Rated

4

out of

5
 by
springdreams1
Not perfect, but still love it
There is so much variation in the J. Crew hoodies. I bought the heather flannel color in the spring - it is thick and warm but a little scratchy/itchy. I just bought the nickel grey - it is a little softer, but not as thick. It is also less wide and not quite as long, but the same size in the sleeves and shoulders. Both sweaters have the poor zipper issue. But the hoodies look so nice on and I feel happy wearing them! I also bought a popover hoodie a few months back - that one is super soft and feels like true cashmere. So, J.Crew does have some real cashmere you just never know when you are going to get it. I wish that there was more consistency in these sweaters, especially when buying items that can't be returned.
October 3, 2015
Rated

1

out of

5
 by
signe
Poor quality makes for itchy & disappointing wear!
I asked for this hoodie for Christmas and at first glance, it looks great. But as soon as you go to zip the thing, you realize how cheap and poorly made the zipper is. Feels like plastic coated in gold paint. It also wasn't nearly as soft as I expected (nor as good quality as my past cashmere from J. Crew was). I could have overlooked that, but not only is it not soft (and as another reviewer wrote, "cheap" feeling), it's also INCREDIBLY itchy. I wore it around the house for a few minutes before I had to take it off it because the material irritated my skin that badly - and I don't have sensitive skin. I'm very sad to have to return this, but I'm more disappointed in the down-slide of quality I've just witnessed from J. Crew. These cashmere sweaters are not cheap (Although now it's on sale...) and I can't help but feel as though J. Crew is trading solely on name brand now, whilst swindling customers out of quality. They've lost my customer trust and loyalty.
December 22, 2014
Rated

2

out of

5
 by
anything
Yes, the zipper really is that bad
I thought I could overlook a cranky zipper, but no. It took me five tries to get it to zip up even a few inches, and from there progress was still rickety. Everything else was perfect.
September 10, 2014
Rated

3

out of

5
 by
saram23
Great idea...poor quality and execution
I have been searching for this kind of sweater for a long time, and was so excited when I found this. I travel a lot, and a neutral but good quality hoodie is the ideal item for me. Unfortunately, I have been disappointed by the item: the cashmere quality is not great...it pills in the underarm, stretches out at the sleeve cuffs and hems. Not something I've ever seen my other cashmere items do. I also ran into the zipper issue that most other reviewers mention. It's difficult to do up, and also to undo. The most unfortunate part for me was when I noticed the back neck/hoodie seam was coming unravelled completely after only a couple of months of ownership and following the folding and dry cleaning instructions... To JCrew's credit, their VERY efficient and friendly staff exchanged it for me immediately, but the new one has an equally bad zipper...and the cuffs stretched out even more. Really too bad. For the price you'd expect much better quality.
May 10, 2015
Rated

1

out of

5
 by
GSNYC
Poor Quality
Don't buy! The quality is very poor - I have many cashmere sweaters from J. Crew and always loved them. This hoodie is itchy, not soft at all and what is more after a few wearings it started to pill. I only kept it because a brown hoodie is rare to find but I should have sent it back immediately.
November 19, 2014
Rated

2

out of

5
 by
Julie
y'all were not kidding about the zipper
I ordered the peacock heather (beautiful color!) in S (I'm 5'5"/32c/125) and the fit was right on. The fabric isn't as soft as other cashmere (even JCrew's) but I think a gentle handwash could improve it. But the zipper! Good grief. It took much fiddling and pulling to get it open to even try the thing on. Once on, I was able to zip it up after some initial fiddling to find exactly the right way to do it. But then I couldn't get it unzipped. I finally took it off over my head. My friend thought I was being dramatic and so tried himself. Beginner's luck -- he got it on the first try. But then second and third tries were unsuccessful. I bought it on clearance and I understand it is non returnable, but this is a manufacturing defect and I may take it to my local store to see if they'll give me a refund. It's a shame. I love the color. But no way this thin sweater is going to hold up to the manhandling it takes to use the zipper.
July 15, 2014
Rated

3

out of

5
 by
Bluesgirl
Zipper and construction
I like the idea of the zipper but it is poor quality and annoying but I can deal with it. What I am having a hard time with is the poor construction of the sweater. Immediately after a few wears, the seams began to come apart. I have had to hand sew the hood to the main part of the sweater many times as it comes apart in different sections. I love the sweater and want to wear it again today but what do I see..........once again I have to pull out a needle and thread to sew and reinforce the seam. Grrrrrrr.
November 14, 2015
Rated

1

out of

5
 by
cccc
Go Elsewhere for Warmth
This is the scratchiest piece of cashmere I've ever gotten. What's happened, J. Crew? I've gotten many other cashmere sweaters in the past and they've been soft, but not this one. The styling and the cut of this piece seems like it's been designed for a store that sells appliances as well as clothing, without mentioning brands. Awful-a deep drop in quality. Sad to see you go, J.C..
November 12, 2015
Rated

2

out of

5
 by
JanieexD
Disappointing
I have one of these from a few years ago, which I love. I received one in Neon Dahlia today, and right away I could tell it was different. The fabric was not as soft as any of my other Jcrew cashmere from a couple years ago. Because of the price, and because it is supposed to be cashmere, I expected it to be much softer. I put it on, and it is see-through. I could see the shirt I was wearing underneath, suggesting that this sweater is now made very thin. I purchase cashmere expecting it to be thick and warm. This was not. The quality is largely inferior to the cashmere of a couple years ago, at least in this style. If the thickness doesn't bother you, the color and style of the sweater was perfect. It fit true to size.
November 17, 2014
Rated

1

out of

5
 by
deba
J Crew Cashmere Going DOWN the Tubes
I have been purchasing J Crew cashmere for years and own many forms of it, hoodies, crews, cardigans, cardigan tees, long and short sleeve etc etc etc. I've noticed the quality isn't the same as it used to be, i.e. not as thick, or substantial, not as soft, in fact "itchy", zippers not working properly...J Crew, you better step it up because there are many good to great companies out there that sell beautiful cashmere and yours is not it any longer. Sadly to say, but my purchase went back pronto (and I loved the color!) :(
March 4, 2016
Rated

1

out of

5
 by
twinmominsf
very very very disappointed
this was my third cashmere hoodie purchase form jcrew, so i was shocked that after wearing this one for just only a few hours the seams started unraveling a the back of the neck. love the look but will be returning asap ... so disappointed!
September 24, 2014
Rated

3

out of

5
 by
anne
Yes the zipper is horrible
Nice slim fit, it could be a little bit longer though. Like several other reviews say, the zipper really is a horrible quality, and it did not get better since I purchased the same item in a different color last year (end of 2013). It is very hard to thread and use the zipper when putting on - can take a few minutes if you are unlucky - and then it sticks out parallel to the ground like a tongue!
October 26, 2014
Rated

1

out of

5
 by
catherine
Poor Quality
I've been wearing these hoodies for 10+ years. The first three I bought lasted for around 6 years with frequent use 3 months out of the year. They finally wore out in the elbows from my time sitting at desks in grad school, and I was happy to replace them since I had loved them so much. I've since purchased 4 more hoodies (the most recent one in Feb 2016) and returned 3 of them - one because of "vanity sizing" (who knew I could gain weight and lose a size?), and two because they started falling apart within 2 weeks of purchase (holes in cuff seams and shoulder seams). I still wear the one I kept even though there's a hole in the cuff seam because I love the style. But I'm definitely on the lookout for another cashmere hoodie to spend my money on. Also, everything everyone says about the zipper is true.
April 23, 2016
Rated

4

out of

5
 by
JMel
Great hoodie beside the zipper
I love that hoodie but I try to keep it unzipped most of the time... as it is difficult to open or close. Like another reviewer, I was afraid to break it everytime I had to use it. I put mineral oil on the stripes to help but still not a very smooth interlocking. A standard zipper of good quality would fit better on that hoodie to make it perfect in my opinion. Otherwise, the cashemere is good quality, the hoodie is not bulky under a jacket/coat and I love the fitted style.
June 30, 2014
Rated

3

out of

5
 by
eocean
Very soft, but poor zipper and poor shape
Lovely color (light gray), very soft and very comfortable to wear. However, the zipper is very temperamental and seems cheap. The sweater does not hold its shape especially along the cuffs. Minor piling too which is very disappointing considering it's J Crew cashmere. Quality could be better, but in this case for me, comfort overcomes my disappointment.
January 8, 2015
Rated

3

out of

5
 by
Kitt
The Zipper
This is everything I want in an article of clothing: black, hoodie, cashmere. But the ZIPPER. IS. TERRIBLE. Unbelievably cheap for an article of clothing that, well, is not. Unfortunately this was a gift so I don't have any recourse. I love the sweater, but will always and forever only wear it unzipped.
November 24, 2014
Rated

3

out of

5
 by
shopster
wanted to love it
I almost bought this in the tan color yesterday, but had to leave it behind because it was very itchy on the arms. I have other older cashmere J. Crew sweaters that feel great on and don't make me itch whatsoever. It's too bad because if I loved it, I probably would have bought more than one.
July 6, 2014
Rated

1

out of

5
 by
sfogal
Perfect cashmere hoodie, if only...
This cashmere hoodie is a perfect design, and the cashmere is good enough quality for the money (if you get it on sale). I purchased the gray hoodie, and I absolutely love the color and fit. However, J.Crew really blew it on the zipper quality. The zipper is awful, not only is the zipper low quality/cheap, it LOOKS cheap, tacky, chintzy. It's bright faux yellow gold (ugly; doesn't go well with gray or any color) and doesn't work well, either. Note to J.Crew--no one wants a gaudy gold zipper--stick with silver, gunmetal, or black, and spend the extra 25 cents and get one with a stylish zipper pull! Sorry to say that all the sweatshirt hoodies I've purchased at big box discount retailers have MUCH higher quality zippers. I really want to keep this sweater because I love the gray, but the zipper upsets me every time I try it on because it's just so unattractive.
December 21, 2015
Rated

1

out of

5
 by
lisajo
Disappointed!
I have at this same sweater in navy and black that I purchased awhile ago. I have wore this grey sweater once and it is wrinkly and pilled already. I am VERY disappointed in this product. It doesn't feel like pure cashmere but if it is it is a different quality than in the past.
March 7, 2015
Rated

2

out of

5
 by
BRock
All my J.Crew cashmere gets holes
I bought this sweater and was pumped. I wore it maybe twice and it already has a whole in the back. This literally happens to every piece of J.Crew cashmere I own. It is really disconcerting. I don't know what is going on with the quality of J.Crew cashmere.
December 10, 2014
Rated

1

out of

5
 by
anukap
Problem with the cheap zipper
Takes long time to zip the sweater. J.crew quality has declined.
March 18, 2015
Rated

4

out of

5
 by
ethereal
my fifth cash zip hoodie
I love these cashmere hoodies. I have two s/s and three long sleeve versions. The two way zip on these tend to be a teeny bit temperamental but I love them. That would be the only quality issue with these hoodies. Fit is a little bit over-sized but cozy nonetheless.
October 1, 2015
Rated

4

out of

5
 by
Cassandra
Shouldn't cashmere feel soft?
Great style, great fit, warm, cozy. Just wish the cashmere felt nicer, it feels sort of coarse. Pockets could be bigger.
November 15, 2014
Rated

3

out of

5
 by
Lino
cashmere hoodie
Hit or miss with J Crew quality. Looks good but you just never know if it will last, especially with this cashmere sweater. Wore it 5 times and its starting to pill. It was not inexpensive either.
March 9, 2016
Rated

1

out of

5
 by
Scribble
too bad
I have been buying from JCREW for years. I loved their cashmere pieces. I received this and it smaller than the smalls I own from there but it was fine with a tank top underneath. I wore it one day. When we returned home I took off the sweater and the hood had two large holes along the seam. Very cheap quality. I am so sad, that's a lot of money for one wear.
January 12, 2015
Rated

3

out of

5
 by
PVStyle
Love the sweater, hate the zipper
This sweater is perfect, except for the zipper. I had waited months to purchase it, love the weight of the cashmere (it's light, but I live in Southern California, so it's perfect for me), sizing is perfect - the zipper, however, is ridiculous. First of all, it is completely unnecessary to have the double zip feature (can zip up from bottom -> useless). I don't know if it's because of this that it takes me 5 minutes to get the zipper head and teeth aligned to simply zip the sweater. As others have mentioned, the zipper is very poor quality and cheaply made for such a pricey sweater. I'm keeping it, but is an annoying defect.
November 27, 2014
Rated

2

out of

5
 by
Krista
Cardigan
I purchased this as a treat for myself, but was disappointed with its quality. While the design and style is good, the zipper barely works and the cashmere doesn't seem like the quality of years past.
August 3, 2014
Rated

5

out of

5
 by
Kendall
Great sweater
I have at least six of these hoodies pastel for summer and darker colors for winter. The only thing I wish they would change would be to make it a bit longer in length and the pockets a bit deeper. ( for cell phones ) It's perfect for layering with the J Crew down vests!
October 29, 2015
Rated

5

out of

5
 by
Yogakitty
All Season Hoodie
I love this piece. It is tailored nicely and doesn't seem like a hoodie at all. The cashmere is silky soft with a heavier ply. It is perfect to wear over most any type of top or on it's own. It goes from the gym to dinner; it's that versatile.
October 24, 2015
Rated

5

out of

5
 by
LEELY
Dressy sweatshirt
I finally caved in and started wearing my beautiful collection cashmere sweaters daily. I am always surrounded by multiple cats and dogs and figured it was just an item to be worn on special occasions, dates, "sans"all the pets. I am delighted as always with J.Crew's quality of cashmere and how great these pieces feel when you are wearing them.( I also do enjoy the lovely cotton hoodie sweatshirt to cover those " vet days" ) however; real cashmere sweaters feel wonderful. I bought the zip-front hoodie in navy and black this season. I realized how timeless and versatile these colors would be to be dressed up or down. Truly a must have.
July 16, 2015