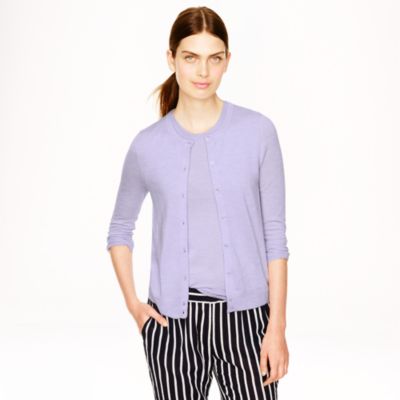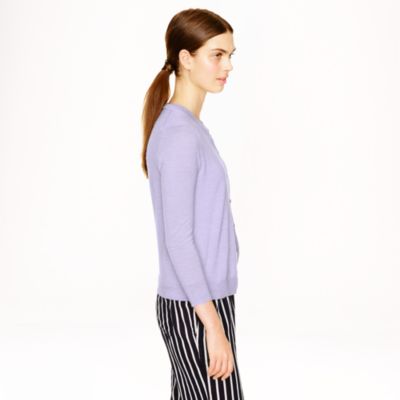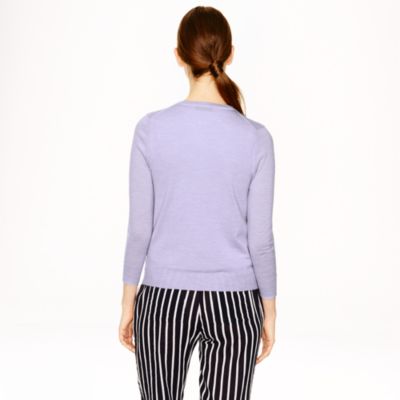 Product Details
Just because winter's over doesn't mean you have to say good-bye to cashmere. Delicate and feminine, this classic cardigan is made of feather-light, tissue-soft cashmere in a 14-gauge knit. We work with one of the best Italian mills to create our famously soft cashmere—treat yours with love and it will last forever.
Italian cashmere in a 14-gauge knit.
Three-quarter sleeves.
Hand wash.
Import.
Our colors really pop, but you can't tell just how vibrant some of them are until you see them in person.
Collection featherweight cashmere cardigan sweater
Rated

4.4

out of

5

 by

40

reviewers.
Rated

5

out of

5
 by
kbv53
kbv53
I love these light cashmere sweaters for summer indoor air conditioning. I usually wear a medium or large. This one runs a little small, so the large was a better fit.
May 12, 2014
Rated

4

out of

5
 by
Avagirl
Essential for spring/summer
I have collected quite a few of these over the years and love the selection of colors and lighter weight. I prefer the 3/4 length sleeves for warmer-weather looks. I have to say that over the years, the quality of cashmere has declined. I have a few that are years old (the model that had a self-placket in front and wasn't ribbed at waist or sleeves) and they are still going strong with very minimal, if any, pilling. My newer ones seem to start pilling after just a few wears. Thank goodness I have one of those little sweater combs, but it's still disappointing.
July 10, 2014
Rated

5

out of

5
 by
Jackie
Effortlessly elegant.
Perfect for warm weather workdays in igloo-inspired offices.
September 21, 2014
Rated

4

out of

5
 by
Sarah
Lightweight cashmere cardigans
I love this sweater and have it in a few colors but they always get holes in them. And the holes form rather quickly. Should I take them back to the store to get fixed? It definitely makes me question the quality given that they are quite expensive. Thanks
July 22, 2014
Rated

5

out of

5
 by
Susie
perfect fall transitional piece
It is perfect and have worn it often. I especially like the weight of the sweater. Also perfect or layering
October 2, 2014
Rated

5

out of

5
 by
JCREWFAN
Cozy
The lightweight cashmere tends to run small but is incredibly soft and cozy. I got the heather pearl and ordered the hot pink for a pop of color. Definitely worth the splurge.
September 15, 2014
Rated

5

out of

5
 by
Jinger
A perennial favourite
This is the third cashmere featherweight cardigan I've bought. Love them all! They are the perfect weight for cool summer evenings and for heated offices in the winter. Hope to add a fourth and fifth to my wardrobe soon.
July 24, 2014
Rated

5

out of

5
 by
CaptureDChic
love JCREW colors!
I love JCrew featherweight cashmeres and found them to pile less than regular kind. The colors are amazing and a great compliment to my wardrobe
July 5, 2014
Rated

5

out of

5
 by
Julie
Multi seasonal wonder
I bought this cardigan to wear in winter and wondered if it would be too lightweight, but the colour is wonderful and really pops on grey days and teamed with warmer layers is already a favourite. It will transition well into summer with my lighter pieces.
June 26, 2014
Rated

5

out of

5
 by
mmrpa
Love J.Crew cashmere!
J.Crew has the best cashmere of anyone, no comparison! It is the softest of any I have ever found. I love the featherweight cashmere because that means I don't have to give up cashmere when the weather gets warm. I got the warm redwood color and that is a perfect description of the color, brow with a reddish hint (looks great with navy). The sizing is typical of other J.Crew cardigans. This is a classic style and great investment that can be worn for years to come.
May 26, 2014
Rated

4

out of

5
 by
Sherristyle
Featherweight cashmere
Love this sweater, great feel and fit. The only drawback is the piling. I wish they made a turtleneck too.
September 13, 2014
Rated

2

out of

5
 by
Emiliya
Not the best quality
Bought the lemon color. Looks cheep, does not look like or feels like cashmere. A lot of threads sticking from the buttons. Not pretty overall. Maybe the light color does not look good at this quality level. I am sending it back. Sadly, as I really wanted to like this one.
September 8, 2014
Rated

1

out of

5
 by
AnneMarie
Quality has gone down, doesn't feel like cashmere
I love J Crew's featherweight cashmere cardigans but sadly the quality of this piece vs. those I bought previously has significantly decreased. This sweater doesn't feel as soft as they used to and I actually had to check to make sure that I did order a cashmere sweater. Online it says Italian Cashmere but the tag says it's Made in China. I'm not sure if this is the problem. Even my husband felt the sweater and didn't believe that it was cashmere, especially when compared to my older J Crew featherweight cashmere cardigans. This is so disappointing as this is a staple of my work wardrobe.
August 20, 2014
Rated

5

out of

5
 by
mmnyc
Gorgeous year-round sweater
I have been collecting J Crew's featherweight cardigans for years - they last forever, never go out of style, and come in beautiful new colors every season!
July 18, 2014
Rated

5

out of

5
 by
crflf
Perfect for spring, cool summer nights, and fall
I purchased this sweater in the white color and it looks great with a white cami underneath, or over sleeveless dresses and tops. Both the color and style go with everything. I have other colors already and they hold up nicely.
July 15, 2014
Rated

5

out of

5
 by
sharonmere
What I'm taking to Europe this summer
This is perfect to have for chilly restaurants! Good as a cardigan to wear or wrapped around your neck or your waist!
May 26, 2014
Rated

5

out of

5
 by
kdhon
Awesome cardigan!
Absolutely love the cardigan! Perfect weight to go over sleeveless dress for a graduation! Nice fit! Thank you!
July 15, 2014
Rated

5

out of

5
 by
spgmont
Perfect for summer nights in Vermont
Just the right weight when the evening temp drops below 65 degrees, as it is wont to do here in Vermont.
June 6, 2014
Rated

5

out of

5
 by
Tini
Spring transition
I love featherweight cashmere because of its softness, I can wear it under blazers or coats, over dresses or tops in summer, depending of the colour, almost all year round.
May 28, 2014
Rated

5

out of

5
 by
JayK
Love the featherweight cashmere for summer!
I love the cashmere featherweights for summer - and love this neon color - have only worn it once and have had plenty of compliments! My only concern is that it's a little shorter than the cashmere featherweights of previous years….
May 26, 2014
Rated

4

out of

5
 by
Mary
Amazing Color
Lovely color, great style and fit. A true classic.
May 14, 2014
Rated

5

out of

5
 by
Barbara
J Crew order
always tasteful , great customer service, i have nothing more to say about htis
May 12, 2014
Rated

5

out of

5
 by
parkesonia
Beautiful quality and style but too fragile
I got lemon color, it is beautiful and it is real feather light cashmere. I love every part of it. but i wore once and already got small balls on the side where i had should er bag, cashmere was too sensitive and fragile. but it's normal for fine cashmere, I should hold tote bag next time. but it is really beautiful piece, I even want to re order another pieces in case current one worn out, i have same back up piece!
September 26, 2014
Rated

5

out of

5
 by
Judy
Great fabric
Love the feel -- fit could ba a little fuller around hips. Great to wear in office with air conditioning Very easy to wash by hand -- no ironing required. Colors are great
August 2, 2014
Rated

5

out of

5
 by
Melly
My favorite piece
I love the featherweight cashmere cardi. I have it in 4 colors. Every year I buy a new navy and a new black. I wear it all year long to work, going out and hanging out at home. It's so comfy and always looks great.
July 26, 2014
Rated

5

out of

5
 by
kate
summer staple
Love this sweater. The color and light weight make it a perfect summer staple.
July 17, 2014
Rated

5

out of

5
 by
Crewit
A must
I wear this featherweight cashmere sweater all year round. It holds its shape and the colors are great. Important for your wardrobe. I wear as a blazer look or shirt.
May 26, 2014
Rated

5

out of

5
 by
Beebo
Rich color goes with everything
Weight, color and size are perfect for three seasons, work and play.
May 16, 2014
Rated

5

out of

5
 by
Audrey
great basic
A staple in my wardrobe. Glad to see they're available year after year to replenish!
May 12, 2014
Rated

5

out of

5
 by
vera
perfect layering piece
very comfortable, great quality so versatile and classy!! I have every color , dress up or down !! absolutely love them
May 9, 2014