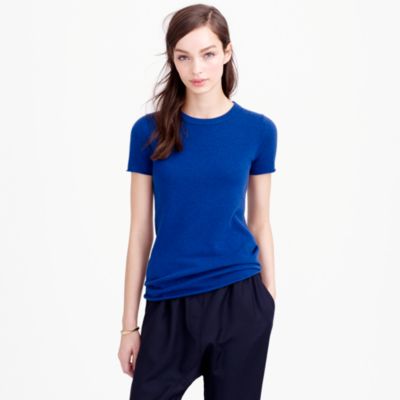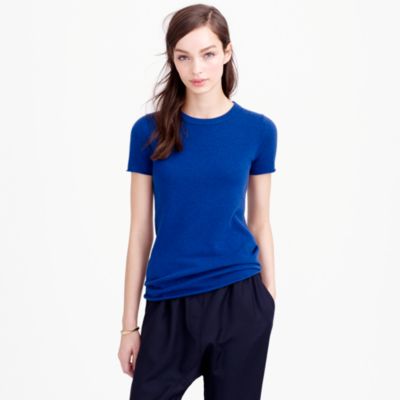 Product Details
Just because it's summer doesn't mean you have to put away the cashmere. We work with one of the best Italian mills to create ours—it's famously soft, comes in completely custom colors and, if you treat it with love, it will last forever. This is the T-shirt that will make all the others in your drawer jealous.
Italian cashmere in a 12-gauge knit.
Tubular trim at neck, rolled edge at cuffs and hem.
Hand wash.
We recommend folding (never hanging) and storing in tissue paper.
Import.
Online only.
Our colors really pop, but you can't tell just how vibrant some of them are until you see them in person.
Italian cashmere T-shirt
is rated out of
5
by
76
.
Rated

5

out of

5
by
ceejay
from
Versatile Cashmere Top
This top fits nicely, classic fitted T shirt shape. Suitable for work or weekend wear. I ordered the heather acorn colour - it is as shown online, and I would probably call it a camel colour. The cashmere is a good weight and soft. I have worn it twice, with jeans and then with black wide leg pants with a navy coat - looked great with both. True to size. Will buy more colours.
Date published: 2014-10-17
Rated

5

out of

5
by
Mimsy
from
New Basic
I originally bought this sweater because I love cashmere but can't afford it, and this was on sale. I quickly fell in love with the quality and style--I have decided that now I'm a 'cashmere girl' instead of a 'Hanes 3-pack t-shirt girl'! I have since purchased the same shirt in 2 other colors, and plan on buying more. It really makes you feel better about yourself to upgrade your basics--and this item certainly is a basic. I can just wear it around the house with jeans or cut-offs #nothing makes you feel more glam than wearing cashmere 'just because' and not saving it!# or dress it up for court #I'm a lawyer#. It's cool enough summer New Mexico, but can serve in winter as well. And the feel is so soft #yet it is a very sturdy top#. I got mine in a larger size than normal, and it still hugs the right way but is forgiving in the right way. My daily uniform is now one of these paired with Campbell capris or the Minnie pant & ballet flats--I feel like Babe Paley every day!
Date published: 2014-10-03
Rated

5

out of

5
by
Zeetheb
from
Perfect for cool and cold weather
I have several of these tops in various colors. They are semi fitted and flattering; not too tight just a nice body silhouette and the perfect length. I just do not like those overly long tops. The length works with jeans, pants or skirts both short and long. Works well under a cashmere cardigan or jacket when it gets colder. Perfect for those overheated rooms where long sleeves are too much. I wash it before wearing (it arrives a bit scratchy but that is quickly fixed) wash with a delicate laundry detergent like the one from The Laundress and a fabric conditioner or softener on cold gentle in the washing machine then lay it out to dry then a few minutes in a warm dryer to fluff it and make it soft. It will remain soft. No need to use softener again for a while. Washes beautifully in the machine and retains its shape just remember to use cold gentle and do not over dry.
Date published: 2014-09-25
Rated

5

out of

5
by
over20yearsloyal
from
a new addition to my collection
I appreciate the consistent, classic style. I have the classic colors such as black, navy, etc... However, I am always checking for the unique, newest, vibrant colors too. The vivid aqua color is spring and summer fresh. Lovely addition to my collection.
Date published: 2014-05-12
Rated

5

out of

5
by
Orangedog
from
Faithful friend
I have this sweater in no less than 12 colors and I have never been sorry for buying another. They transition day to evening effortlessly depending on my accessories. My style tends towards simple tops with fitted trousers and statement necklace or a great scarf. This sweater looks good belted also. I wear it under blazers year around and just hand-wash with the Laundress Cashmereliquid soap and dry flat on a rack for care. I have never had a problem with shrinkage with this care routine.
Date published: 2014-05-06
Rated

4

out of

5
by
JJ728
from
Depends on the Color
I have this tee in two colors, heather midnight and heather neon petunia. I usually wear a small in J.Crew tops, but in the midnight I ended up needing to size down to counter the boxiness. I loved it so much I ordered the heather neon petunia in the same size. I put it on and it was much tighter. I had to exchange the XS for a Small for the perfect fit. I'm not sure why the darker color ran smaller in the same item, but either way, I love them both. They are perfect to wear with jeans or a leather skirt. Love!
Date published: 2015-04-16
Rated

4

out of

5
by
LaTaosena
from
Alas, Too Long!
This is a wonderful, versatile cashmere, but unfortunately I'm 5'1", and it just hit me too long and thus made my legs look too short, so bad proportions for me. Sorry to return it.
Date published: 2015-03-03
Rated

4

out of

5
by
pawin
from
Good for In- between eather
This sweater tee is perfect for when the weather changes. I have the green and I wear it over a plaid shirt for extra layer. It is slightly fitted so it seems more feminine fitting than a basic T. Wash carefully - I use the J Crew cashmere wash on my hand wash cycle and I got a little shrink; luckily it wasn't much.
Date published: 2014-10-11
Rated

4

out of

5
by
cbplus3
from
Good cashmere T
This is what I needed, a basic black t shirt sweater. I really think that JCrew needs to improve the quality; for the money, it does not have the itch free quality that I expect for cashmere. Still, I kept it and I wear it often. It's a good versatile piece.
Date published: 2014-10-03
Rated

4

out of

5
by
Chris
from
Get one in every color!
I have four of these lovely tops! The look is classic, something you can wear forever but the color choices make it fresh and modern as well. I think these run small, my only complaint, so I always size up for a less fitted, casual look. I also wear these over long sleeve shirts for cooler days. Overall, a good purchase, especially if on sale!
Date published: 2014-05-12
Rated

3

out of

5
by
Nina
from
what a "surprise"
the quality is weird, doesn't feel like cashmere, not as fluffy and thick as last seasons' models... disappointed :( bad luck i cannot return ...
Date published: 2015-06-19
Rated

3

out of

5
by
Girl100
from
Nice but could be improved
The best thing about these sweaters are the gorgeous, saturated colors. Really hard to find this anywhere else. Also, I normally hate wool sweaters due to the itchiness, but this one did not itch at all. Love that this is machine washable (although I have not washed mine yet so can't attest to that). However, several things could easily be improved. First, the neckline is really, really high, like at the base of your neck. JCrew, please lower the neckline a little bit. However, I am NOT advocating lowering the neckline to your usual plunging necklines. Lowering it a little bit would be more universally flattering on everyone. Second, I don't understand the length and the rolled hemline. I am 5'7 and this sweater covers my crotch. However, with the rolled hem, you can't really tuck it in. So the length is awkward and limits the versatility. Would prefer a more feminine cap sleeve.
Date published: 2015-04-23
Rated

3

out of

5
by
Katb
from
cashmere tee
the tee was a little big, long and the sleeve opening too wide. I don't like the roll at the hems. a bit to casual for cashmere tee. However, i kept it because i needed a nice quality basic tee for work.
Date published: 2014-06-05
Rated

2

out of

5
by
Janet
from
Was expecting more!
I am so dissapointed. I have bought a number of these cashmere tees in the past and decided to get a few new fun colors for the spring. I typically love wearing these to work during the spring and summer. This year though the quality seems HORRIBLE! The cashmere is no the soft wonderful cashmere of my other sweaters from JCrew from past years - there is definitely something going on with the quality. Sadly - I will return and find other cashmere basics elsewhere.
Date published: 2015-04-03
Rated

2

out of

5
by
Emma
from
The reviews were right.... Sigh...
I have a lot of j crew cashmere... I have mulled over starting to add these short and long sleeved t's to my collection for a while now, but have been swayed by all the reviews from the last 18months or so complaint about the dwindling quality.... Ugh. The colour is so pretty... But this is, hands down, the scratchiest sweater I own. It's also very see-through. It so scratchy, hesitate to call it cashmere... Honestly. I am the queen of wool sweaters... And this is not a great one. I bought it on sale... But even then I'm still a little sore about the price I paid for such poor quality. I won't buy another unless they change... And JCrew, if you're listening.... If you do change them... Relaunch them as new and or improved so we know... I'll buy 10! The colours are great, the style is great, but the quality is beyond subpar.
Date published: 2015-03-19
Rated

2

out of

5
by
dime
from
tight across shoulders
I adore Cashmere tees and have a navy J crew version from about 6 years ago. I wish they would bring back that style. The sleeves are not rolled like on this tee, which I don't care for as it always rolls and appears too short. This tee is also tight across the shoulder and under the arms. Even the on the model it looks uncomfortable under the arm area. It's just not a great fir. And I agree with other reviewers, it's too short. It also runs a size too small in comparison with other J Crew sizes. (I and 34b, usually wear an xs or small and with this I would have to go with a Medium, but even then the fit is just 'off'.) Hope this is helpful.
Date published: 2015-01-12
Rated

5

out of

5
by
Lara
from
Just right.
I purchased this tee in black. It has a flattering fit and will be a versatile piece — easily dressed up or down. For reference, I am 5'6" and 124 lbs and the small fits nicely.
Date published: 2014-05-11
Rated

5

out of

5
by
Lori
from
Cashmere for all seasons
This is my second short sleeve cashmere tee. I am 5'7 and 128 and the small fits me perfect. They go with everything and that's why I love it
Date published: 2014-05-04
Rated

2

out of

5
by
JCrewObsessed
from
Different manufacturer = poor quality = HEARTBREAK
I've been a faithful J Crew enthusiast for years and could always count on impeccable tailoring and quality. Lately the quality has nose-dived and their new manufacturer clearly is to blame. I can't tell you how many times in the last year I've coveted pieces online only to be turned off (and leave empty-handed) when feeling the cheap fabrics in the store. This new cashmere is NOT up to J Crew's once high standards. When I received this tee in the mail I actually checked to make sure I had in fact ordered cashmere! It feels like cheap cashmere sweaters sold at discount/big box stores, not like my other luxuriously soft J Crew cashmere. The fit is inelegant, the knit is thick and ITCHY! This cashmere is NOT worth the price tag, guys. Reading other reviews of the cashmere, I realized it's not just me. I appreciate the expanded product inventory, but don't alienate your loyalists by cheapening your standard of quality. GET IT TOGETHER, J CREW!!!
Date published: 2014-11-14
Rated

2

out of

5
by
patty
from
Cute style, but fabric not up to snuff
I love the cute style, but the knit is rough and itchy. I did not expect this to be so since other J.Crew cashmere items are soft.
Date published: 2014-05-20
Rated

4

out of

5
by
hemlockend
from
runs small
i am an 8 or 10 in j crew blouses and a medium in most of the tees & sweaters but this top was tight! i exchanged my initial medium for the large and it fits like most slim cut j crew mediums do. never the less, i love the light-medium weight, quality cashmere and the length of the top that hits my 5 foot 8 frame at the mid-hipbone. plus i couldn't pass up the ebony color (graphite dark grey). wish the cardigan was being offered in that color too!
Date published: 2014-05-22
Rated

2

out of

5
by
Katherine
from
Dissapointed
I had to send this one back. I sized up so it wouldn't be too tight across my chest. The fit was still a little tight up top but then it really ballooned out towards the bottom. It was very unflattering. But a size down would be way too tight on my chest (34C). It did look very cute under a blazer, but I wanted to be able to wear it on its own as well. The fabric was also not as high a quality as I was expecting - much coarser then what cashmere usually is. As others have said I thought the roll on the sleeves and bottom wasn't good - it made the shirt too casual. The color was very nice though.
Date published: 2014-09-06
Rated

3

out of

5
by
Amanda
from
Soft Tee for Casual Days
Love the J.Crew cashmere. Color palate for choices was spot on for this type of shirt. Like that this isn't hanging and loose like all of the other shirts now. Tailoring is much better and feminine (wish you had more shirts with this type of fit below the boobs). The issues with these are the issues I encounter with all J.Crew shirts - the fit and cut. As with most J.Crew shirts (especially the specialty cashmere and the work button downs) the arm pits are cut too small. I have regular size arms and the armpit on the shirts always always cuts in and is very tight. I can only wear this on cold, cold days, as no matter what with the tight fit of the armpit, it doesn't allow for any ventilation on the key area the body needs for ventilation. I am an athlete, so sweat more than others, but i can wear other brands shirts just fine in any weather. There are a few recent shirts that I purchased from factory where the cut was much better than the regular store, and the armpits were normal.
Date published: 2014-06-22
Rated

3

out of

5
by
hellobruno
from
MADE IN CHINA
The details note Italian Cashmere, and from the finest mill of Italy...but the item is in reality made in china. I don't buy items from china if I can help it.
Date published: 2014-10-27
Rated

5

out of

5
by
Reeseebug
from
Perfect year-round top
Perfect little sweater, not just as a seasonal transition piece but for year-round wear. Comfortable, lightweight, soft, stunning color. If I could change one thing it would be to make the collar a little less tight. Those of us with fuller chests may find the right size in overall fit to be just a touch tight across the bosom.
Date published: 2014-05-27
Rated

3

out of

5
by
Emily
from
Runs a bit small
I purchased this cashmere tee in heather indigo (which is a nice dark navy), and it is cute but not perfect. The quality of the cashmere seems lower than other recent J Crew pieces, it is a bit rougher and denser, almost as if it was washed in hot water and shrunk. The fit is also tighter than expected; I am 5'5" and am between XS and S in JCrew (I wear a S in the Tippi sweater), I ordered a S in this cashmere tee and it fits but just barely. Overall, this piece is good but not great.
Date published: 2014-06-27
Rated

2

out of

5
by
Jackie
from
Not Up To Standard
My impression was that this was not a quality cashmere as it felt coarse.The style was good for layering and the colour was what I expected. However,I would not recommend this jumper.
Date published: 2014-07-12
Rated

4

out of

5
by
izzie
from
hthr midnight my fav color ever!
This tee is one of my wardrobe staples. If there was a handful items I had to wear for the rest of my life, this tee would be one of them, I just don't get bored of them. Hthr midnight is absolutely perfect! Please bring more black and "navy", they are always sold out! I pretty much rotate between my classics - black, gray, navy with an occasional color - brick this season. Fits true to size, I however, size up - to achieve that ideal relaxed yet tailored look. Not as soft as other J.Crew's cashmere, hence 4 stars only.
Date published: 2015-06-26
Rated

3

out of

5
by
JulG
from
Wish it were longer!
Love J. Crew cashmere, just wish the length of ALL their cashmere sweaters was a couple inches longer.
Date published: 2014-05-12
Rated

3

out of

5
by
littleblackdress
from
comfortable, nice fitting tee
this top fits great, looks great. I have a longer torso so was pleased with the length. I am 5'8", 125 lbs, bought the small in black. The only thing that I do not care for is the way the sleeves roll up. They seem to sort of pucker in an odd way. I have not tried to press this out, but hoping this will fix the situation.
Date published: 2014-06-03