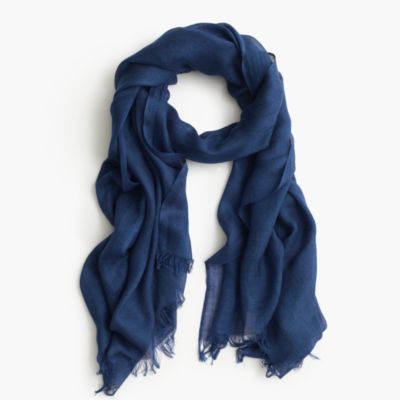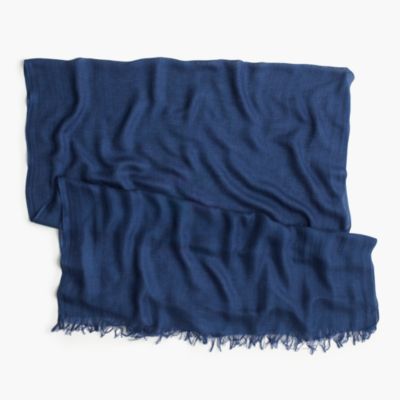 Product Details
Made from silk-cashmere with a beautiful drape, this wrap is a J.Crew classic for a reason.
Silk/cashmere.
Hand wash.
Import.
Online only.
Refined silk-cashmere wrap
Rated

4.5

out of

5

 by

58

reviewers.
Rated

5

out of

5
 by
casual
Unusual but... works great as a table runner
I know this is unusual, but this scarf makes a great table runner. I bought it in the "snow" color, which is not quite white - closer to ivory. It looks great on my table - I lay it out so that it is not flat but is loose and flows. It doesn't look as stiff as some long and narrow traditional runners and the cashmere fabric is more interesting than a typical linen or cotton.
June 20, 2014
Rated

3

out of

5
 by
Kimmcb
too thin
Fabric is soft and drapes nicely, but its too thin for travel purposes. Did not keep me warm at all during trans-Pacific flight. Snags much too easily.
July 6, 2014
Rated

5

out of

5
 by
vhinseattle
a staple
I'm glad the scarf is not as bright white as the color indicated "Snow". I like it a lot, it is more of a subdued soft white. Very compact, easy in the bag. Will definitely get more of other colors.
May 22, 2014
Rated

1

out of

5
 by
Emcee
Too delicate to wear
This wrap, while pretty, is loosely woven and very prone to snags. Nearly all of our bridesmaids had snagged their wraps on bracelets, necklaces or zippers or hooks before the start of the ceremony. This wrap is totally unrealistic to survive close encounters with real brides and bridesmaids. Save yourself some headaches and drama and get something else.
November 9, 2014
Rated

5

out of

5
 by
CrisM
Perfect scarf for every season
I will first say this - it is a very delicate scarf. You must handle with care, and if you do you will love it. Very light-weight and the colors are beautiful. I got the dusty shale color and am in love with it!! This is by far my favorite scarf I own. I brought this scarf on my trip to Europe this summer and loved it but my jewelry caught on it a few times. Be careful of your jewelry with this scarf because it will pull it, but this is by no means the fault of the style or quality of the scarf. This scarf is light-weight enough for the summer, but also a nice accessory during colder weather when you don't want to wear something too bulky. I highly recommend this scarf - you will get your money's worth!
September 23, 2015
Rated

5

out of

5
 by
Josie
Elegant and beautiful scarf for all seasons
I am a frequent customer of J Crew and love the quality of the clothes and accessories. This year I found this gorgeous scarf- cashmere and silk. I bought it for everyone on my shopping list including one for me! It is so beautiful; the texture is exquisite; the colors are lovely. I think I bought at least ten of them!
January 5, 2015
Rated

5

out of

5
 by
happycat
love it!
I bought the snow colour and just love it. It's a gorgeous material with a nice sheen - though yes, quite delicate. Need to be very careful not to snag it but it's great piece. I wear it was a scarf and a shawl.
April 3, 2015
Rated

5

out of

5
 by
trulyb
Lovely light scarf/wrap, color off for me
I had read the reviews and was looking for just this sort of airy, lightweight wrap to carry along in my bag to add a little warmth and color. I ordered the vintage blush color, but it wasn't what I expected. It looks less pink than it appears on my monitor and more peach. I've returned it to try another color. It is delicate, but I'll take the chance that it will get small picks or holes.. I think any small blemishes that develop won't be noticeable once I have it wrapped.
August 20, 2014
Rated

3

out of

5
 by
Laura
Beautiful but very thin
I expected the wrap to be of more substance--it is very, very thin and sheer. It's very soft, but for the price, I expected more weave.
January 12, 2015
Rated

1

out of

5
 by
SophieH
Quality is bad
I have some "more fragile" silk/cashmere scarfs that are pretty durable. Over time, small holes happen due to wearing. But this scarf is way too fragile. The second i scratched the price tag accidentally when trying it on, the scarf immediately torn apart and now have two 2cm holes. I know this is cashmere+silk quality... but still...
November 24, 2015
Rated

5

out of

5
 by
ColumbaNine
effortless fabulousness
I've bought four of these scarves in different colors over the past five years and I wear them year-round. Wool makes me itch; pure cashmere makes me itch (delicate flower here!); cotton looks too summery; and pure silk slips and slides; so I find this fabric wonderful for wearing as a sheer wrap in summer and then knotting/doubling/arranging as a scarf in winter. Not cheap, but I've gotten every penny's worth out of this item, which has become a staple in my wardrobe.
September 20, 2014
Rated

4

out of

5
 by
JCrewObsessed
Not what I expected
I purchased this online expecting a wrap with a thicker weave. The knit on this is of typical J Crew high quality as is the material, but it's very sheer and lightweight. Fine for a summer scarf, I guess, however for the price, I was hoping for something a bit more substantial.
May 17, 2014
Rated

5

out of

5
 by
SassyShopper
Classic Chic
I absolutely love this scarf! It's extremely soft, yet super light. I find myself reaching for this one again and again. Please bring back the sand/beige color! With this classic styling, I need much more than one! But also, please make sure to continue to pack attention to quality - the scarf snags easily...
May 20, 2016
Rated

5

out of

5
 by
Suze
Love this--have it in three colors!
Fabulous material--the perfect lightweight coverage.
April 15, 2016
Rated

5

out of

5
 by
cynqi
BEE-U-TI-FUL BLUE
This greyish-blue scarf is gorgeous. Big size, but not bulky, so it can be styled in so many ways. The texture is soft and cozy. The color intensity adds to any of my shirt and jacket or sweater combos. Love the way it brings out the blue in my eyes. Took me a while to decide to buy it, but glad I did before the color was unavailable. A very nice quality addition to my closet, should last forever.
March 9, 2016
Rated

5

out of

5
 by
angelbis
Lovely wrap
This is exactly what I thought it would be - a lightweight, elegant and soft cashmere wrap. This is a versatile and warm garment that will go on many trips with me and really enhance my wardrobe - both casual and elegant.
January 18, 2016
Rated

5

out of

5
 by
DixieDiva
Luxe at a great price
I own 3 of these gorgeous scarves -- blush pink, black and white. As reviewers have noted the white is more of an ivory/cream color, but I like that better that plain white. This scarf is soft, lightweight, and warm with a slight sheen from the silk, It's perfect for winter and as a light shawl for chilly spring evenings. The fabric is a little delicate, so be careful of snags. All around though a great purchase, and even better when on sale,
January 9, 2016
Rated

5

out of

5
 by
hreich
what a lovely soft scarf!
This scarf is perfect for the almost-not-quite winter. It is soft and light but also potentially very warm. The color is too. I love it!
December 27, 2015
Rated

5

out of

5
 by
GIGI
Two In One
The cashmere shawl really is Two In One in I more ways than one. It's an elegant scarf plus an elegant shawl. It's practical & frivolous. Depending on the color, it can blend in or make a splash of perfect color. And speaking of colors; the choice runs the color chart with a bit of shine blended in. I have purchased several over the years. I'm always cold and with this beautiful accessory I have myself covered! Over the years my "collection" has aged much better than I. It's still bright, colorful, and in great condition!
November 28, 2015
Rated

5

out of

5
 by
Monica
truly refined
I got this scarf in the blueish/gray and in the rusty colour. They are truly refined and elegant, they elevate your outfit giving it a very elegant touch. The quality is very nice, soft, light and warm. I will buy more colors when they become available.
July 21, 2015
Rated

5

out of

5
 by
TLea
Elegant textile
I purchased the refined cashmere wrap in warm iris, and was really pleased with the quality of this scarf. It is extremely soft and lightweight, yet warm enough for a winter in Paris. Based on the image online, I expected the color to be a bit deeper / richer in tone. Upon receiving my scarf, I found it to be more of a French blue or cornflower blue. Overall though I am very pleased and would purchase this item again.
January 31, 2015
Rated

5

out of

5
 by
indmadden55
The perfect gift
I bought this for my mother for Christmas and she went ga-ga over it. It's beautiful and can be dressed up or down. I kind of wish I had bought two!
January 4, 2015
Rated

5

out of

5
 by
Philly
Perfect for unexpected chilly weather.
Love this wrap. Beautiful and practical. Wore it for the glamor and used it to keep warm.
December 27, 2014
Rated

5

out of

5
 by
Springrain
Absolutely timeless
I have this scarf in 3 different colors, navy which I got last year, green and black and love all 3. I wear black a lot to work with everything, the light green in summer or at home when a bit cold and navy since it is older one on weekends. They are really timeless and feel wonderful against your skin. I am very allergic to wool so this scarf feels like a heaven on my skin hence heaving it in so many different colors. Love also the blush color and hope to get it soon. Thank you Jcrew.
November 16, 2014
Rated

5

out of

5
 by
Anne3154
Favorite piece
I've purchased 5 of these "wraps" over the past 5 or 6 years; they are a staple in the wintertime for me. I've only ever used it as a scarf, and love that the fabric is thin as opposed to bulky like other scarves. Love whatever they've done differently this year that gives it a slight sheen; the blush color is gorgeous.
September 15, 2014
Rated

5

out of

5
 by
MOMom
Bought the light blue color
The light blue color is very pretty and has a very slight green cast to it. It is a delicate scarf and can snag easily I have found. I think it is the perfect length and width - so not too bulky. It is lighter weight so it is easily wearable on cooler summer nights.
May 30, 2014
Rated

5

out of

5
 by
CollectionFan
Wonderful Wardrobe Basic
I ordered this wrap in the creamy white because I wanted to wear it over a whitish Collection dress that has a slightly dolman sleeve and detail that would be hidden by a sweater. When it first came I thought it was a little thin but when I wore it several people commented that it had an ethereal quality. On a practical note, it provided a little needed warmth and I can see that it will be perfect to take to a restaurant in the summer when air conditioning can make it too cool. It also will look nice worn differently under a coat - I love Winter White.
May 19, 2014
Rated

4

out of

5
 by
callacalla
Lovely
I bought this wrap in Sandalwood to use as a scarf, hoping it would be thin enough to wrap around my neck without creating a giant bulge, and it performs exactly as I hoped. The material is very thin and delicate, I know many have mentioned how easily it snags, and I am sure mine will snag at some point too but I think it is worth the risk. It is very soft, the sandalwood color is a lovely cafe-blush neutral that goes with everything. I am very tempted by the cognac too but can't really afford another scarf at this price. Overall very pleased with this purchase.
March 24, 2016
Rated

4

out of

5
 by
fourbabies
Pretty But A Little Thin
I wore this to a September wedding and it worked very vell when the temperature dropped in the evening. It is a little on the thin side, but pretty nonetheless.
September 30, 2015
Rated

4

out of

5
 by
GreenBean
Beautiful but delicate
I purchased this scarf three weeks ago. I loved the weave and texture of the scarf immediately. The color is lovely too (lilac). I love how the scarf feels on my skin. The scarf is very fragile. It snags constantly. The first few snags, I was able to get out but I am no longer able to. I don't expect the scarf to survive the summer but I do think I will enjoy it until then. I've received many compliments on it while wearing it.
March 25, 2015