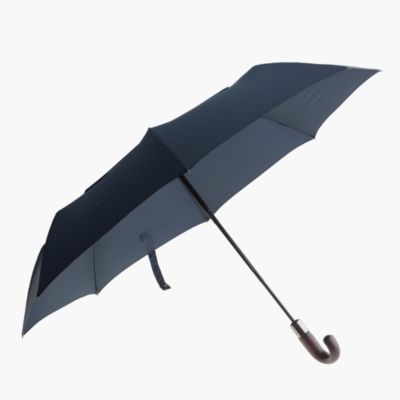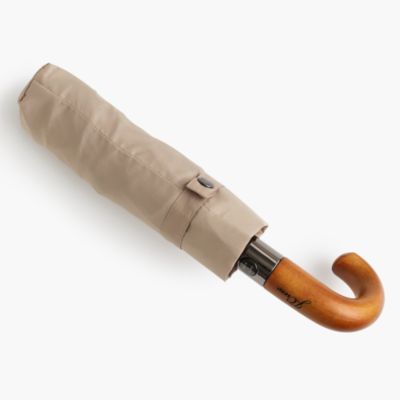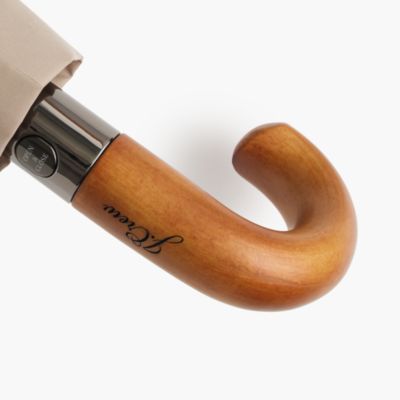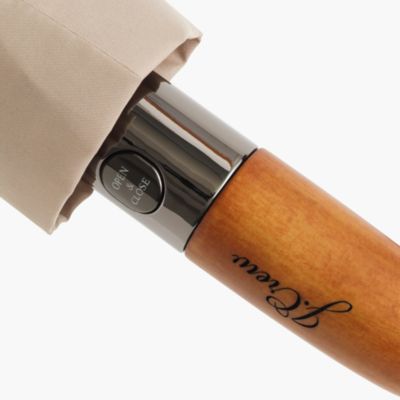 Product Details
Based in the rainy city of Portland, Oregon, third-generation family-owned ShedRain has been producing handsome well-made umbrellas for over 65 years.
Poly.
Wooden handle.
Import.
Size & Fit Details
25" frame (opens to 42" in diameter).
Length when closed: 14 1/4".
ShedRain® for J.Crew umbrella
Rated

3.1

out of

5

 by

9

reviewers.
Rated

1

out of

5
 by
JBinDC
Bent first day I used it
Generally if J. Crew co-brands a product it is of very good quality. Unfortunately, this is an uncharacteristically poor product for J. Crew. I bought the umbrella due to its size as it would fit perfectly in my carry-on travel bag, which it does. I brought it on my European business trip and the second time I used it the entire shaft or main arm bent such that I can close it and it is unusable. I will be returning it when I return home.
May 10, 2014
Rated

3

out of

5
 by
ruffles
Sturdy, but not perfect :(
This umbrella is sturdy and looks nice. It feels great. It has an automated open and close feature, which is cool, but the closing can be a bit finicky; it requires some force to close and sometimes opens suddenly while closing. Protects from the rain, but it did get inverted at slight wind and that was during its first use. That said, it did not break. Only had it a short time, thus far.
May 20, 2014
Rated

3

out of

5
 by
SeanT
Average
I walk to work daily and this thing stays in my bag. I've carried it now for about 2 months and used it maybe 8-10 times. This thing is very stylish and I love the wood crook handle in such a small, packable size. The auto open and close are very handy and seem to work well. Reviews have mentioned that closing it into lock mode is difficult, this is true. It can pop up if it slips out of your hands when trying to close it. As others have mentioned as well, the handle seems a little loose or disconnected from the main rod and it allows it to kind of turn slightly while in your hand. I wear a suit daily (usually wool) so it's important for me to stay dry. I would recommend this to someone if they are utilizing it areas that aren't as windy. Rain here in Oklahoma City is usually accompanied by 30mph winds at minimum. I need a bigger umbrella to keep my legs completely dry in those situations. Overall a good umbrella for daily carry in light rain.
November 10, 2014
Rated

4

out of

5
 by
Steve
Solid Umbrella
This umbrella is definitely very stylish, looks great. Performs well at keeping me dry and has yet to flip inside-out even during a couple windy storms. Only issue I've had it the stem-handle connection is slightly loose, let's the umbrella twist a little independent of the handle.
May 8, 2014
Rated

3

out of

5
 by
fengjay
Good looking umbrella
This is definitely one good looking umbrella. I have no problem using it so far, however, there's a gap between the handle and the shaft (seems not perfectly connected). I kinda worry that it might not last in heavier rains/stronger winds.
August 26, 2014