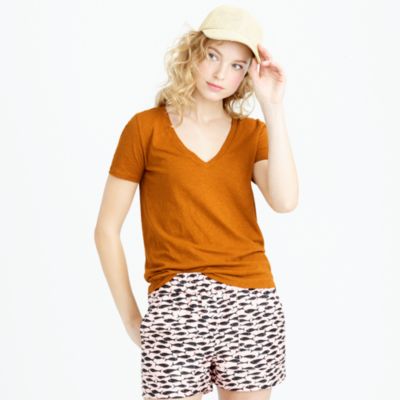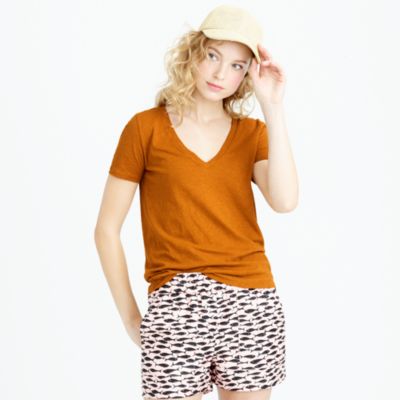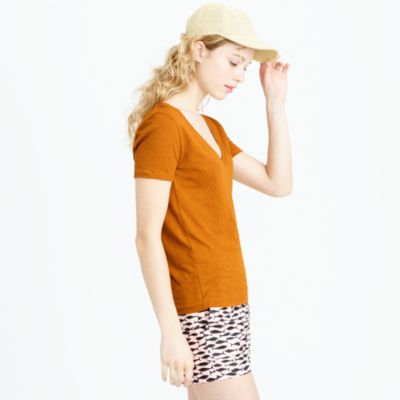 Product Details
Back in 2004, we set out to replicate one of our favorite thrift-store tees, and the result is our vintage cotton—famous for its heathered texture and softness. We upgraded this tee to a top-quality cotton that stands up to constant wear (without sacrificing the lived-in feel we love). Since it's so featherweight, we recommend taking extra care when washing. Treat it like you would lingerie (not gym gear).
Vintage slub cotton.
Machine wash.
Import.
Size & Fit Details
Slightly loose fit.
Body length: 26 3/4".
Rated

4

out of

5

 by

169

reviewers.
Rated

5

out of

5
 by
TheArchaeologist
Everyday, everyway
The Vintage tees are my favorite. This tee can be dressed up and dressed down - great with a pair of shorts, jeans, skirt, tucked in, un-tucked, with a cardigan, with a scarf - anyway you could imagine. It is soft, comfortable, and the colors are fantastic - you can never have too many. I like the v-neck because it cuts low and I think that makes it a great summer tee but if you are wary of it being too low then I would recommend the scoop-neck.
May 5, 2014
Rated

4

out of

5
 by
xoespresso
Cute top - but wash carefully
I bought two of these to layer, and they're really cute and lightweight. But after a few washings, one developed a giant hole in the underarm seam... it's a shame that the fabric doesn't hold up better!
May 21, 2014
Rated

5

out of

5
 by
smm97
best t-shirt!
Staple t-shirt on my wardrobe, buy new ones each season! Very comfortable and fir well. Right amount of stretch.
May 6, 2014
Rated

4

out of

5
 by
Mira
Lightweight and Drapey, but Difficult to Care For.
The Vintage Tee is a drapey, straight t-shirt in lightweight slub cotton. It fits slim but not tight in the bust and drops straight from there. The v-neck enhances the drape, and I wear these partially tucked with slim skirts and sleek pants for some contrast in shape and texture. I like the look, and J. Crew has offered the Vintage Tee in some nice colors. But I have reservations. The fabric is light and delicate. I wash mine in a lingerie bag. I leave them in the dryer for 5 minutes, then line dry. There are often places on the hem or sleeves that the fabric won't lie flat after washing and require ironing. The fabric also tends to pill. It's frustrating that this tee costs more but is much less durable and needs more care than the Perfect Tee. The v-necks vary by about an inch in depth in the same size, so I prefer to purchase these at a J. Crew store so that I can compare v-necks and choose the shallower shirt. These v-necks are about an inch deeper than the Perfect Tees.
June 17, 2014
Rated

2

out of

5
 by
epoirrier
So glad it wasn't just me
I was really happy to read others' review on quality. I've purchased many colors of these shirts and couldn't figure out what was going on...hem came undone on one shirt after a few wears and washes and 3 others with tiny holes in the body of the shirt that appear after 1 or 2 washes. I will steer clear of these from now on even though I love the fit and how light weight they are.
April 10, 2015
Rated

2

out of

5
 by
jxl88
Inconsistent Quality
I have a love/hate relationship with these t-shirts. On one hand, the style is exactly what I was looking for and I love the vintage look of the fabric. On the other, the quality has been hit or miss. I own at least 10 of these shirts in a variety of colors. From my experience, the black, navy, seem to be of a different material than the grey and white. My black shirts have held up well even in a regular wash cycle. Both of my grey shirts however seem thinner and have holes in them after less than 5 wears. One has 5 noticeable holes in it already. This is not the kind of quality I would expect for any t-shirt let alone for this price! I am going to have to find a new go-to t-shirt as the inconsistent quality here is a serious issue. Really disappointing!
March 10, 2015
Rated

1

out of

5
 by
CrewCust
T-shirt color bleeds
As a loyal Jcrew customer, I have purchased these tshirts for many years, and am disappointed to report that the quality of these shirts seems to have significantly deteriorated. In my latest purchase, the red tshirt was not prewashed and ended up dying an entire set of laundry on a cold cycle wash. I will not be purchasing any more of these tshirts given the quality deterioration - very diasppointing Jcrew.
January 13, 2015
Rated

1

out of

5
 by
colle
disappointing construction
I have sent numerous vintage tees back because the stitching keeps coming out on the hem and sleeves. These new ones are no different. The stitching is already coming out on the short sleeve one and I have worn it 3 time. It is beginning to seen to me that you don't really care about the quality since you are not doing better with the construction. This is very disappointing to me since the love the shape and lightness of the tee. At this point I am looking for somewhere else to purchase tees and will stop buying anything from J. Crew because I am feeling you don't care about the quality and don't listen to customer input.
September 28, 2014
Rated

3

out of

5
 by
Jane
No value
I have this T in 11, yes 11, colors. I love wearing them but hate how they don't hold up in the gentle cycle with delicate washing soap. Unfortunately they wind up as sleep T's after 3 or 4 wearings. The colors fade, hems rip, and the are holes at seams as if a dull or improper sewing needle was used. No value here even on sale.
November 9, 2014
Rated

5

out of

5
 by
Tish
A must have Tee!
The Vintage Cotton V- Neck Tee is a definite must have. This Tee fits true to size and washes well because of it's good quality. JCrew has regular discount offer; I always seem to get them at the right price . This tee is very comfortable because of it's relaxed fit. I highly recommend it as a staple summer piece.
May 10, 2014
Rated

2

out of

5
 by
StarBrigt7
Ehhh
I think the shape and fit of these shirts is great. Unfortunately, the fabric is WAY too thin and fragile. This shirt wouldn't even survive being washed in the washing machine once. After two or three wears, this shirt would look like a rag. Definitely not worth the price tag.
December 7, 2014
Rated

5

out of

5
 by
zoey
Am I the only person that knows how to do laundry?
Sorry. I'm really a nice person, but these reviews about these tees tearing up in the wash ARE KILLING ME! I've been wearing these vintage tee for years! I wash my my tees separately - along with other like things and colors in mostly cold water. This tee has the PERFECT v -neck depth, sleeve length and hip length. The shirt is easy to layer because it's so lightweight, but it's substantial enough to wear alone. It's easy to tuck in or leave out without bunching. I've turned many of my friends on to these tees, and everyone loves the fit, colors, and material. No one has a shredded or holy shirt!
November 12, 2014
Rated

1

out of

5
 by
Alyssa
Awful Quality
I just purchased about 10 vintage tees over the past month in store and online and have almost all the colors now. I am so disappointed in the quality. After one hand wash, the shirts have lost their shape and color. It doesn't matter what color you buy, they don't last after one wash. I will never buy anything from JCrew again. I have two orders on the way and when they arrive, I am sending them back. Don't waste your money like I did. The colors are pretty in the store and online, but buy your shirts somewhere else as you'll only enjoy your shirt once.
July 23, 2014
Rated

5

out of

5
 by
angela
Best Tee ever!
I have been wearing these Vintage Cotton tees for years. I just bought the seagreen, navy, black, and white for this summer. YES, like it says in the product listing, you must treat these tees with care when washing. I wash mine in a nylon bag all by itself, in my regular washing and hang to dry. Cared for in this way, they won't develop holes from other clothes rubbing against them in the wash. It seems that most of the reviewers here don't know how to do laundry and just throw everything in together and then in the dryer. These tees are like fine lingerie and WILL SNAG. I don't have a problem with that since I know how to prevent that. I love these for being the best fitting, comfiest tees in the world.
April 9, 2015
Rated

5

out of

5
 by
Crleeqs
V-neck tee
Love the JCrew vintage tee's. True to size, have them in every color
December 17, 2014
Rated

5

out of

5
 by
BuddhaGirl67
Summer staple
I have this top in mellow yellow, kelly green and chili. I love the pop colors in the heathered vintage fabric. I have a black & white striped hi/lo skirt that i love wearing these tops with, and it gives me some coverage while keeping me cool in hot weather. Wore this in Baja Mexico with a cap and skirt, kept me comfortable & lookin' good...
December 2, 2014
Rated

5

out of

5
 by
CSAndrews
Very Soft Shirt
Excellent shirt. soft, thin and also potentially sexy with a deep V.
October 27, 2014
Rated

5

out of

5
 by
Megan
It's a classic
Finding the right v-neck T should be easy but isn't always. I think I've found my go-to style with this T-shirt. Have it in navy, white, black and olive green. Love it.
October 25, 2014
Rated

5

out of

5
 by
amanda
Great every day shirt
This shirt looks great under a blazer, with a scarf, or just with jeans. Super comfortable with a loose but flattering fit.
October 23, 2014
Rated

5

out of

5
 by
dardar
New Favorite!
I am probably the only one on the planet who did not know how amazing tshirts these are. I just discovered these a few months ago!! I love that they are a little longer, not so tight, and the Vneck is very feminine and sexy. I have paired mine with a Y necklace and even my coated jeans. I bought five of these this year!
October 14, 2014
Rated

5

out of

5
 by
mk86
Favorite tee
I have been buying these shirts since JCrew started making them. I own this tee in several different colors. It's my go-to shirt.
August 11, 2014
Rated

5

out of

5
 by
Amanda
The Perfect T-Shirt
I like to look stylish even when I wear a t-shirt and jeans, so this is the perfect tee for me. The fabric is soft and slightly sheer (though a nude bra keeps me modest), the v-neck is sexy without being trashy, and the fit is relaxed without being frumpy (in the correct size, anyway). I own three of these in white and will certainly pick up more.
June 3, 2014
Rated

5

out of

5
 by
Zap18
So comfy
It's so soft and comfy I can't take it off at bedtime and sleep in it.
May 28, 2014
Rated

4

out of

5
 by
Poodle
A staple in my closet!
These are perfect by themselves or layering. I probably own 25-30 of these (multiples in basic colors), and then a couple seasonal colors every season. I buy the v-neck and the crew necks, and hand wash them in the laundress delicate detergent and air dry. Jcrew: PLEASE bring back the basic grey and stop the white/grey swirly thing thats been happening the last few seasons. In fact, the most stylish v-necks I've ever had were the vintage cotton tee's about 5 years ago when they were slightly longer and the v's were slightly deeper and they seemed just a tad thinner than they are now. (And the grey was grey.) I liked those even more, but this newer style is still very thin, stylish, and vintage-y. These are a MUST have basic to style and layer for everyday, and all occasions.
November 29, 2014
Rated

4

out of

5
 by
KateDanger
Good, but they could be great.
These are such a good basic. They're that fantastic, washed texture of a t-shirt you've had for a lifetime. My only wish was that they came in tall. I find my self pulling them down all the time so I typically keep them as a layer under other tops. I know I can't be the only long waisted woman in the world who wished a high quality t-shirt like this came in a longer length. Other than that, I love these.
November 8, 2014
Rated

4

out of

5
 by
Sunny
back to basics
These tees are a great basic for everyone's closet. They are sized on the larger size, so I sized down to an x-small. They do shrink slightly when washed. These tees are generally better quality than the perfect fit and last for a year or two!
May 16, 2014
Rated

3

out of

5
 by
tyeat
Looks great, feels great, doesn't last
I have one of these in 4 different colors, but I have to replace them each Spring. The material seems cheap............my issue seems to be pinholes that slowly get larger. By the end of the season, they become my "yard shirts" and then I have to replace them. Since I love the style so much, I keep buying them.
April 12, 2015
Rated

3

out of

5
 by
scbc
Right Fit - Thicker Pls
I love the fit of this tee but wish the fabric was a bit thicker. The white in particular. In a perfect world the xl would also be a bit longer too.
April 10, 2015
Rated

3

out of

5
 by
KMLA
DOESN'T WEAR WELL
I really really like these t-shirts, but after a few times washing and drying they start to get little holes. :(
October 29, 2014
Rated

2

out of

5
 by
Esme
Nice style but poor quality
I loved this tee! It's such a nice color and cut. I liked it so much that I placed an international order to Europe (very expensive due to custom tax and shipping). I wore the tee only 3 times and washed it once - very gently by hand. Today I noticed very larges holes under both armpits. I'm so dissapointed since I've been so careful. I can't believe the quality is so poor. My 'cheap' basics tees last a lot longer, and I 'machine wash' them on a daily base. So, I wouldn't recommend this tee to anyone. I like the style, but the quality is really poor. It's true to size though.
January 19, 2015