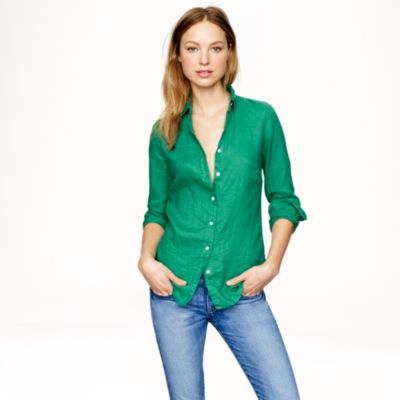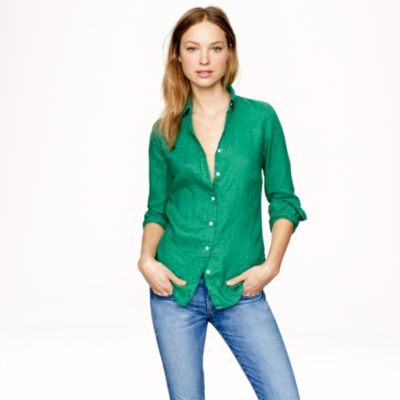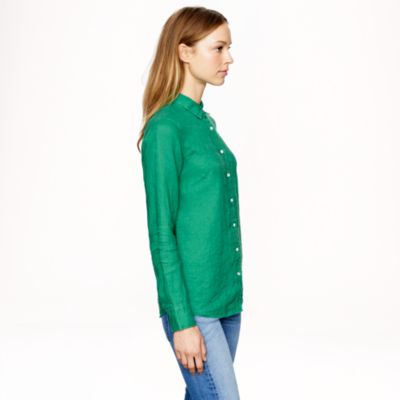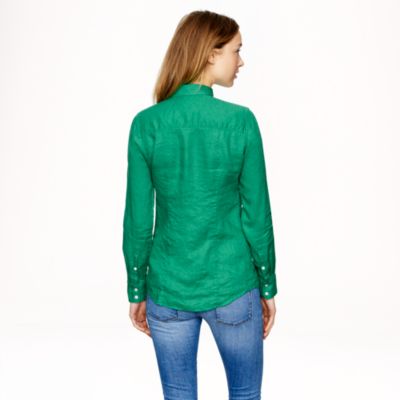 Product Details
The perfect shirt for work and beyond. Borrowed from the boys but designed and tailored impeccably for us—that's why we call it perfect—with precisely placed bust and back princess darts for a slimming, waist-defining fit that's a bit more feminine than our boy shirt. Made from lightweight, airy linen, it's a quintessential summertime piece (and perfect worn as a cover-up too).
Linen.
Long sleeves.
Functional buttons at cuffs.
Machine wash.
Import.
Online only.
Rated

4.5

out of

5

 by

68

reviewers.
Rated

2

out of

5
 by
EEAH4
Disappointed
I have been a fan of this linen perfect shirt for years. I have 6 of them in my closet from previous years and they have held up extremely well with much wear and gentle machine wash. After buying the navy blue color this year at full price, I was very upset that after only 3 washes there is a large whole in the underarm area, not in the seam which might be understandable but in the fabric itself. It looks shredded. I am going to have to give it a poor rating this year. Very disappointed.
August 20, 2014
Rated

5

out of

5
 by
canadianchick
It really is a perfect shirt.
I ordered the size 2 in white. I'm 5' 5" and 115 lbs (34B) and it fits like it was made for me. The things I love the most: the sleeves are still long enough after you wash and dry it. And the buttons land in the perfect spot to create that casual low unbuttoned look without showing your bra. I couldn't be happier. I wish all J. Crew shirts fit like this one, because I find some of them are too tight and narrow across the shoulder, even though I'm small. This one does not have that problem. It really is perfect.
August 19, 2014
Rated

5

out of

5
 by
Peaches
I bought three!
After buying one, I loved it so much I bought two more! This is in a deep, to-die-for midnight blue, with perfect little white buttons, great boy-ish fit that is neat and trim. I tuck the front in a bit, but not the back. Crisp linen, feels light and airy but not thin, keeps its shape. Now if only you had it in a steel grey. Maybe you do, I better look.
July 16, 2014
Rated

4

out of

5
 by
auburne
careful with color selection
The shirt fits perfectly and is true to size, very nice and good quality. My only but is that the color I ordered (flax) doesn't quite look as in the web. It's really a dark beige, more brownish whereas in the website it looks more off-white/cream.
March 23, 2015
Rated

5

out of

5
 by
Betty
Love the Perfect Linen Shirt
I get a few of these every Spring. These linen shirts are wardrobe workhorses. The fit seems improved this year. Like the cuffs more too. Fit is true to size. No gaping.
May 27, 2014
Rated

5

out of

5
 by
AmyO
Good fit and quality
I bought this shirt in white for a trip to North Africa. it wore and washed quite well. The sizing is true and it didn't shrink like crazy, as lower quality linen often does. I ordered the shirt in green and navy when I got home. The colors are lovely, but I haven't worn or washed those yet, so can't comment on colorfastness.
May 25, 2014
Rated

5

out of

5
 by
Charlotte
Truly a Perfect Shirt!
I had been wanting a white linen shirt for the last 3 or 4 years. I tried on shirts from other popular brands and settled on the "Perfect Shirt in Linen" from J. Crew. The quality and fit were exactly what I was looking for and I am very pleased with this shirt.
May 26, 2014
Rated

4

out of

5
 by
Danielle
J.Crew sizing, usually a shot in the dark...
I am 5'3" and 125 lbs. with a small bust, and curvy hips and bottom. Typically, J.Crew sizing is a nightmare for me. In tops, usually I wear a M, but in J.Crew I need an XXS. For bottoms, usually I wear a size 4 pant or 27 jean, but a 0 or 00 in J.Crew. I bought the linen perfect shirt in a size 4. Size wise - the shirt fit perfectly in my shoulders, bust, waist and hips (it could have been a little shorter in length.) Style wise - it is perfect. As always.
September 18, 2014
Rated

5

out of

5
 by
trulyb
A great linen shirt, once you know your size
Count me as a fan of this shirt, for years now. I've gotten a new perfect linen shirt from J Crew each year for the last 4 years at least, and I've found the size to be consistent. They are fairly narrow, and I do need a 10 in them to make sure I have enough room in the bust. That's the same size I get in most J Crew perfect shirts for the same reason. I love the linen. It's light and soft, and yes, it wrinkles like all 100% linen does,. I think the wrinkles look fine given the softness of the linen. You either like linen in the summer, wrinkles and all, or you don't. Since I spend most summers in the SE or SW, I have to deal with the heat outside, and the AC inside, and linen is just right for that, airy and breathable, but covering your skin so you don't burn in the sun or shiver when you go inside. I love the colors, the fabric, and the cut. This shirt is a winner.
August 9, 2014
Rated

5

out of

5
 by
vracine
Great Colors!
I bought this shirt in both green and pink as they are vibrant and perfect colors for spring. The fit is great for both work and play.
May 29, 2014
Rated

4

out of

5
 by
AnnieB
Almost perfect linen shirt
I love this shirt, but wish the button placement was better so I could leave the first few undone for a sexy look. Right now, it's either 'too buttoned up' or too much cleavage. The fit is fine through the body, but tends to run small in the shoulder chest so I always go up a size, from 4 to 6.
June 30, 2014
Rated

3

out of

5
 by
txpacer
Good basic, different fit than usual
I tried a 00 in white at the store. The linen is soft and the white is just a touch sheer, you could probably get away with wearing a nude bra underneath this shirt. There were no loose buttons or stray threads on the on the one I tried. The fit, however, was much different than the other perfect shirts I have. Instead of skimming my body, it was hanging off of me and didn't nip in at the waist like my other perfect shirts (in the same size) do. The overall fit was rather a bit closer to the boy shirts, though judging by other reviews this could have been an anomaly. The overall quality is excellent, but the fit just wasn't what I expected. For reference, I am 5' 5" with a 31" bust and a 23.5" waist.
May 24, 2014
Rated

3

out of

5
 by
SCDC
Too sheer in white
I love the Perfect Shirt and own many colors but the had to return the white linen as it was too sheer for my taste.
May 19, 2014
Rated

5

out of

5
 by
LEELY
A linen shirt to collect
Lovely woven linen fabric makes this shirt a masterpiece along with the clean simple lines. I love this shirt in the beautiful jewel tones of emerald and sapphire to be worn tucked into my jeans . I also love the simplicity of the typical summer colors of white,flax, and navy. A super shirt and so high quality to wear to the shore over swimwear too . Just add the straw hat with the pretty ribbon that blows in the wind.
April 26, 2015
Rated

5

out of

5
 by
CarissaB
New take on the white button up
The linen takes this classic shirt more casual- a great weekend staple.
August 25, 2014
Rated

5

out of

5
 by
nancy
Great Shirt
Love this shirt. I own it in three different colors. You can dress it up or down and fits really nice
June 15, 2014
Rated

5

out of

5
 by
Marci
Perfectly Perfect!
Classic addition to your summer wardrobe. Great fit, true to size and soft linen material makes it a breeze to wear! Perfect for casual, corporate or party wear! Love, Love , Love this shirt... I am buying more colors today!
June 8, 2014
Rated

5

out of

5
 by
Katie
Great summer staple
This is a great shirt to wear as a cover-up over a suit or paired with jeans - light weight and comfortable, love it!
June 4, 2014
Rated

5

out of

5
 by
Olivegirly
Classic Fit and Style
Love the fit of the perfect shirt in linen shirt, it's longer than most of the other shirts I buy at JCrew (I usually order Tall and didn't need to with this shirt). The color was vibrant and will pair nicely with my jeans and patterned shorts in more neutral colors. I liked the shirt so much that I went ahead and ordered it in white also.
June 3, 2014
Rated

5

out of

5
 by
Rosie
Beautiful shirt for summer!
I bought this shirt in the color emerald pool and am so pleased with my purchase. The color looks great with my brown hair and eyes and it looks great even washing and drying it numerous times. This will last forever.
May 28, 2014
Rated

5

out of

5
 by
Bella
Perfect shirt
This shirt is perfect fit for a large frame tall broad shouldered person . I am 12-14 5ft 8 , ordered 14 and its perfect. fits with little room which i prefer . I love this shirt and got it in 3 colors .
May 27, 2014
Rated

5

out of

5
 by
Suze
My wear-with-everything top
I bought this shirt in two colors because I loved it so much. It's an easy, comfortable shirt that goes with almost everything in my closet. Love it!
May 20, 2014
Rated

5

out of

5
 by
TheAmericans
Perfect classic
This is the best value when it comes to linen shirts that can be machine washable and yet look great. I have long arms but regular size fits me better than tall. True classic and I have them in few colors. Please release this shirt in brown, grey and black. My only one complain would be the choice of colors it currently come in. Too many 'cold' shades. The piece wears really well and is my summer collectible.
May 14, 2014
Rated

5

out of

5
 by
Mokiki
A timeless classic
J. Crew knew what they were doing when they named it the "perfect" shirt. I think I'm up to 6 of them now. I live in Atlanta and the weight of this shirt is just the thing for spring,summer and even early fall. I bought several colors of this shirt last year and still love them as much as my two new ones.
May 12, 2014
Rated

5

out of

5
 by
MaryE
Linen love
I bought this in the white and the green. I absolutely love linen and got this shirt on sale. Looks great with the sleeves long, but I like them rolled up. I've worn this tucked in or left out. True to size.
May 10, 2014
Rated

5

out of

5
 by
Gilbertazgirl
Great shirt
I love this shirt. I have several from last year too. Nice casual shirt that looks with capris, white linen pants and jeans. I bought the navy blue. I wear a size 8 ( I'm 5'10" & 150 lbs for reference).
May 5, 2014
Rated

5

out of

5
 by
jrae
Great casual summer shirt-top layer or by itself
Love linen for summer, and this shirt is a winner (only caveat: just know it will look wrinkled right away; the joy of linen). Got the shirt in two colors. Will pair with pants, skirts, even dresses, using it alone or as a topper/jacket layering piece.
May 1, 2014
Rated

5

out of

5
 by
Grammato7
Perfect linen shirt
Perfect crisp white linen shirt! Always classic and fresh. Length and cut flattering. Fits true to size.
May 1, 2014
Rated

4

out of

5
 by
streetgirl
Another perfect Linen Shirt
I love linen shirts for spring and summer. This one is perfect. It works well for business casual but is also a home run with casual skirts, jeans and shorts. It is a pretty eggshell color so is a wonderful addition to your bright white linen boy shirt.
April 8, 2015
Rated

4

out of

5
 by
lovejcrew
Perfect summer shirt
Fits well and washes without shrinking, a real plus. Looks and feels cool. Only complaint is with the J Crew labels. Everyone I know cuts them out as they are way too scratchy and irritating. Unfortunately, these labels are sewn with such perfection it takes forever to remove them. Please, please get rid of the labels! Or, at least sew them in so they may be quickly removed! Thanks!
June 19, 2014