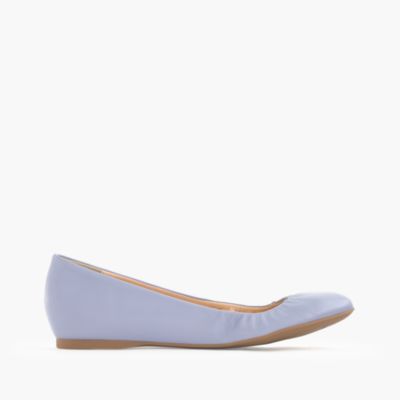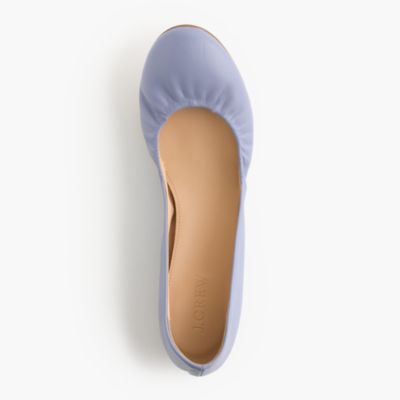 Product Details
We resurrected one of our most popular ballet flats from the J.Crew archives—and for good reason. With a cushioned insole for maximum comfort, a rubber sole for maximum flexibility and an elasticized detail so they hug your feet, they're as comfortable as they are good looking.
Leather upper.
Elasticized topline.
Cushioned insole, slight interior wedge.
Rubber sole.
Import.
Rated

3.5

out of

5

 by

141

reviewers.
Rated

1

out of

5
 by
ayco
Not the original Cece
I own 7 pairs of the original Cece flats, so I know how the original best-sellers fit and was so surprised when J.Crew stopped offering them. Pleased to see them offered once again, I ordered a pair in red leather. I noticed differences immediately: overly wide at the center, no reinforcing leather strip up the heel, a pieced sole rather than a solid one, 1/2 to 3/4 inch lower at the top of the heel, and no "Made in Italy" embossed on the insole. The resulting quality and fit are poor ... excessive width makes them difficult to keep on when walking, the lower-hitting heel results in my heel slipping in and out, the original interior wedge has been replaced with an interior bump at the instep. How disappointing. Please J.Crew ... return to having your shoes made properly in Italy rather than wherever these are imported from. We loyal customers will pay for high quality. I have returned this pair to my local J.Crew store and have provided the same feedback to the wonderful staff there.
November 29, 2014
Rated

2

out of

5
 by
Disappointed
Poorer quality than old Cece flats
These aren't the same as the old (pre 2014) Cece flats. The leather is lower quality: not as buttery soft as before and stretches out too easily. It's also cut wider and falls off the back of my feet. The shoe is no longer made in Italy -- and I don't care where it's made, really, but I do care about the quality!
November 17, 2014
Rated

3

out of

5
 by
CD2014
Not what they used to be
I have a great love for the old Cece. ballet flat. I have two other pairs that I adore. So I was thrilled when I saw that they were back! But after ordering and re-ordering trying to get the sizing right (I had to go down half a size from what I used to buy) they just aren't the same. The new ones are not made in Italy and I think it shows. Also the back of the shoe is lower than the original, causing it to slip off my heel more easily. All this to say, if you don't have the old ones to compare to, these might seem great...but they're not what they used to be. Pretty disappointed.
November 17, 2014
Rated

1

out of

5
 by
Loulou
Disappointed
I was so excited to see my most favorite shoes back! I decided to order 3 pairs to go with the collection of 8 colors that I already had. I was so exited to receive them but then was immediately disappointed. They sort of looked the same but quality seems a bit off. I noticed they don't show Made in Italy like all my other pairs. I went back online and noticed that shows manufacture Import? Where is Import? I purchased w/30% discount but sadly that's not enough to keep. They're going back.
December 4, 2014
Rated

5

out of

5
 by
Petra
Bring back the Cece Flat!!!
I thought I had found flats that I would continue to buy for the rest of my life! The new Emma flat is not nearly as comfortable-- I purchased 2 pairs grudgingly thinking I would settle for Emma, but I had to return them. They were stiff and didn't bend with my foot and I saw blisters on the horizon. I suspect the Emma flats are cheaper to manufacture and provide a higher margin of profit than the Cece flats. The stiching on the Emma flat also makes them look much more casual in comparison to the Cece flat. Audrey Hepburn would wear Cece flats, not Emma flats. Please, please, please bring back the Cece flat!
August 3, 2014