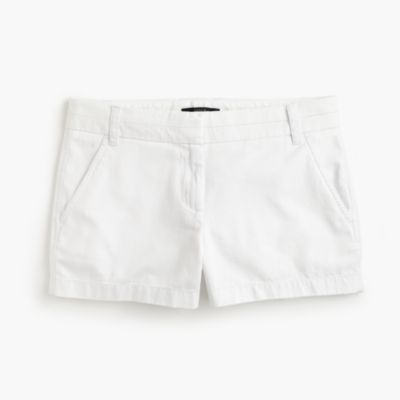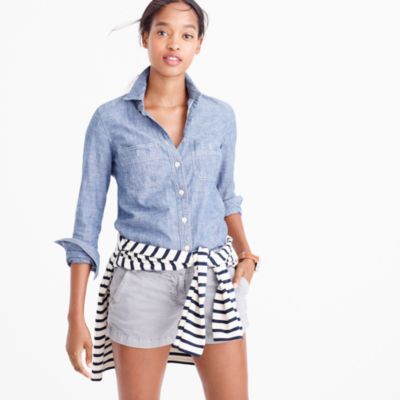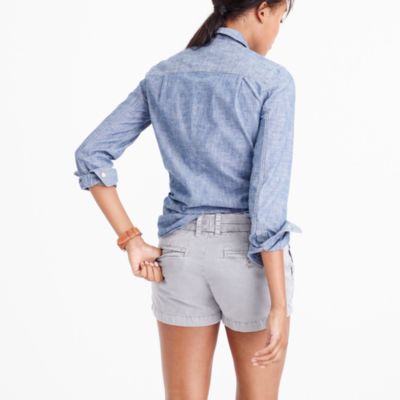 Product Details
It's always warm and sunny somewhere, so everyone's favorite classic chino short is back in a slew of bright colors.
Cotton.
Zip fly.
Machine wash.
Import.
Size & Fit Details
City fit—our lowest rise.
Sits just above hip.
3" inseam.
3" chino short
is rated out of
5
by
244
.
Rated

5

out of

5
by
LKPR
from
Great shorts
These shorts are perfect for summer. I ordered my usual size 6 and they fit great. For reference, my waist is 27inches and my hips are 38.
Date published: 2016-03-29
Rated

5

out of

5
by
Adrianna
from
perfect conservative, yet stylish, shorts
LOVE LOVE LOVE! These shorts are perfect! I was looking to get a few new pairs of shorts because the other ones that I had were too short on my butt... I wanted shorts that weren't awkwardly long but still covered everything, and these shorts are perfect. I am 5'3", 125 lb. and size 2 works great for me. They are not too long or loose, but they are not obnoxiously short either. They are comfy and have nice pockets, and the colors are very neutral and will be able to go with a lot of shirts (navy and barely blue), and the barely blue should be renamed to heather grey, but I still love them. The price is great, which makes it even better. I would recommend these to everyone! I can't wait to wear them during spring break!
Date published: 2016-03-04
Rated

5

out of

5
by
grizlvbrd
from
my favorite summer shorts
Love these! great quality, fit true to size and great proce
Date published: 2016-03-02
Rated

5

out of

5
by
Alyssa
from
Perfect summer staple
I just recently purchased my first pair of 3" chino shorts and I absolutely love them! The length is perfect for me since I have shorter legs and it makes my legs look longer (I am 5'3). I purchased these shorts in white, and I was highly satisfied due to the shorts not being see-through. They did run a little big in the waist and smaller in the thighs for me, but I would still say they were true to size. Overall, I would highly recommend these shorts and will definitely be purchasing more in the near future!
Date published: 2016-03-02
Rated

5

out of

5
by
Samantha
from
Have these shorts in about 9 different colors.
These are the best chino shorts I've ever found -- the sizing seems pretty consistent, although all of mine are within a few seasons of each other so I would assume that's why. They run a little small & don't really stretch for me throughout the day. I wear a size 6, but if I were to size up, the 8 would be too roomy. Please, PLEASE make these in black like the 4"!
Date published: 2016-02-20
Rated

5

out of

5
by
skiptomylu
from
the "it" shorts.
i've had a problem with trying to find a good pair of j.crew shorts that fit me well and had just about given up hope. it turns out that i was looking for the wrong size and didn't even know that a triple zero existed online. i found a pair of the huntington green chino shorts in 000, and it fits me like a glove. it hugs me in the right places and hides me in the right places. it has been my go-to pair this season because it is classic, tailored, and clean, but at the same time, the 3" length provides the legginess i'm looking for. i plan on buying several more pairs in due time.
Date published: 2015-10-19
Rated

5

out of

5
by
Natalie
from
Short and Sweet
Short and sweet, these shorts are simply perfect for an everyday pair at the perfect length. I was able to style them up for work and down again for running errands! I can confirm that the colors are very similar, if not exactly the same as shown, making it easy to mix and match. Ended up loving them so I purchased multiple pairs of these simply sweet steal!
Date published: 2015-10-11
Rated

5

out of

5
by
jdb88
from
My Favorite Shorts
I love these shorts! They are definitely worth the price. I am 5'3, 150 lbs and the size 8 fits great.
Date published: 2015-09-14
Rated

5

out of

5
by
ElizabethZ
from
Perfect everyday shorts
I have been a J.Crew shopper for years and these are the shorts that I have come to rely on as a wardrobe staple. Whether I lived in San Diego, Ft. Lauderdale, or N.Cal I have always had at least 2 pairs of these in my summer wardrobe. I am also difficult to fit. Shorts are hard to find as I have a curvy bottom and a somewhat smaller waist. So I am very happy to review that J.Crew continues to provide fun colors with reliable sizing and cuts on these shorts. I look forward to having these in my wardrobe for years to come!
Date published: 2015-07-22
Rated

5

out of

5
by
Wendy
from
Great length. Can dress up or keep casual.
Love the length - not too short or long. Enough coverage. Sits perfectly just above the hip. I am not a fan of the trendy high-waisted shorts. so these are perfect. These will be a staple in my summer wardrobe. I just need the Birkenstock Arizona metallic sandal to get back in stock & I would be set...I NEED!!!!!!!
Date published: 2015-06-18
Rated

5

out of

5
by
Newtojcrew
from
Love these shorts
I love these shorts and just bought five different pairs of them. Two things to note: 1) Two pairs I ordered are a size two and fit great, then three other pairs are size fours I either ordered or bought in store and also fit great! Earlier in the season, these shorts seemed to be made bigger. Now obviously I need to size up, especially in the three inch hem length. 2) The vivid seamist looks turquoise online, but in person was a bright light green. That said, these are a great quality short that I now use as my summer staple. I'm 5'4, 129lb.
Date published: 2015-05-28
Rated

5

out of

5
by
JCrewLover
from
Great summer shorts
Finally, a size that fits. I bought 2 J Crew chino shorts last year in my normal size (0) and the fit was way too big. It was a huge disappointment to be sized out of a brand I love. It's sad that J Crew shorts run so large on me that I have to order a 000 in order for them to fit. I had to wait over a month in order for my size to be restocked and whenever I come back to the site it's always the first size to go. For size reference I'm pretty petite at 5 feet and 90 pounds. My waist is 24 inches. If you're petite like me, these 3 inch shorts are a modest length but still really cute!
Date published: 2015-05-05
Rated

5

out of

5
by
Cass
from
love these shorts
I purchased the grey 3'' this weekend and I am in love. I couldn't wait to wear them. I did size up since the 00 felt a bit tight on the rear. I sized up to a 0 and generally wear a 24/00 petite in dress pants and jeans and 00/24 regular in the denim shorts (5'4'', 106lbs for reference). The saleswoman said I should size down since they stretch out a bit, but I felt comfortable with the feeling of the shorts. While walking around after a few hours, they were a bit loose on my hips, but I would rather have them loose than leaving me with a muffin top. And by loose I don't mean baggy or like I was wearing someone else's clothes. I love these shorts. I plan on buying more of these for this summer in a size 0.
Date published: 2015-04-27
Rated

5

out of

5
by
Whitney
from
Great quality shorts!
I love these shorts. They will last you a while even washing them a billion times. I find it so hard to find a good pair of shorts but have decided that JCrew is the only place to get them. I have a butt and these shorts fit perfecty. My sister has no butt at all and find that these run very big on her. So, if you have a butt I would say they run true to size but if you are more of a flat butt kind of gal, maybe order a size smaller. These shorts are definitely worth every penny!
Date published: 2015-03-18
Rated

5

out of

5
by
Harp
from
I adore these shorts!
No shame, I own 15+ pairs of these chinos! The sizing does vary (I have 00s that fit like a glove and 2's that do as well), but as long as you try on you should be fine. They go with EVERYTHING! Odds are you'll see me in a pair of chinos from march to october, so I need them to be solid. JCrew hits a home run with these, as always!
Date published: 2015-02-18
Rated

5

out of

5
by
plinka
from
Summer essential
I own 3 pairs of these shorts - I love the colors, cut, length. They fit well and wash well. They are a summer essential!
Date published: 2014-08-07
Rated

5

out of

5
by
Taybrooks425
from
Staple piece for your summer wardrobe
Bought these online in white for summer. Absolutely fell in love with them. They are the perfect length. Very comfortable and flattering. I went back and bought them in the navy and the carmel color. Such a great short for such a reasonable price!
Date published: 2014-07-19
Rated

5

out of

5
by
kdb268
from
Great shorts for everything
I have these shorts in two colors, and I think they're great. They fit perfectly and the pockets in back make my butt look nice and perky, always a plus. :) The length is appropriate for my 34 years--short enough to still look stylish, but nothing hanging out. The shorts are not see-through, even in white, and they will look good with just a T-shirt but are also tailored enough to dress up for a casual chic summer evening. Nice job, J. Crew.
Date published: 2014-07-07
Rated

5

out of

5
by
Yoli
from
Perfect for petite' s!
It is hard to find shorts in good quality 100% cotton fabric especially for petite. I am 5' 2" and 00 works perfectly. I love them so much that I have bought different colors already. Dress them up or down, simply perfect summer shorts!
Date published: 2014-07-02
Rated

5

out of

5
by
Bridge
from
Shorts
These shorts are very high quality, especially for the cost. And they wash up great.
Date published: 2014-06-23
Rated

5

out of

5
by
Kelly
from
The Perfect Summer Short
Great addition to any summer wardrobe. These shorts are super comfy! They wash well and don't shrink. I've bought three pairs; the brilliant coral is my favorite!
Date published: 2014-06-20
Rated

5

out of

5
by
jessica
from
great short
great quality, color and PRICE...length is pefect as well. 5 10, 125lbs 00 fit like a glove. i bought in both the teal and the citron green color...will def buy again in MORE colors!
Date published: 2014-05-13
Rated

5

out of

5
by
mayapple
from
Causual and Fun
I like the length of the 3" chinos and feel they are most flattering on me compared to the 4-7" lengths. I have been collecting these for several years and this was the first year I had to get a 0 instead of a 00 although my weight and size has not changed (5'4, 103 lbs.) Soooo, not sure if the sizing changed for J.Crew but good to know if you are going to order these. The colors are great and you can wear tops tucked or untucked or half tucked (I still haven't mastered that look). Maybe the wonderful stylists at J.Crew can hold a tucking class!
Date published: 2014-05-05
Rated

4

out of

5
by
sphelpsy
from
Size depends on color
I love these shorts. Classic heavy twill that will never go out of style. My only issue is that there are inconsistencies with sizing depending on colors. All the basic colors I have (navy, khaki, light blue, red) fit true to size. However, when I got the neon cantaloup, bright poppy and white, they fit much smaller in the waist. Not sure why they can't all fit the same.
Date published: 2016-06-14
Rated

4

out of

5
by
JMADDYGirl
from
Great Purchase
Pro: - Great fit - Great color - Thick material although it is still see through - Purchased size 0. I almost purchased 00 sizes because of the reviews but based on the fit of the 0, 00 would have been too small and tight. - Height: 5'3" - Weight: 115 - Bust: 32 C - Waist: 27 - Hip: 36 Cons: - The material is of good quality and is thick but that didn't stop these shorts from being a bit see through
Date published: 2016-06-10
Rated

4

out of

5
by
Ali2
from
Too tight
Based on reviews, I guess the smaller sizes run big. But i ordered my normal size 12 and they literally fit like a size 8. Big disappointment. Im going to try again but not sure that a size up will really help. I hope it works because the shorts are super cute!
Date published: 2016-04-18
Rated

4

out of

5
by
Jess
from
Perfect Summer Shorts
I love these shorts because they are comfortable to wear and the material is nice! However, these shorts do run large - I had to purchase a 000 when I usually wear size 0 or 25 in J.Crew jeans & pants. The 3 inch seam was also little shorter than I expected - I might go with the 4 inch next time.
Date published: 2015-08-31
Rated

4

out of

5
by
Mivv
from
Almost awesome
I have 11 pairs of these shorts and I absolutely love them. They can be dressed up and down, but the one problem... is the sizing. The sizing in these is so inconsistent, it's bad. I'm 5'4 125lbs, I have some 0's that fit perfectly and a few that are way too small, then a few 2's that fit perfectly and a couple that are huge. and some pairs are longer than others. It makes it tough when ordering online because you don't know which size is going to work...
Date published: 2015-07-27
Rated

4

out of

5
by
Laurie
from
Apricot chino shorts
The color was more burnt orange than apricot--it was a deeper orange than it appeared online. The color is ok, it's just not was I was expecting. Quality is still fantastic!
Date published: 2015-07-13
Rated

4

out of

5
by
MRWA
from
Great white short
These shorts are a staple and I have them in multiple colors. I just bought the white and am pleased that the pockets are barely visible through the fabric. I also have the same shorts from the factory store and the material of those shorts are thinner and you can really see the pockets on those. I wear a 27 in jeans and the 4 fits perfectly and a tad slouchy like I like them.
Date published: 2015-07-09