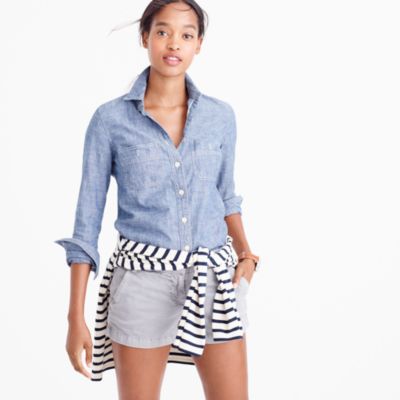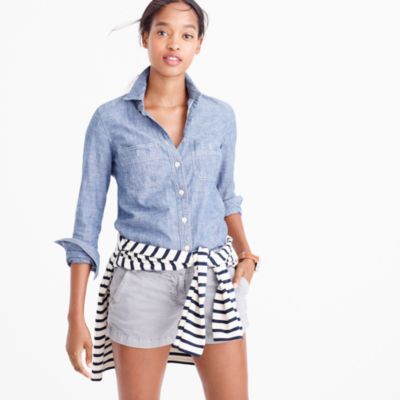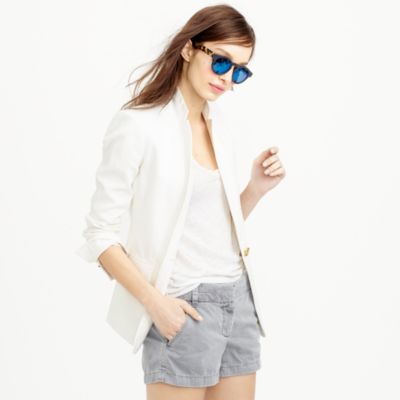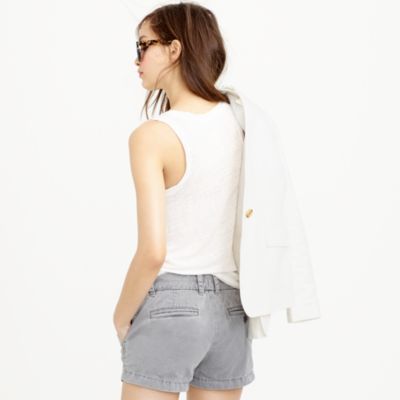 Product Details
It's always warm and sunny somewhere, so your favorite shorts are back in a slew of bright colors.
Cotton.
Zip fly.
Machine wash.
Import.
Size & Fit Details
City fit—our lowest rise.
Sits just above hip.
3" inseam.
Rated

4.4

out of

5

 by

140

reviewers.
Rated

4

out of

5
 by
prepdom
Fit on 3 inch chinos varies across colors
I have been buying these 3 inch inseam chino shorts for 2+ years now (I own over 15 pairs) and the fit for the size 00 DEFINITELY VARIES. This year, the navy shorts had the most variance. I bought one pair and had to send them back because they were 1.5 inches smaller in the waist than my other navy shorts from two years ago. I reordered 2 more navy pairs, hoping the first was a fluke and noticed that although they were larger than the first (and I kept them) they again ran a tad smaller than the other colors (e.g., white) this season. I don't mind having to size up, I just dislike inconsistent sizing. I want a product that I can depend on.
July 28, 2014
Rated

5

out of

5
 by
mayapple
Causual and Fun
I like the length of the 3" chinos and feel they are most flattering on me compared to the 4-7" lengths. I have been collecting these for several years and this was the first year I had to get a 0 instead of a 00 although my weight and size has not changed (5'4, 103 lbs.) Soooo, not sure if the sizing changed for J.Crew but good to know if you are going to order these. The colors are great and you can wear tops tucked or untucked or half tucked (I still haven't mastered that look). Maybe the wonderful stylists at J.Crew can hold a tucking class!
May 5, 2014
Rated

5

out of

5
 by
Lesley
My favorite shorts ever!!
The first time I bought a pair of jcrew chino shorts (navy!) was at the local consignment shop. They were already broken in so they were super comfy and I thought they went with everything I wore. However, they get looser over the course of a day, probably contributed to the fact that they are older and have been worn for much longer than if I bought them new. I don't have this problem with my new ones. I realized there was a sale online so I bought a pair of light green and white 3" chinos. They were tight the first time I wore them but over the next few days I broke them in and they fit great! They are so cute, easy to pair with a belt and a top, and a great price if you wait until they are on sale! I haven't bought any other length so I can only speak for the 3 inch seam shorts. I am 16 years old, 5 ft 4, and 140 pounds. I wear a size 4 in all of my jcrew chino shorts!
July 20, 2014
Rated

5

out of

5
 by
aljane
Great Color!
They're a great length--not too short, not too long--and a gorgeous shade of blue!
May 5, 2014
Rated

2

out of

5
 by
sunbaby145
Great quality, but not great fit
For me personally, I felt these shorts were a little old fashioned fitting. Although they fit fine in the waist, they did nothing for my figure or backside. I thought they were too frump. Good quality, but the colors online are a off from what they look like in person. They are much more faded in person. I returned mine.
May 15, 2014
Rated

4

out of

5
 by
Tallulah
Fun color
I always enjoy JCrew's short. However, I have been wearing J Crew size zero for years, and these run small. No, I have not gained any weight. I do not like it when J Crew changes its sizes.
May 27, 2014
Rated

1

out of

5
 by
Josiecat
Just don't order white!
These shorts are perfect in the navy, but the white leaves something to be desired. They fit a lot tighter than the navy (feels like a good size smaller) and they are extremely see through...which I found out the hard way. I'm keeping the navy (love them!) but the white shorts are going back to the store!
June 22, 2014
Rated

5

out of

5
 by
Whitney
Great quality shorts!
I love these shorts. They will last you a while even washing them a billion times. I find it so hard to find a good pair of shorts but have decided that JCrew is the only place to get them. I have a butt and these shorts fit perfecty. My sister has no butt at all and find that these run very big on her. So, if you have a butt I would say they run true to size but if you are more of a flat butt kind of gal, maybe order a size smaller. These shorts are definitely worth every penny!
March 18, 2015
Rated

5

out of

5
 by
plinka
Summer essential
I own 3 pairs of these shorts - I love the colors, cut, length. They fit well and wash well. They are a summer essential!
August 6, 2014
Rated

5

out of

5
 by
Taybrooks425
Staple piece for your summer wardrobe
Bought these online in white for summer. Absolutely fell in love with them. They are the perfect length. Very comfortable and flattering. I went back and bought them in the navy and the carmel color. Such a great short for such a reasonable price!
July 19, 2014
Rated

5

out of

5
 by
Lint
The perfect pair of shorts
I rarely write reviews, but I was so happy with my purchase of these shorts - and JCrew's shorts in general - that I decided to throw in my two cents as well. I have always struggled to find flattering shorts for my body type as I'm on the shorter side (5'1) and I'm nowhere in the size 0-6 range. Shorts sold in other places always figure into the categories of dowdy, too tight, or too small for me, so I haven't bought any in years. This wasn't my first shorts purchase from JCrew, but I had confidence in their fit, so I blind purchased my first couple pair of chinos from JCrew online and I have never been happier with a purchase. The overall fit is so flattering and the quality superb for the price. They are fantastically comfortable for normal day wear without riding up or constantly needing adjustments. Congrats JCrew, you've got a customer for life.
July 16, 2014
Rated

5

out of

5
 by
kdb268
Great shorts for everything
I have these shorts in two colors, and I think they're great. They fit perfectly and the pockets in back make my butt look nice and perky, always a plus. :) The length is appropriate for my 34 years--short enough to still look stylish, but nothing hanging out. The shorts are not see-through, even in white, and they will look good with just a T-shirt but are also tailored enough to dress up for a casual chic summer evening. Nice job, J. Crew.
July 7, 2014
Rated

5

out of

5
 by
Yoli
Perfect for petite' s!
It is hard to find shorts in good quality 100% cotton fabric especially for petite. I am 5' 2" and 00 works perfectly. I love them so much that I have bought different colors already. Dress them up or down, simply perfect summer shorts!
July 2, 2014
Rated

5

out of

5
 by
Bridge
Shorts
These shorts are very high quality, especially for the cost. And they wash up great.
June 22, 2014
Rated

5

out of

5
 by
Kelly
The Perfect Summer Short
Great addition to any summer wardrobe. These shorts are super comfy! They wash well and don't shrink. I've bought three pairs; the brilliant coral is my favorite!
June 20, 2014
Rated

5

out of

5
 by
jessica
great short
great quality, color and PRICE...length is pefect as well. 5 10, 125lbs 00 fit like a glove. i bought in both the teal and the citron green color...will def buy again in MORE colors!
May 13, 2014
Rated

4

out of

5
 by
Ann14
Sizing Drives Me Crazy!
I have 12 (I have an obsession) pairs of these shorts, but this year the sizing is just way too off for my body! I'm 5'2", 108 lbs and usually am a 2. I am a track runner so my thighs and butt have a very athletic build, but my waist is very small compared to the rest of my lower half. I always have to wear a belt because the waist is just huuuge! I also always roll up the bottom of the shorts into a cuff so they don't look so long on my short legs. This year I tried to order a 2 in the yellow; I got them in the mail and they were massive. I haven't tried a 0 because I'm sure my legs and butt will make them too tight. Oh and for the record, they really stretch out throughout the day.
February 28, 2015
Rated

4

out of

5
 by
jcrewstyle
will buy another pair
These shorts are great for the summer and can be dressed up or down with a pretty top or casual tee. I love the white pair of shorts and would buy a pair another color when it goes on sale again.
August 20, 2014
Rated

4

out of

5
 by
Gabby
Shorts are better than others
I have been searching for the perfect white shorts and these are it. They were a little large for the sizing, because I am usually a 0 but they fit like a 2 so I would recommend to size down. However, overall I think these will definitely be my go to shorts. I am satisfied with how my order came out.
August 8, 2014
Rated

4

out of

5
 by
MyHeartIsInOhio
Good Product!
I really like these 3" shorts for casual summer wear. They fit true to size and are very well made. I probably have about 10 pairs of these shorts in multiple colors and will definitely be purchasing more in the future. They are a little too short for me to feel comfortable wearing to class (because of course shorts ride up a bit when you sit down) but anywhere else they are perfect. If you are looking for a slightly more conservative look go for the 4".
May 5, 2014
Rated

3

out of

5
 by
JCrewShopper
Love but sizing?!
Sizing is SO inconsistent on these. I have a grey pair from last year that fits perfectly, I spent all last summer trying to get more pairs but the sizing wasn't right from color to color. I ordered another this year hoping they got it together but sizing is still weird. Will try ordering next size up..
February 27, 2015
Rated

1

out of

5
 by
Disappointed
inseam is not 3 inches
They do not have 3 inch inseams. The ones I ordered last year and the year before , though a size larger, are at least 2 inches longer. They are too short for me to wear. The inseam is more like 1.5 inches.
August 11, 2014
Rated

5

out of

5
 by
Emma
Nice short
I buy the 3" chino shorts every year. I love the fit and the wide variety of colors offered. I normally wear a size 0 in these shorts, but I found them to run a little smaller than last year. I held them up to my size 0 pair from last year that have been washed and dried and the same short this year is about a half inch smaller in the waist before washing. I'm exchanging for a size 2 and hoping they aren't too big. FYI...I'm still the same weight and the size 0 from last year still fit perfectly. Definitely running a little smaller this year.
May 30, 2014
Rated

2

out of

5
 by
Carol
Too Big and Too See Through
I ordered three pairs of these in a 00, I'm 5'3" and 102 my waist is 25" but a 00 is still too small. I definitely don't have thick legs but wow these are just too big! The sort of royal blue had the biggest waist and the neon watermelon had the smallest waist when i sat them on top of each other. They are super wrinkly after me standing there ironing each one for a good 5 minutes, I try them on only to find out that look like I had jumbled them up and left them there for days. Also the neon watermelon one is very see through, you can clearly see the white pockets underneath. I'm very disappointing by the quality and the sizing, I would say go 3 sizes down but wow that's just so unreasonable. Too bad I washed them, now I can't return them.
April 9, 2015
Rated

2

out of

5
 by
Kmaakm
Sizing too large
I love J Crew's shorts but am only able to buy their tops and dresses as the sizes for the bottoms (especially shorts) are way too big! The waist on the 00 is a few inches too big for me.
June 28, 2014
Rated

5

out of

5
 by
sunshine
Always a good investment
I own several pairs of the 3" J Crew chino shorts and have always found them to be of superior quality and fit. These shorts were no exception. The sizing is consistent and they are very comfortable. These shorts are the only brand I know that offer a true fit in a size 0 or 00, which is what I wear and, by the way, are hard sizes to find. I purchased these shorts on line and knew they would be fine. I am very happy with them!
May 8, 2014
Rated

5

out of

5
 by
StPeteGirl
Bar Far My Favorite Shorts!
I'm 26 & these are the perfect length, own 6 pair!
August 14, 2014
Rated

5

out of

5
 by
Erineliz
Perfect shorts for summer
I got these shorts in both pink and white and they are amazing. I have trouble finding quality shorts that aren't too short or too long. These are perfect.
May 28, 2014
Rated

5

out of

5
 by
JanieC
Perfect shorts
I love these shorts - I have a good collection of colours building, every year I add new colour combo's (love the blue and black this year). The staple favourites look as good as new every year. Love these shorts!
April 30, 2014
Rated

3

out of

5
 by
Janesa
Good in Navy, See-Through in White
I was really pleased with these shorts in the navy color - good length, ok fit (gapes a bit in the back). Unfortunately, the white ones are see-through.
June 20, 2014