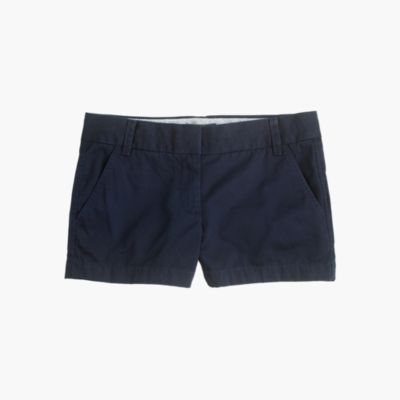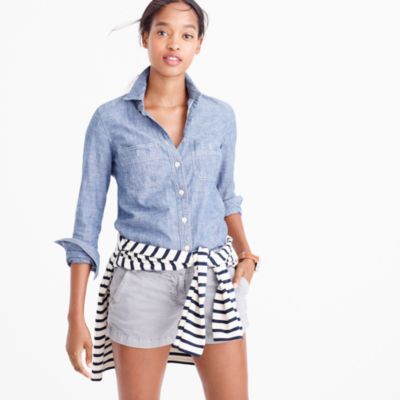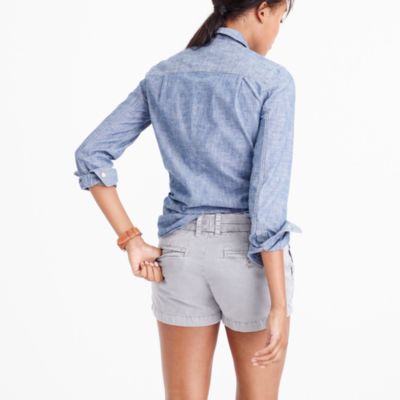 Product Details
It's always warm and sunny somewhere, so everyone's favorite classic chino short is back in a slew of bright colors.
Cotton.
Zip fly.
Machine wash.
Import.
Size & Fit Details
City fit—our lowest rise.
Sits just above hip.
3" inseam.
Rated

4.3

out of

5

 by

243

reviewers.
Rated

4

out of

5
 by
Ann14
Sizing Drives Me Crazy!
I have 12 (I have an obsession) pairs of these shorts, but this year the sizing is just way too off for my body! I'm 5'2", 108 lbs and usually am a 2. I am a track runner so my thighs and butt have a very athletic build, but my waist is very small compared to the rest of my lower half. I always have to wear a belt because the waist is just huuuge! I also always roll up the bottom of the shorts into a cuff so they don't look so long on my short legs. This year I tried to order a 2 in the yellow; I got them in the mail and they were massive. I haven't tried a 0 because I'm sure my legs and butt will make them too tight. Oh and for the record, they really stretch out throughout the day.
February 28, 2015
Rated

4

out of

5
 by
prepdom
Fit on 3 inch chinos varies across colors
I have been buying these 3 inch inseam chino shorts for 2+ years now (I own over 15 pairs) and the fit for the size 00 DEFINITELY VARIES. This year, the navy shorts had the most variance. I bought one pair and had to send them back because they were 1.5 inches smaller in the waist than my other navy shorts from two years ago. I reordered 2 more navy pairs, hoping the first was a fluke and noticed that although they were larger than the first (and I kept them) they again ran a tad smaller than the other colors (e.g., white) this season. I don't mind having to size up, I just dislike inconsistent sizing. I want a product that I can depend on.
July 28, 2014
Rated

4

out of

5
 by
Mivv
Almost awesome
I have 11 pairs of these shorts and I absolutely love them. They can be dressed up and down, but the one problem... is the sizing. The sizing in these is so inconsistent, it's bad. I'm 5'4 125lbs, I have some 0's that fit perfectly and a few that are way too small, then a few 2's that fit perfectly and a couple that are huge. and some pairs are longer than others. It makes it tough when ordering online because you don't know which size is going to work...
July 27, 2015
Rated

5

out of

5
 by
mayapple
Causual and Fun
I like the length of the 3" chinos and feel they are most flattering on me compared to the 4-7" lengths. I have been collecting these for several years and this was the first year I had to get a 0 instead of a 00 although my weight and size has not changed (5'4, 103 lbs.) Soooo, not sure if the sizing changed for J.Crew but good to know if you are going to order these. The colors are great and you can wear tops tucked or untucked or half tucked (I still haven't mastered that look). Maybe the wonderful stylists at J.Crew can hold a tucking class!
May 5, 2014
Rated

5

out of

5
 by
Whitney
Great quality shorts!
I love these shorts. They will last you a while even washing them a billion times. I find it so hard to find a good pair of shorts but have decided that JCrew is the only place to get them. I have a butt and these shorts fit perfecty. My sister has no butt at all and find that these run very big on her. So, if you have a butt I would say they run true to size but if you are more of a flat butt kind of gal, maybe order a size smaller. These shorts are definitely worth every penny!
March 18, 2015
Rated

4

out of

5
 by
JMADDYGirl
Great Purchase
Pro: - Great fit - Great color - Thick material although it is still see through - Purchased size 0. I almost purchased 00 sizes because of the reviews but based on the fit of the 0, 00 would have been too small and tight. - Height: 5'3" - Weight: 115 - Bust: 32 C - Waist: 27 - Hip: 36 Cons: - The material is of good quality and is thick but that didn't stop these shorts from being a bit see through
June 10, 2016
Rated

3

out of

5
 by
joan
Runs large yet again
J. Crew, please stop "vanity" sizing. Take a hint from European sizing and stick with it. I am a true size 00/24, but am yet again resigned to wearing Crewcuts size 14 shorts, which are aggravatingly tight at the crotch when sitting yet still gape at the waist because they are built for prepubescent girls without hips/seat. Love the colors and the sturdy fabric and construction, however. I'm jealous of other people who find sizes that fit them.
September 10, 2014
Rated

3

out of

5
 by
Aretina
Great shorts but sizing is off
I love you J.Crew but please fix the sizing of these shorts. I am 5'1"/102 lbs and the 00 is huge. We all like flattering sizing but for those of us who are petite and slender, we still need something that fits. Took these to the tailor to get altered, always disappointing when you have to spend the extra $$ to make it work.
August 30, 2014
Rated

3

out of

5
 by
Shopaholic
Inconsistent sizing & Inaccurate colors
In general I love these 3inch shorts and they are my wardrobe staple in the Summer. I must own about 20 pairs by now and am always adding new colors each year. This year I feel the overall product has been wonky. All summer I have tried the Storm Grey color both in various stores and from online and they are significantly shorter in length than any other color... At least by an inch! I love my shorter shorts but this was bordering on booty-short! So disappointing bc it's a great color! Recently purchased Navy and Standard Pink. The Navy waist was smaller than the others and ended up being more of a high-waist fit. Standard Pink.... I was thrilled to see a good, classic pink (finally!!) and ordered at FULL PRICE for fear of the dreaded sell-out. They are NOT pink!!! They are definitely more of a lavender-pink.... SO disappointing!! I will continue to be a fan of the 3inch short but my advice is buy them at the Crew so you can see colors and try on, Unless you don't mind doing returns!
August 1, 2015
Rated

5

out of

5
 by
LKPR
Great shorts
These shorts are perfect for summer. I ordered my usual size 6 and they fit great. For reference, my waist is 27inches and my hips are 38.
March 29, 2016
Rated

5

out of

5
 by
Alyssa
Perfect summer staple
I just recently purchased my first pair of 3" chino shorts and I absolutely love them! The length is perfect for me since I have shorter legs and it makes my legs look longer (I am 5'3). I purchased these shorts in white, and I was highly satisfied due to the shorts not being see-through. They did run a little big in the waist and smaller in the thighs for me, but I would still say they were true to size. Overall, I would highly recommend these shorts and will definitely be purchasing more in the near future!
March 2, 2016
Rated

3

out of

5
 by
Donna
Summer shorts
Bought 4 pair of these shorts in size 000, two fit perfectly and two were too big and had to be altered. Why the variation????
March 19, 2016
Rated

3

out of

5
 by
Warns
Cheap Slide 'Button' and Variation In Sizing
I love the fit of these shorts. I own 10 pair. However, the size varies greatly between shorts in the same size and the button (metal, slide tab type) has popped off of 8 pair and I have had to have them tailored at an additional cost to me. I feel the new shorts from 2014 and 2015 have shoddy workmanship on the button part when compared to previous years.
July 8, 2015
Rated

1

out of

5
 by
JCG2014
This year's batch runs very small
I love the 3" chino shorts - they're casual but not sloppy, short but not too short on my 5'2" frame. However, the sizing is notoriously inconsistent - and this year's rollout seems to be the worst (for me) by far. I am a regular size 2 in these shorts, which I have been buying and collecting for many years. But when my latest order arrived, I could barely pull the size 2 shorts over my hips, and could not zip or button them up! Very unfortunate. I know this is a sizing issue, since my other size 2 shorts still fit me well. This is not the first time this has happened to me, and I am super sad that I can no longer count on this item as an "order-anytime" closet staple. J.Crew, please please please be aware of this problem and fix the inconsistent sizing...especially for your longtime online shoppers!
August 10, 2015
Rated

5

out of

5
 by
Lesley
My favorite shorts ever!!
The first time I bought a pair of jcrew chino shorts (navy!) was at the local consignment shop. They were already broken in so they were super comfy and I thought they went with everything I wore. However, they get looser over the course of a day, probably contributed to the fact that they are older and have been worn for much longer than if I bought them new. I don't have this problem with my new ones. I realized there was a sale online so I bought a pair of light green and white 3" chinos. They were tight the first time I wore them but over the next few days I broke them in and they fit great! They are so cute, easy to pair with a belt and a top, and a great price if you wait until they are on sale! I haven't bought any other length so I can only speak for the 3 inch seam shorts. I am 16 years old, 5 ft 4, and 140 pounds. I wear a size 4 in all of my jcrew chino shorts!
July 20, 2014
Rated

5

out of

5
 by
SLME
Perfect shorts!
I read the reviews but found, luckily, that the sizing was consistent. Maybe they've changed the way they're made. Anyway, I got several pair. I think they do run slightly large, but nothing crazy. I wear a size 2 swimsuit and the size 2 shorts fit perfectly, flattering and comfortable. I'm 5' 4" and 110 lbs for reference. The size 0 fit, but were a little too snug for my taste. These are the perfect shorts for every day. And the length is great, not too short. Made of quality material too, so I think I can wear them for many summers to come.
June 17, 2016
Rated

1

out of

5
 by
lb2018
Shrunk in the dryer
I bought two more pairs of these shorts for summer to add to my large collection of J. Crew 3'' chino shorts from previous years. I followed the washing instructions (which say that you can tumble dry on low), but, unfortunately, these shorts shrunk more than any other pair I have ever washed! I bought them a size larger to be more comfortable, but now I can barely fit the shorts on over my hips and the length has shrunk to a length I am not comfortable wearing out. Big bummer seeing as I can no longer wear these.
June 24, 2015
Rated

1

out of

5
 by
Disappointed
inseam is not 3 inches
They do not have 3 inch inseams. The ones I ordered last year and the year before , though a size larger, are at least 2 inches longer. They are too short for me to wear. The inseam is more like 1.5 inches.
August 11, 2014
Rated

5

out of

5
 by
aljane
Great Color!
They're a great length--not too short, not too long--and a gorgeous shade of blue!
May 5, 2014
Rated

2

out of

5
 by
ChristaP
See-Through
I have two pairs of these shorts that I bought at least 3 years ago, and they still look great. The quality, however, has gone down drastically. I ordered a white pair last week and received them yesterday, and the shorts were completely see-through. You could clearly see the pocket linings and my skin through the shorts. I see this becoming a common trend at J.Crew...the prices stay the same or go up, and the quality goes down. My other chinos are made with thicker, softer material. These see-through ones felt much cheaper. My search for quality white shorts continues.
July 17, 2015
Rated

2

out of

5
 by
sunbaby145
Great quality, but not great fit
For me personally, I felt these shorts were a little old fashioned fitting. Although they fit fine in the waist, they did nothing for my figure or backside. I thought they were too frump. Good quality, but the colors online are a off from what they look like in person. They are much more faded in person. I returned mine.
May 15, 2014
Rated

5

out of

5
 by
Newtojcrew
Love these shorts
I love these shorts and just bought five different pairs of them. Two things to note: 1) Two pairs I ordered are a size two and fit great, then three other pairs are size fours I either ordered or bought in store and also fit great! Earlier in the season, these shorts seemed to be made bigger. Now obviously I need to size up, especially in the three inch hem length. 2) The vivid seamist looks turquoise online, but in person was a bright light green. That said, these are a great quality short that I now use as my summer staple. I'm 5'4, 129lb.
May 27, 2015
Rated

5

out of

5
 by
JCrewLover
Great summer shorts
Finally, a size that fits. I bought 2 J Crew chino shorts last year in my normal size (0) and the fit was way too big. It was a huge disappointment to be sized out of a brand I love. It's sad that J Crew shorts run so large on me that I have to order a 000 in order for them to fit. I had to wait over a month in order for my size to be restocked and whenever I come back to the site it's always the first size to go. For size reference I'm pretty petite at 5 feet and 90 pounds. My waist is 24 inches. If you're petite like me, these 3 inch shorts are a modest length but still really cute!
May 4, 2015
Rated

5

out of

5
 by
kdb268
Great shorts for everything
I have these shorts in two colors, and I think they're great. They fit perfectly and the pockets in back make my butt look nice and perky, always a plus. :) The length is appropriate for my 34 years--short enough to still look stylish, but nothing hanging out. The shorts are not see-through, even in white, and they will look good with just a T-shirt but are also tailored enough to dress up for a casual chic summer evening. Nice job, J. Crew.
July 7, 2014
Rated

5

out of

5
 by
Yoli
Perfect for petite' s!
It is hard to find shorts in good quality 100% cotton fabric especially for petite. I am 5' 2" and 00 works perfectly. I love them so much that I have bought different colors already. Dress them up or down, simply perfect summer shorts!
July 2, 2014
Rated

5

out of

5
 by
jessica
great short
great quality, color and PRICE...length is pefect as well. 5 10, 125lbs 00 fit like a glove. i bought in both the teal and the citron green color...will def buy again in MORE colors!
May 13, 2014
Rated

4

out of

5
 by
sphelpsy
Size depends on color
I love these shorts. Classic heavy twill that will never go out of style. My only issue is that there are inconsistencies with sizing depending on colors. All the basic colors I have (navy, khaki, light blue, red) fit true to size. However, when I got the neon cantaloup, bright poppy and white, they fit much smaller in the waist. Not sure why they can't all fit the same.
June 14, 2016
Rated

4

out of

5
 by
Gabby
Shorts are better than others
I have been searching for the perfect white shorts and these are it. They were a little large for the sizing, because I am usually a 0 but they fit like a 2 so I would recommend to size down. However, overall I think these will definitely be my go to shorts. I am satisfied with how my order came out.
August 8, 2014
Rated

2

out of

5
 by
KJones
Huge
These shorts run SO BIG! And then, once I sized down and bought multiple pairs, I realized that they stretch out A TON as soon as you sit/move around in them. After an hour or to of wear, they're baggy. The waist is also a bit higher than I like, but I'm sure that's a selling point for some people- just a personal preference. It's a shame because they looked so cute when I first tried them on and they're offered in such fun colors.
July 19, 2015
Rated

2

out of

5
 by
Designer
Not for chic tinies
Love the simplicity and colors of these shorts but the fit doesn't work if you're a slim chic loving person. At 105 lbs, normally size 0, 25" waist, 34" hips, the 00 was still loose but ok-ish in sizing, however, the length was a little longer than my other 3" inseam shorts and with the slightly stiff fabric, didn't look chic to me. I tried rolling up the cuffs, which even on this length worked but again because the fabric is a little stiff, it created a pooch in the back that wasn't right. If the color you choose is amazing, it might override these flaws and be fun but I'd rather have them fit me better.
August 6, 2014