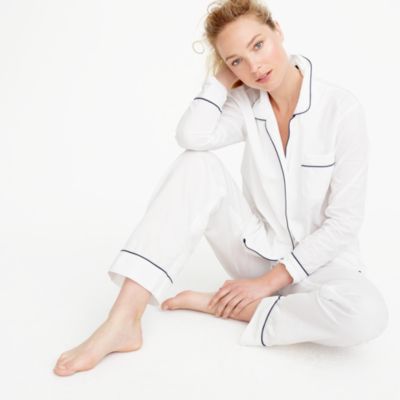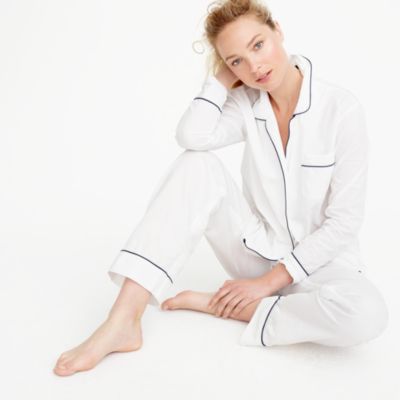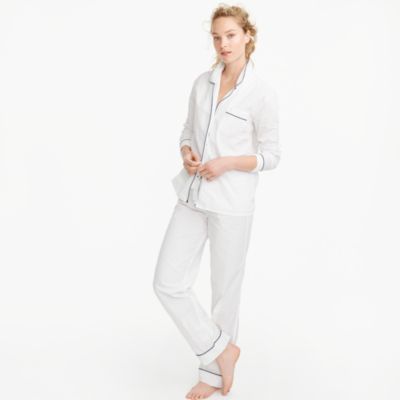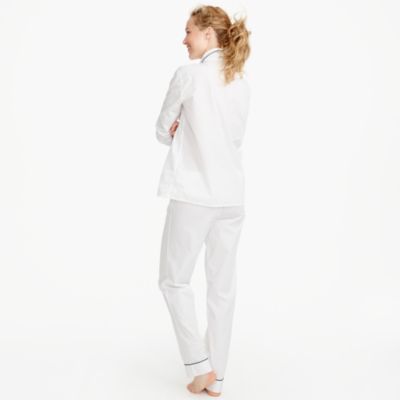 Product Details
No more stealing his pajamas. Our take on the borrowed-from-the-boys classic is designed in crisp men's shirting cotton with an easy fit (read: it's the comfiest—and chicest—way to get your eight hours). And even though it's made for sleeping, we love the top layered over a tank and worn with jeans.
Cotton.
Long sleeves.
Elastic waistband with drawstring on pant.
Machine wash.
Import.
Size & Fit Details
Top hits at hip.
32 1/2" inseam.
Rated

4.3

out of

5

 by

96

reviewers.
Rated

3

out of

5
 by
NicoleGT
Good quality, cut needs to be tweaked
The fabric of these pyjamas is great, good quality and soft. However, the cut of the pants is very wide all through the legs and especially at the bottom, which I find looks messy and not very stylish. I am 5'5 and the Small is too big on the bottom, although the top is the right size. I was also unhappy to find that the monogram I requested was so small! I re-read the description and it does actually say that it is only 1/2 inch tall, but it is so small you can't even read the letters, they are all bunched up making it a waste of money to do the monogramming in the first place.
January 26, 2015
Rated

3

out of

5
 by
Summer
Gorgeous Fabric, Odd Fit
These pajamas are made of a beautiful fabric and the blue color is stunning. However, unless you are very tall (I'm 5' 6"), the fit is off. I ordered a small (my normal J Crew size) and the waist and shoulders fit, so sizing down wouldn't work. But the length of the pants and sleeves are so long and the cut is so voluminous that I looked like a sad clown. Bummer--I may try the short sleeve version but they are backordered...
June 10, 2015
Rated

5

out of

5
 by
AussieMom
Elegant Pajamas
Love the 'hydrangea' blue color of these elegant pajamas. The fabric is soft and luxurious. Very comfortable and yes, I do feel chic wearing them.
May 5, 2014
Rated

5

out of

5
 by
chasingrabbits
Well Tailored PJs
I absolutely love these PJs. I purchased them in XXS, Hydragea, Pink Monogram. They are a classic style that are tailored very well around the shoulders and arms. A man's pajama that fits a woman! I had the pants hemmed, keeping the beautiful piping detail. I wish this style was available in other colors (pink)!
June 3, 2014
Rated

4

out of

5
 by
Maria
Way too big
I bought size S but it looked more like size L...( The material is great, very pleasant, the cut also classic and good, but now I had to send at least the trousers to the tailor to adjust, its really too big. For the reference, Im 164cm, weight 52kg, usually wear S. In general very good item, but buy at least a size down.
July 17, 2014
Rated

5

out of

5
 by
pjdc
really great pyjamas
The material the pj's are made of is extremely soft and the styling is excellent. I'm enjoying sleeping in them.
June 19, 2014
Rated

5

out of

5
 by
Karenina
perfect pj
A beautifully made, very comfortable, soft yet crisp pj set, that washes well, wears well, looks amazing, and the color blue is beautiful. To help you with sizing: I'm wearing XS, and I'm 5.2 (the length of the pants was perfect on me!), 120 pounds.
April 1, 2015
Rated

3

out of

5
 by
bisoubisou
Cute pjs - don't size down
Ordered this set in medium and accidentally received a small. Although j crew customer service took care of the issue promptly, as a word to the wise, don't size down-- the pj pants seem to run small and have no extra wiggle room in the butt and thigh. Unlike men's pajamas, these are very fitted at the top with a full leg at the bottom, so size up for a looser comfy fit. Also, the pant length is super long. I'm 5'6" and rarely have to get pants hemmed. The smells I tried on were at least two inches too long and would have to be taken in for a hemming.
August 16, 2015
Rated

2

out of

5
 by
Kara
Simply Beautiful; Uncharacteristically HUGE
I was very excited to receive these pajamas in the mail. I had read the reviews and saw that the pants seem to be a bit long, but went along and ordered my normal size, a small. I am 5'7 and weigh 135lbs. After trying these on, I checked the tag just to make sure I didn't order them 2 sizes larger, by mistake. The pants are too wide and extremely long. The sleeves also run a bit long and the torso portion is too wide. I'm now torn on buying a size down, because I bought them half price during a promotion and don't know if they're worth it. Overall, upset with my purchase.
December 6, 2015
Rated

4

out of

5
 by
Meems
No give' on the elasticity of the waist
I love them, but with a few problems. Cons: 1. there is not much elasticity on the waist band, no stretch or pull, so your pretty much leaving it up to the string for making it looser and tighter, which is a bit of a drag. 2. Buttons; i'd highly suggest sewing the buttons tighter, they are already a bit loose and i've only worn these for a week. Pros: 1. not sure why others have said the fit is weird, these are a larger fit, but the legs are NOT clown legs, theyre not that wide, lol. 2. these stay rolled up, which i love, so if your worried about the length, rolling them up on each leg a few times, will fix that, they stay nicely, i took a 45 minute walk with my teddy bear puppy in them rolled up and they stayed the whole time. WHAT I LOVE THEEEE MOST: oH my gaaaa' the freakin material!, it is EXACTLY like another reviewer said; 'they feel like your wearing 800 thread count sheets I would have given full stars', but the waist band cant be ignored.
November 11, 2015
Rated

5

out of

5
 by
donna
Feel like Katherine Hepburn in your own home
These pajamas are elegant and classic- perfect for lounging around and looking like a debutante. The cotton is soft and the navy piping adds some dash. These pajamas are pretty true to size and wear well. I have them in the lavender as well and have worn the pieces seperately and together. If you like to lounge- I strongly recommend them. Also, a great holiday gift.
November 10, 2014
Rated

5

out of

5
 by
Dawnelle
Cozy Pajamas for the End of the Day
These pajamas are exactly what I have been looking for. The cotton fabric is the perfect weight - not too light and not too heavy. The set should be great for all seasons. I rolled the long sleeves up only one notch in order to make them cooler in the summer. I also love the way they launder - I see minimal wrinkling when I dry for ten minutes and then shake and hang. I like them so much that I just ordered the other two colors and am waiting for their arrival.
June 1, 2016
Rated

5

out of

5
 by
musketeer1
Best Pajamas I have found
Love these classic navy with white trim cotton pajamas. I have them in white and the light blue also. Since I wash them after each wear, I need a stack of them. The waist of the pants is done right, both with elastic and the ribbon to tie it to the right fit...nor does the waist ribbon get caught in the tunnel ever, as they will in cheaply done pajamas. At home, I wear these smelling clean right out of the dryer. If I take them somewhere as a houseguest, I will press them and spiffy them up...after all, I did have my monogram put on the pocket and.... for breakfast, I can toss on a poncho and be perfectly presentable. No "robe" necessary with smart pajamas...love them jammies, please do them in another color that cannot be resisted.
April 27, 2016
Rated

5

out of

5
 by
Meghan
The only pajamas you'll ever need.
These pajamas are the epitome of comfort and relaxation. There's a reason any bride with good sense gives a pair to everyone in her wedding party. I have two pairs, and they're so chic I could probably wear the top to work. Okay, I've worn the top to work. They're loose without being baggy, they're fitted without being clingy. Just get them monogrammed and be done with it already!
March 25, 2015
Rated

5

out of

5
 by
CanadianGirl
Simply the Best
These pajama's exceeded my expectations, I absolutely love them! I got the top monogrammed for a personal touch. I ordered the XS and I am 5'6 and 118 lbs and they fit great. Although pants could be a bit longer but I am careful how I dry them. They are so comfortable, I wish there were more colors because I would definitely buy more. You will not regret ordering this set. Thanks for keeping it classy JCrew!
September 8, 2014
Rated

5

out of

5
 by
Tracey
Luxuriously soft pajamas
These pajamas are just what I was looking for. They are soft, comfortable, and with just the right attention to detail. I loved them as soon as I received them and they have been my favourites ever since. Well worth the money for yourself or someone special!
May 13, 2014
Rated

1

out of

5
 by
Jessy
Broken Button
I have been wanting these pajamas for so long. They went on sale, so I snatched them up. Upon arrival, I washed them (before wearing) and one of the buttons on the top broke in half! I probably would have just mended them myself, but a spare button had not been included. I'm so disappointed!
July 20, 2015
Rated

5

out of

5
 by
Elizabeth
Perfect Christmas gift!
My daughter surprised me with these comfy pajamas. They are the perfect slouchy fit and the cotton is so soft. I had to exchange them for a Small and have washed them several times and they are still soft and a perfect fit. I love wearing them and are a great weight for all seasons!
February 6, 2015
Rated

2

out of

5
 by
Bobby
Don't buy if bottom size is different from top
This does not fit at all like the picture. There must be a lot of hidden binder clips creating that fit. It's a shame because the quality is great. I would not suggest buying it, but here are fit tips if you must. My size is a 12pants, usually 10dresses. I bought this in large because I love the shorts in large. The fit is fine/relaxed in hips, but so huge everywhere else it looks silly, including the legs. Even though the top of the pants fit, mid-thigh down they look like clown pants, & I'm not that ill-proportioned -ha! The top is all around too huge & taking it in wouldn't work- the shoulders & pocket are in the wrong spots because it's so big. Sleeves could each fit two of my arms. Plus, $90 & the cost of taking it in would be crazy. I could see this working for someone who is consistently the same size on top & bottom, but only if she buys it down 1 or 2 sizes, and even then I wouldn't expect it to be as flattering as the picture. Too bad! I really wanted to love it!!
August 19, 2014
Rated

5

out of

5
 by
captain
This is my third purchase of these pajamas.
I wore out my first pair of these pajamas. I bought a second pair and got great use out of them until I left them in Washington, D.C. I can't live without them. I just bought my third pair. They are so comfortable and look so lovely on that I have trouble putting on any of the other pajamas I have in my drawer. Buy them. I promise you they are worth the money. I am 5'6, 34DD and weigh 130 pounds. I wear a small and they are a perfect fit.
June 2, 2016
Rated

3

out of

5
 by
izdiz13
Sizing is not true to size
I'm 5'3"/98lbs and I'm usually a xs in j-crew. Some of the reviews said it ran slightly large or true to size so I ordered an xxs. The order arrived early which was great and the pajamas themselves are soft and super comfy and of great quality. However, the pants were way too long and wide. The top fit better but was also boxy and slightly large. I'm into comfy, larger pjs, but these just don't work. Definitely like them, and will now try ordering a xs petite and see if I have better luck.
February 26, 2016
Rated

2

out of

5
 by
madameshopper
Very cute but...
The top fits true to size but the pants fit very strange: most reviews have hit the nail on the head in saying the waistband appears to be low quality and does a flipperoo thing, and the length of the pants are so abnormally long...I think you would lose the bottom accent colour if you hemmed it up. I ended up returning the item but too bad because it's such a charming set.
September 4, 2016
Rated

1

out of

5
 by
PJMac
Women's PJs
Purchased this pair of pajamas; was disappointed that the waist band twists inside the fabric and is difficult to untwist. This happened the first wash and I was never able to untwist it properly. Too expensive for cotton pjs with twisting band. This has happened with every pair of pjs purchased from J.Crew.
April 10, 2016
Rated

5

out of

5
 by
greer
Perfect Pajamas
Love these vintage pajamas. Lightweight and comfortable as well as very stylish. Love!!!
December 2, 2014
Rated

5

out of

5
 by
KateD
another excuse to stay in bed all day
These pjs are super comfy and get softer & softer with each washing. They fit well..running a bit large but that is ok for pjs. Nice, wide-legged bottoms. Get the monogram, it is so worth it will make these pjs your fast favorite.
October 31, 2014
Rated

5

out of

5
 by
Edna
The best pajama I¨ve ever had!
I love this pajama! It looks so classic and it´s so comfy! The cotton is soft, silky and delicious, of the best quality possible. It fits perfectly well in my shoulders, and the pant sits well on my lower waist. I bought the blue one, and I looked so well in it that I wanted to go outside, so my neighbors could see the great color. I just asked for the white one!
October 30, 2014
Rated

5

out of

5
 by
Sleepybk
Walking in sheets
These pj make me happy. Wearing them around the house is like lying in high thread count bedding all day.
October 22, 2014
Rated

5

out of

5
 by
JB12
Love this pjs
While the fit is a little big, I love the roominess and comfort of these pajamas. I wear and wash them regularly and they have become my favorite pajamas.
October 19, 2014
Rated

5

out of

5
 by
LMNace
PJ's
I love this pajama set. They are great all year round. The fabric is a great weight for both warmer or cooler nights. So comfy!
October 17, 2014
Rated

5

out of

5
 by
lp00
great quality
I love pajamas and these are amazing! The material is so nice and worth spending the money on. The fabric is light and cool. They do run very large, but they are pajamas and I prefer them to be roomy. I could have size down but kept my usual size for a comfy fit - I just tighten the drawstring. Even my husband, who doesn't typically take notice of things like mens-style pajamas, commented how nice they were. These are a fantastic gift for you or someone you want to feel special and luxurious! The hydrangea blue color is so nice. I wish the long sleeve version came in navy!
October 4, 2014