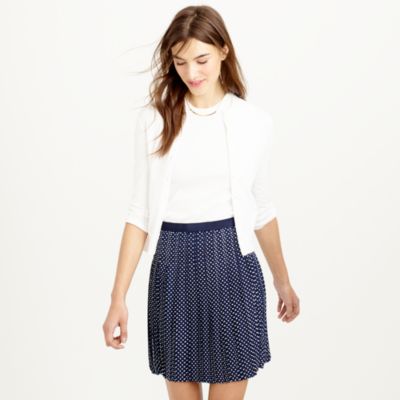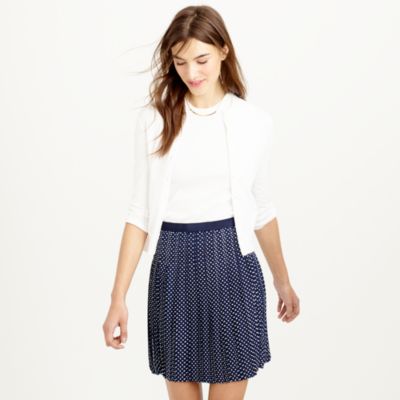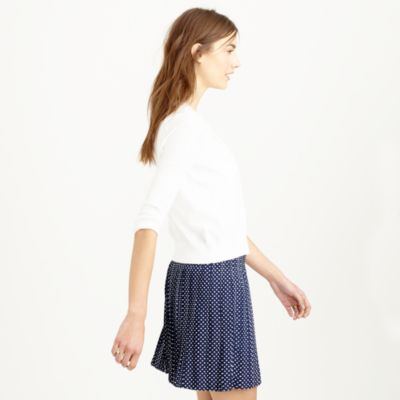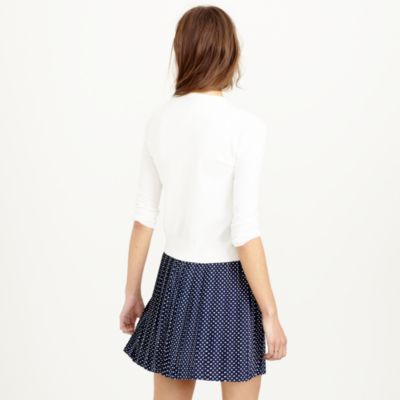 Product Details
A cardigan as classic as the style icon we were inspired by, it's the one we keep over the back of our desk chair and throw in our bag for just-in-case moments.
Cotton/nylon/spandex.
Bracelet sleeves.
Rib trim at neck, cuffs and hem.
Machine wash.
Import.
Rated

4.5

out of

5

 by

132

reviewers.
Rated

5

out of

5
 by
Mary
Best All-Time Cardigan
The Jackie cardigan is an excellent cardi; it is fitted to the waist and true to size and creates a classic collegiate profile. This cardi serves double duty during the week, as a workday necessity and a weekend comfort accessory. Furthermore, as a neutral or a pop of color, the Jackie is indispensable for any woman's wardrobe.
May 12, 2014
Rated

3

out of

5
 by
KimK
Classic Piece, Poor Quality
The Jackie Cardigan is one of my favorite pieces from J. Crew. I can pair it with everything. However, each time I order a new one, one of the buttons falls right off when I take it out of the package. I'm tired of sending them back, but I don't like having to pay for getting the button fixed.
May 15, 2014
Rated

3

out of

5
 by
Terry
Beautiful Sweater Except For the Buttons
I loved the sweater light and perfect for summer, even had it monogrammed, which was beautifully done. Only problem-the buttons. I took the sweater out of the bag so I could try it only to have the first button I tried to undo crack in my hands. I thought-oh no problem a bad button, it happens, except it happened on the next button and the one after that. I had to change all the buttons because I could not find ones that matched the others and frankly I thought they would keep cracking if I left any of the original ones. I changed them and have been wearing the sweater ever since. Love it, so much that in spite of the button issue, I will probably buy a another one in another color.Hopefully the buttons will be better.
May 19, 2014
Rated

5

out of

5
 by
panika
cardigan
beautiful classic cardigan in good quality, pleasant to the touch fabric
May 15, 2014
Rated

5

out of

5
 by
Cary
closet essential
LOVE, LOVE, LOVE this cardigan. It is a closet essential. You can dress it up or down and it works for all seasons.
May 6, 2014
Rated

2

out of

5
 by
Lena
Great basic, poor quality
I have acouple of Jackies from a couple of years ago, and I used to love them, the cut, the fit were excellent. The lightweight, but really dense knit elevated the look to a more polished, then you ordinary cardi. However, current version is a disappointment - color fades out after a couple of washes, buttons break. I wish one day old jackie would return.
February 3, 2015
Rated

2

out of

5
 by
Elyse
Disappointing decrease in quality
I bought a new black Jackie cardigan (along with a navy one) to replace an old one that had grayed with age (It had lasted several years, so no complaints there). I've worn the cardigan maybe 5 times in all, and two of the buttons have snapped off totally between the slender part sewn to the sweater and the wide main part of the button The remaining two stars are because the fit is great and it's otherwise a beautiful sweater, but for the price point and quality I expect from J. Crew clothing, I really feel that I should be able to wear the sweater more than five times total.
December 2, 2014
Rated

4

out of

5
 by
NikkiM
Nearly perfect cardigan
Instead of buying the JC Factory's Claire cardigan, I decided to upgrade And purchased the Jackie in several colors. They are the basically the same sweater with similar fit, except the Jackie is made of a nicer, softer material. While I've never had any issues with the Claire, on the first day I wore my 1st Jackie cardigan, one of the buttons fell off in the car on my way to work. I literally had the sweater on for 40 minutes before losing a button. The problem is that the buttons are sewn on so tightly that they are extremely difficult to unbutton when you go to wear the sweater for the first time. My struggle to unbutton it must have loosened the thread holding that button. I found this to be true of every one of my new Jackie sweaters. So beware when you first unbutton the sweater. Other than that, I love the Jackie.
June 27, 2014
Rated

2

out of

5
 by
Bibo
A Disappointment
I have owned many Jackie cardigans in the past and always loved them. My original black one was faded after many washings so I ordered a new one to replace it. When I unbuttoned the sweater to try it on the top button immediately popped off. The size small was much too small. All of my others are a size small. The fabric is not the same. The new ones have a lot more spandex and cling therefore making the sweater too tight. A completely different fit. Too bad J. Crew is making a cheaper product for more money!
September 14, 2014
Rated

5

out of

5
 by
LadyJ563
The Versatile Cute Cardigan
When I instantly saw this cardigan online, I had to have it. I received my beautiful cardigan and tried it on and I did not want to take it off. It is super soft. I can't wait to wear it. The versatile cardigan looks great with a dress, pants, blouse and even with jeans. A quality piece that will last for years.
May 13, 2014
Rated

5

out of

5
 by
Kate
My go-to cardigan!
My daughters and I have been buying the cotton Jackie cardigan for many years, in nearly every color available. It is such a classic piece - the 3/4 length sleeves, simple lines and pearl buttons make it the perfect sweater for everything from dresses and jeans, work and play, dress up or down. They look like new even after years of use! We hope J. Crew continues this style for many years to come...
July 20, 2014
Rated

5

out of

5
 by
Eliza
The Jackie Cardigan - a classic
I have heard that the Jackie Cardigan is being discontinued!? I hope that this isn't the case. It is the perfect piece to finish off any outfit!
June 25, 2014
Rated

4

out of

5
 by
RitaK
A classic cardigan
I have this in many colors - I wear these cardigans with statement jewelry in place of jackets to work in my business casual atmosphere. I'd love to see this in cherry red!
June 10, 2014
Rated

1

out of

5
 by
Molly
Jackie Cardigan
I have purchased a number of Jackie Cardigans over the years, and will not buy one again. After wearing my recently-purchased Jackie cardigan only one time, I have already lost two buttons from my sweater: one fell off entirely and the other split in half. Furthermore, my cardigan did not come with any additional buttons. I am most disappointed with the quality of my sweater.
November 6, 2014
Rated

5

out of

5
 by
Katt
Great all year round piece.
Love this sweater! Comfortable all year long (even summer when in air conditioned offices). Great price too.
August 21, 2014
Rated

3

out of

5
 by
sweaterfreak
essential staple
This is a nice piece but seems to run small though when I went up a size for length it was big in arms and shoulders. I would have rated it higher if it was a bit longer and little less stretchy. Seems to keep looking like it rides up and open even when buttoned. I still own a few different colors b/c they are nice for spring/summer.
May 7, 2014
Rated

5

out of

5
 by
SophisticatedSteph
Wardrobe staple
I live in these cardigans. I wear them instead of blazers at work, but they also work for play. The fit is classic and classy. You can dress them up or go casual. The quality is superior. The Jackie cardigans I purchased years ago are still on duty in my closet. You can never have enough of these!
December 8, 2014
Rated

5

out of

5
 by
Sweaterlover
Perfect for office or weekend
I love the Jackie cardigan. The fit is always true. Must be the stretch they add. I get years of wear despite repeated laundering. This rose color is vibrant but not neon. Great for spring, summer and fall. I am 5'2" and about 115lbs. The extra small fits perfect every time.
October 13, 2014
Rated

5

out of

5
 by
Classicdresser
Wardrobe essential
I love the Jackie cardigans! They are a wonderful staple for your wardrobe! The variety of colors make a choice difficult.
September 25, 2014
Rated

5

out of

5
 by
Patti
Jackie Cardigan- Year Round Fav
The Jackie Cardigan is a staple in both my wardrobe & my daughters. We love its versatility- from over pjs to dresses. Also it has a wonderful fit- close & flattering without bulk or bagginess. It's available in a great selection of colors. Enjoy as we do!
August 1, 2014
Rated

5

out of

5
 by
Kitty
Classic Cardigan
Love the Jackie cardigan! Only thing is they run really, really small. I have an athletic body and my arms just don't fit the sleeves so I order extra large, since I like a cardigan to fit over a blouse or tee.
July 2, 2014
Rated

5

out of

5
 by
ka1219
The best cardigan!
The Jackie is hands down, the best cardigan in my closet. I only own three at the moment, but plan to purchase more in the future. They are perfect for Florida winters and are even great when the a/c is freezing in the summer. They are lightweight but not flimsy. The colors are rich and they are soft and comfy. The style is timeless and can be dressed up or down. I love to pair them with the matching Jackie shells, but they also look great with a simple tee. I wear a size small in the Jackie but I am consistently a size 2 or XS in tops in JCrew, so I do think it runs a little small. If you are looking for a perfect cardigan, buy the Jackie!
June 4, 2014
Rated

5

out of

5
 by
Isabel
A true classic
I'm so glad that this cardigan is still being sold at J. Crew. I have about 7 of them now! The colors are always great, and so is the price. It's a great layering piece, especially in a cold office in the summer. I'd say it runs true to size, maybe slightly on the smallish size, but it is somewhat stretchy. I sometimes stretch it slightly after I wash it, and then lay it flat to dry. I never put them in the dryer, as I want the color to remain new-looking. So far so good!
May 26, 2014
Rated

5

out of

5
 by
ShoeGame
Jackie Classic
I own over 20 different colors of what I consider to be a classic JCrew wardrobe staple. Great for business or casual wear with jeans. Really Comfortable cotton. For longer wear, I would recommend gentle wash or dry cleaning.
May 26, 2014
Rated

5

out of

5
 by
TJA29
I just love these cardigans
I am now the proud owner of 10 of these cardigans and have them in most colours. They are a key work staple and even after 2 years of wear d washing they still look so good. To me there is no better cardigan and I love that J crew update them every season with up to date key colours. Don't ever stop stocking these.!!!!!!!
May 21, 2014
Rated

5

out of

5
 by
CalicoSal
Best Cardigan Ever
Love these! I have one in black and one in red. I like that they are always available in basic colours like navy and black but that each year there are extra colours that are kind of limited edition, in that you can only get them for one season. I just got the soft wisteria a while back and while it is a lot lighter than I expected, when I pair it with the right colour (I have a print dress with a lot of dark grey in it, for instance) the lilac-y tone shows up beautifully. I'm not a big twin set person, but I got the Jackie shell in the Woodland colour, and it is so gorgeous, such an unusual green, that I think I have to order the cardigan to go with it. For years it's been so hard to find the perfect cardigan....and now I have. These babies have just the right amount of stretch, feel great on (by themselves or over something) and look amazing. And they so often go on sale! Wow.
May 19, 2014
Rated

5

out of

5
 by
Seancaley
Classic
This is the perfect lightweight cotton cardigan. Simple classic style
May 18, 2014
Rated

5

out of

5
 by
SandraJ
#1 Cardigan
i own many cardigans, mostly jcrew of course, but this is my favorite cardigan!fits great and washes incredibly well! the first jackie cardigan i bought was 7 yrs ago and i still wear it! i wear it with jeans, skirts, dresses, etc. it truly is a staple!
May 17, 2014
Rated

5

out of

5
 by
Sheels
Classic cardigan in lovely colors to choose from!!
I love these cardigans either on my formal dress shirts and trousers or on jeans. Fits well and looks amazing. I like all the deep earthy tones. Thanks, Sheels
May 17, 2014
Rated

5

out of

5
 by
Ronnie
Wonderful light cardigan
I have a few of the Jackie Cardigans.they come in beautiful colors fit really well light enough for summer wear but perfect for any season.,
May 17, 2014