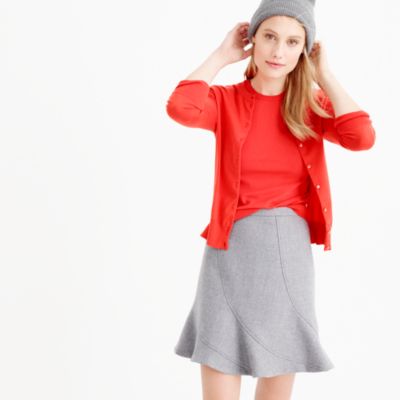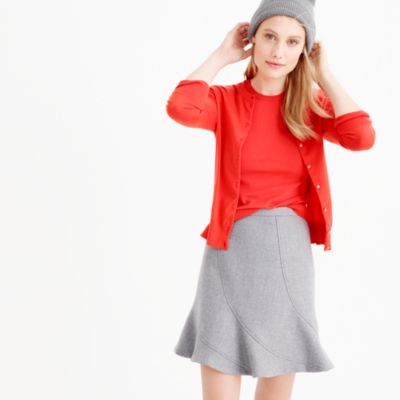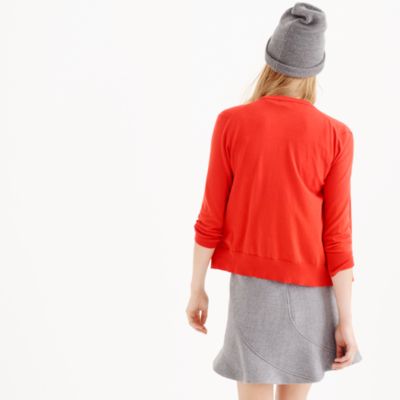 Product Details
A cardigan as classic as the style icon we were inspired by, it's the one we keep over the back of our desk chair and throw in our bag for just-in-case moments.
Cotton/nylon/spandex.
Bracelet sleeves.
Rib trim at neck, cuffs and hem.
Machine wash.
Import.
Cotton Jackie cardigan sweater
Rated

4.4

out of

5

 by

208

reviewers.
Rated

2

out of

5
 by
Elyse
Disappointing decrease in quality
I bought a new black Jackie cardigan (along with a navy one) to replace an old one that had grayed with age (It had lasted several years, so no complaints there). I've worn the cardigan maybe 5 times in all, and two of the buttons have snapped off totally between the slender part sewn to the sweater and the wide main part of the button The remaining two stars are because the fit is great and it's otherwise a beautiful sweater, but for the price point and quality I expect from J. Crew clothing, I really feel that I should be able to wear the sweater more than five times total.
December 2, 2014
Rated

2

out of

5
 by
Lena
Great basic, poor quality
I have acouple of Jackies from a couple of years ago, and I used to love them, the cut, the fit were excellent. The lightweight, but really dense knit elevated the look to a more polished, then you ordinary cardi. However, current version is a disappointment - color fades out after a couple of washes, buttons break. I wish one day old jackie would return.
February 3, 2015
Rated

1

out of

5
 by
Molly
Jackie Cardigan
I have purchased a number of Jackie Cardigans over the years, and will not buy one again. After wearing my recently-purchased Jackie cardigan only one time, I have already lost two buttons from my sweater: one fell off entirely and the other split in half. Furthermore, my cardigan did not come with any additional buttons. I am most disappointed with the quality of my sweater.
November 6, 2014
Rated

1

out of

5
 by
Leen715
What happened to the Jackie?
I've lost count of the number of Jackie cardigans I've purchased over the years- at least 10, probably closer to 20. They are a wardrobe staple for me. I have ones that are several years old that are in better shape than the most recent one I purchased after just one wearing. Tons of pilling that I have never experienced with the Jackie- has the material changed? J Crew, bring back the old Jackie so I don't have to find my cardigans at another store!
July 15, 2015
Rated

2

out of

5
 by
Bibo
A Disappointment
I have owned many Jackie cardigans in the past and always loved them. My original black one was faded after many washings so I ordered a new one to replace it. When I unbuttoned the sweater to try it on the top button immediately popped off. The size small was much too small. All of my others are a size small. The fabric is not the same. The new ones have a lot more spandex and cling therefore making the sweater too tight. A completely different fit. Too bad J. Crew is making a cheaper product for more money!
September 14, 2014
Rated

5

out of

5
 by
CottonCardiFan
BRING BACKIE THE JACKIE!!!
There's a rumor that the Cotton Jackie Cardigan is being discontinued in favor of the WOOL Tilly Cardigan. Jackie Woe to those of us who are allergic or sensitive to wool! There is an abundance of wool cardigans, but the Jackie is the only cotton one. PLEASE DO NOT DISCONTINUE THE JACKIE!
July 25, 2015
Rated

5

out of

5
 by
DMCD
Best Overall Sweater
The Jackie is terrific because of the hint of stretch in it. J. Crew does a wonderful job in offering a nice variety of colors such as jazzy purple, Byzantine blue and neon hibiscus. This sweater is a must-have!
May 15, 2014
Rated

3

out of

5
 by
Terry
Beautiful Sweater Except For the Buttons
I loved the sweater light and perfect for summer, even had it monogrammed, which was beautifully done. Only problem-the buttons. I took the sweater out of the bag so I could try it only to have the first button I tried to undo crack in my hands. I thought-oh no problem a bad button, it happens, except it happened on the next button and the one after that. I had to change all the buttons because I could not find ones that matched the others and frankly I thought they would keep cracking if I left any of the original ones. I changed them and have been wearing the sweater ever since. Love it, so much that in spite of the button issue, I will probably buy a another one in another color.Hopefully the buttons will be better.
May 19, 2014
Rated

2

out of

5
 by
amcdee
Poor quality
I bought this sweater to replace one I'd had for at least five years. The old one was finally beginning to get stretched out. The one I just bought lasted three wears before pilling beneath the arms, and getting mysterious pulls in the fabric. Can't believe the decline in quality of J Crew. Some of us just don't have time to endlessly shop to replace what has become disposable clothing-- I hope you guys start investing in better fabrics soon.
July 16, 2015
Rated

5

out of

5
 by
Mary
Best All-Time Cardigan
The Jackie cardigan is an excellent cardi; it is fitted to the waist and true to size and creates a classic collegiate profile. This cardi serves double duty during the week, as a workday necessity and a weekend comfort accessory. Furthermore, as a neutral or a pop of color, the Jackie is indispensable for any woman's wardrobe.
May 12, 2014
Rated

3

out of

5
 by
Jojo
Broken Buttons
I have been wearing Jackie cardigans for years -- they are a staple in my wardrobe in warm weather, as they're the perfect weight to guard against the airconditioning that is everywhere in Hong Kong, but light enough that they're not too warm. I'm sad to say that I read the reviews about the broken buttons and didn't quite believe it, but just now, I took my new, pale blue Jackie out of its wrapping to wear to a meeting, and the process of unbuttoning it to wear for the first time actually cracked off two buttons! J. Crew, I've been a faithful customer and have loved your clothes -- please don't disappoint us by cutting corners and chintzing on the quality. I'd rather pay a little more for the original reliability than to be disappointed like this. It's not becoming of you!
May 26, 2015
Rated

1

out of

5
 by
aTallDrinkofWater
newest version is subpar
I have 5 Jackies from 3-4 years ago: white, mint, orange, pink, and purple. My white one is getting kind of dingy so I ordered a new one this year (April 2015). I tore it out of the package, ripped the tags off, and wore it to work, only to discover that it is noticeably thinner material than its predecessors. The ribbing around the sleeves bagged out by mid-morning. I'm really disappointed and would return it if I hadn't torn the tags off. I think I could get something better quality for 1/3 the price at a discount store. I will not be purchasing any more Jackies.
May 7, 2015
Rated

2

out of

5
 by
Iluvcotton
I used to love this cardi
I have bought Jackie Cardigans for years and they were always 100% cotton. I ordered this one recently in navy for a wedding and was surprised at how the fabric felt. I checked the tag and it says 60% cotton with a rayon/nylon blend. I pulled out two older cardigans to check and they were both 100% cotton. This new cardigan just doesn't feel the same and is almost itchy. I'm so disappointed in the quality and would have returned it if I hadn't needed it right away.
August 4, 2015
Rated

4

out of

5
 by
NikkiM
Nearly perfect cardigan
Instead of buying the JC Factory's Claire cardigan, I decided to upgrade And purchased the Jackie in several colors. They are the basically the same sweater with similar fit, except the Jackie is made of a nicer, softer material. While I've never had any issues with the Claire, on the first day I wore my 1st Jackie cardigan, one of the buttons fell off in the car on my way to work. I literally had the sweater on for 40 minutes before losing a button. The problem is that the buttons are sewn on so tightly that they are extremely difficult to unbutton when you go to wear the sweater for the first time. My struggle to unbutton it must have loosened the thread holding that button. I found this to be true of every one of my new Jackie sweaters. So beware when you first unbutton the sweater. Other than that, I love the Jackie.
June 27, 2014
Rated

5

out of

5
 by
panika
cardigan
beautiful classic cardigan in good quality, pleasant to the touch fabric
May 15, 2014
Rated

5

out of

5
 by
Cary
closet essential
LOVE, LOVE, LOVE this cardigan. It is a closet essential. You can dress it up or down and it works for all seasons.
May 6, 2014
Rated

3

out of

5
 by
Carrie
Questionable Quality
Compared to the Jackie sweaters I've purchased in the past, the material used for this cardigan is noticeably thinner. I also think the sleeves are shorter. Sleeve length is typically not a problem for me, but this cardigan hits at an awkward place on my arm. It's fine if I push the sleeves up to 3/4, but still, a little awkward. I purchased the sweater at 30% off, so for me, I think the quality merits that price. But it is disappointing to see the drop in quality in this sweater.
December 4, 2014
Rated

2

out of

5
 by
Mom22Girls
Quality not what it used to be
I've been buying and wearing Jackie twin sets for many years and recently purchased 3 new sets to bolster my wardrobe of older ones. I have loved the fabric, great colors and perfect fit until now...The new Jackies are not the same; I agree with other reviewers who say the fabric blend has changed resulting in thin and too-stretchy, tight-fitting fabric. The colors fade and the knit pills within a few wears and washes. I am looking elsewhere for a decent similar product.
April 9, 2015
Rated

1

out of

5
 by
Juju
terrible quality
Two buttons broke off the first time I washed it. Broke into pieces, not just at the stitching.
August 25, 2015
Rated

1

out of

5
 by
Elise
Bad Quality, Material Easily Snags
I bought two of the Jackie Cardigan hoping it would be my summer go-to-sweater. However, I found that the material is very poor and snags easily. I received one sweater already with snags and returned. The other sweater I am about to return. It is a great design but the material is terrible. J. Crew the quality of your clothing is declining. I used to shop only and J. Crew and am doing so less and less......I hope something changes soon!
July 5, 2015
Rated

3

out of

5
 by
Rrunner
classic style
I love the Jackie Cardigan and have purchased it in various colors. The color is true to the picture but the quality is not as premium as in past years. The sweater is pilling after 1 wearing; I won't be returning it but I will think about purchasing this sweater in the future.
November 7, 2014
Rated

5

out of

5
 by
Mimi
Springtime in Paris Wisteria Pink Sweater
What more can I say except I loved my first J Crew cardigan so much that I vowed to myself that if this sweater ever came back in the same color I would buy two more. Well, this spring J Crew offered the cardigan again in the wonderful wisteria pink hue and ordered two more. Whenever I wear this fabulous pink sweater it truly makes me feel like I am standing on a Paris city street in Springtime! The J Crew Jackie Cardigan is my favorite "go to" for almost every occasion because it is both classic and modern at the same time. It really looks great with denim jeans or Audrey Hepburn type slacks. The Jackie cardigan stands apart from the other stores cardigans because they have the hippest colors . That is why I never feel too guilty adding to my Jackie cardigan collection.
June 9, 2015
Rated

4

out of

5
 by
CourtneyO
Not Like the Old Jackie Sweaters....
I have been buying these for years and have countless of them (at least 15), and many of them are quite old. I love wearing them, they go with jeans, I can wear them to work, dress it up or dress it down. However, J Crew isn't making them like they used to. My older ones have been through a lot- washed more times than I want to count, balled up and thrown in my bag, and just worn to death. But they are still holding strong My new ones - not so much. Like others, I noticed a decline in the quality of the buttons. I'll wash a sweater once and buttons will fly off. The seam on the arms ripped a few times on others. I wish they would make them like the used to. I'm tired of wearing sweaters without buttons because I dont have the time to resew buttons every time I do wash Also, the color variety seems has seriously diminished in recent years. There used to be such wonderful colors in the spring and summer. Plus,the sweater isnt in stores anymore, which is a major deterrent to buying them
December 3, 2015
Rated

3

out of

5
 by
gokiburi
Again broken buttons
Same thing, several broken buttons just taking the sweater out of the package. Too bad, I had ordered months ago and far past ability to return. As many others an owner of many of these cardigans and typically pick up a few more every spring and fall but will start looking elsewhere as I do not have the time or patience for returns or repairs..
July 16, 2015
Rated

2

out of

5
 by
OnlineShopper
White Cardigan
I really like the J. Crew Jackie cardigans and this is my 4th or 5th one. I figured white would be a basic color to have esp. for spring and summer and a wardrobe staple. I love the bracelet length sleeves. I noticed the new Jackie ones now have full length sleeves. Well anyway, I've had it a few weeks and just took it out of the package a couple days ago and I was very gentle unbuttoning the buttons based on other reviews (which by the way has never been an issue with my other Jackie cardigans). The top button just came loose! I guess I have to find my bag and label and send it back as I am not a very good sewer.
March 16, 2016
Rated

5

out of

5
 by
LadyJ563
The Versatile Cute Cardigan
When I instantly saw this cardigan online, I had to have it. I received my beautiful cardigan and tried it on and I did not want to take it off. It is super soft. I can't wait to wear it. The versatile cardigan looks great with a dress, pants, blouse and even with jeans. A quality piece that will last for years.
May 13, 2014
Rated

5

out of

5
 by
Annie
This is my all time favorite sweater
This sweater goes with everything. Do order up a size. Please make it in cashmere for the winter. Handwash and block dry to maintain luster.
May 30, 2015
Rated

5

out of

5
 by
HappyShopper
Lovely sweater
I looked long and hard for a light-weight sweater that would complement a dress I recently bought. I had a very specific color in mind and finally found it in the store but not for a sweater. The sales person found the sweater online and recommended I go a size larger--she feels the sizes run small. She was absolutely right about everything. The color was perfect, the style was fresh and goes well with the dress, and the size was just right. Thanks!
May 27, 2015
Rated

5

out of

5
 by
KateC
Great sweater!
This is one of my best closet staples. It is a great fit and a great style. It's fitted but not tight- it's fantastic for work. I would definitely recommend!
May 27, 2015
Rated

5

out of

5
 by
ClassicClothesLover
Perfect Year-Around Basic
I wear the Jackie cardigan sweater all year. Over a tank in warm weather, under a jacket in cooler weather. It provides the perfect pop of color with neutrals (I own several different colors) and you can dress it up or down with the right accessories. I often wear it with pearls for a total "Jackie" look.
May 26, 2015