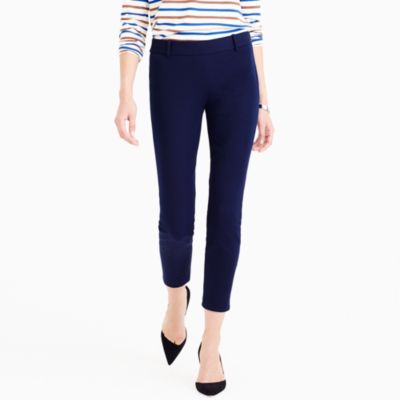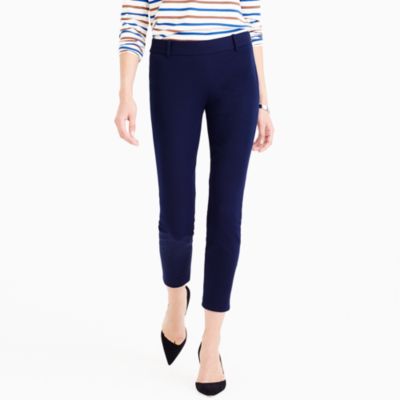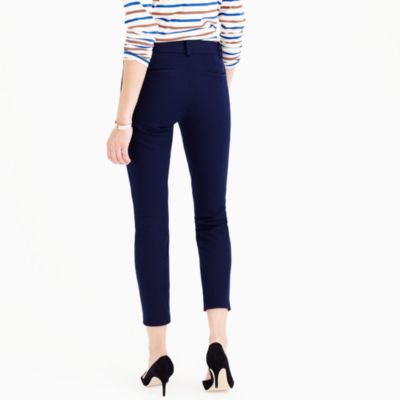 Product Details
It's called the "magic pant" around the office for a reason: It's sleek, chic and slim fitting, with an exactly-right-length leg. And it goes with just about everything.
Cotton with a hint of stretch.
Side zip.
Dry clean.
Import.
Size & Fit Details
Sits just above hip.
Fitted through hip and thigh, with a skinny, cropped leg.
26" inseam.
Minnie pant in stretch twill
Rated

3.9

out of

5

 by

180

reviewers.
Rated

2

out of

5
 by
Robin
Change in quality
I have long relied on these trousers as a wardrobe staple, and recently (Dec 2014) purchased two fresh pairs, one in black and one in navy. Comparing them against my older pairs, there is a definite change in the quality of the fabric. The new fabric seems lighter and cheaper. The older fabric had a thickness to it that made the trouser more office-appropriate. As other reviewers note, the new fabric also seems to lose its stretch more quickly. I am very upset with this change and may have to abandon the Minnie if J Crew does not bring the quality back up to its previous standard.
January 10, 2015
Rated

1

out of

5
 by
Rane
Sad Minnie
These are not the same fit or quality as the minnie's I purchased a few years ago. These do some sort of weird flare at the calf. The fabric feels stiff.
May 15, 2014
Rated

1

out of

5
 by
frustratedshopper
Miss the old J.Crew quality...
I can't believe this season's Minnie is the pant I used to buy in bulk! I've been through 4 pairs, each of which was defective. The first pair I ordered (spinach) arrived with a giant hole in the side--the pant wasn't even stitched! I exchanged them for a replacement and wore once before realizing that the waistband hadn't been stitched to the pant...a gaping hole about 3 fingers wide. The black pair that I ordered at the same time lasted about a month before the stitching came undone near the zipper just like the previous defects. Since my old Minnie's, same size, still fit fine, this is definitely a quality issue. As a last-ditch effort, I tried to buy another pair in black and was told my size was out of stock until January. Desperately needing pants, I bought one size up. The legs were so large they were comical, yet the waist was so tight I could barely breathe. Not sure what is happening to J.Crew's quality, but please, don't waste your time and money on these pants this season!
December 18, 2014
Rated

2

out of

5
 by
cm1315
What Happened?!
I used to LOVE these pants. They lasted me 5 years before I had to replace them. The new pair I purchased definitely are made from a different fabric and do not fit well at all. They also stretch out when you wear them and sag in the rear, which is very unflattering. I'd buy them again in a heartbeat if they returned to the old style, but not the way they are being made now.
March 4, 2015
Rated

1

out of

5
 by
Rocky
Size 0 turned into 4?
I loved the fit of this pant and bought it when I started my new job. After couple wear, the pant kept expanding especially the material around the butt. Now, this pant looks so awkward where it fits well on the legs but is loose around the butt and waist. Furthermore, I got it dry cleaned and the stitches at the bottom has come off. I bought two of these pants and I regret it. On one of the pants, the material has worn off near the thighs as well. Overall, not happy at all with the quality of this material. J. Crew's quality has def gone down.
March 23, 2015
Rated

2

out of

5
 by
FormerMinnieFan
Used to love these pants
I used to love, love the minnie pant and bought several pairs a few years ago. They fit perfectly, held their shape and went with everything. Then I bought a couple of new pairs this year and the fit isn't nearly as good- they are bigger in the thigh and calves so now just look bulky and not nearly as flattering. They also stretch out a ton so by the end of the day they look downright baggy. I am a slim person and have a hard time finding pants that fit well and the Minnie used to be it but this new version isn't nearly as great. Looks like my hunt for the perfect pant is back on.
August 23, 2014
Rated

3

out of

5
 by
Duggie
Fell out of Love
Used to love this pant, but this years replacement seem shorter and don't fit as well.
May 6, 2014
Rated

4

out of

5
 by
jcrewjunkie
Nice alternative to a legging pant.
I debated getting these pants for the last two years, because I always saw them shown as normal pants to be worn with regular length tops. However, if you think of them more as "structured" leggings they are a lot more flattering. They look great with the extra long button-up shirts of the season and are super comfortable - especially for travel. Nice alternative to leggings or yoga pants. Please, America - stop wearing yoga pants as real pants.
October 4, 2014
Rated

1

out of

5
 by
Sdubs73
Miss the old Minnies
I loved the Minnie pant and it has been a wardrobe staple for me for several years. I purchased a black pair in my normal size 8 last summer, but they were tight at the hip and the material felt stiff and not as soft as my old pair. I assumed they were just tight because they were new, so I bought them thinking they would stretch out a little at the hip, but they never did. Also, lint is constantly getting stuck to the pants, which was never a problem with my previous pairs. Last fall I replaced my navy pair, sizing up to a 10. The calf area of the pants were larger and less flattering in the 10. After wearing them, they became too baggy in the rear and also collect lint, so I stopped wearing them. The tags state my new Minnies are made of cotton and elastane, while my old ones are made of cotton and spandex. I wrote this review because I dearly loved my old Minnies, and I hope they are made differently in the future so I can buy them again. For now, I need to find my new staple pant!
February 24, 2016
Rated

5

out of

5
 by
Nict
Must have minnies
I have Minnie pants in a few colours, and they never fail to hit the mark. Consistent fit and a total staple in the wardrobe. Dress casually with flats and a tee and my puff sleeve jacket, or high sandals and a silk blouse for work. I wish there were more colours!
June 2, 2014
Rated

4

out of

5
 by
SassyMD
Cute work pant
I ordered the regular in size zero, beachwood. Fantastic color for work, and fantastic pant. Very comfortable. My only complaints are that it is still a bit big all the way through, especially around the ankle, and that there are no pockets (I knew this though). I'm 5'5'', 116lbs, 27 inch waist, and about 36 inches around the widest part of my hips/butt. I'm slightly more pear than banana shaped, and have fairly large thighs for my size -- I carry most of my body fat in my thighs and the pants are still loose around them. I will be ordering size 00 from now on, but the size 0 still looks good. I think instead of size inflation, J Crew should just carry larger sizes, as average sized girls (on the smaller side of average) like myself will not be able to shop here much longer! I am NOT a size 00! I'm actually a 6/8!
August 20, 2014
Rated

3

out of

5
 by
Ariel
What happened to my favorite pants?!
The mini pant has been my favorite go to pants for work for years. They are so comfortable and look great on! This fall I ordered 2 pairs to restock my closet. When they came both pairs were noticeably thinner and smaller than my older pairs. It seems like they were cheaply made this season. I normally wear 00p (I'm 5 feet 105 lbs) but this year the 00p pants are too small for me! What happened Jcrew? Please fix this and bring back my favorite pants, I miss the old minis!!
September 15, 2015
Rated

3

out of

5
 by
Belle
Perfect fit
Love the Minnie pant so much I got them in five colors. And that's despite the fact that the zippers are cheap and the hook and eye closing has broken on every pair! Be forewarned.
May 8, 2015
Rated

2

out of

5
 by
VeeR
Too much stretch
The style is amazing and I get so many compliments on these! But at the end of the day the rear is stretched out in the ugliest, saggiest, baggiest way and it's very unflattering. The tag says dry clean only but I choose to wash and dry them myself just to force them to shrink up again so I can wear them again sooner. I have heard that the twill stretches more than the same style in a different material so I will try that. I will never buy the twill Minnie's again but I'm hopeful that I can find a suitable replacement.
August 25, 2014
Rated

1

out of

5
 by
PreppyBee
HUGE Downgrade
Over the last several years, my Minnie pants have served as tried and true staples in my closet. In anticipation of fall, I decided to update my wardrobe with a few newer versions. Unfortunately, I was absolutely aghast at the current quality and fit. The feel of the textile alone is cheap and off-putting. The fit is even worse. I didn't realize it was so difficult to follow the standard 2013/2014 materials and garment pattern! Another staple to check off the J.Crew list and go in search of elsewhere....
August 27, 2015
Rated

5

out of

5
 by
TaylorD
Flattering favorite.
Out of all of J Crew's pants, the Minnie is my favorite. I have gone from an 8 to a 10, back to the 8 & now a 6 so needless to say I have quite a few pairs! I am 5'7" & the regular length is ok but I prefer them in a Tall so I can wear them year-round. The silhouette is the most flattering - better than the Campbell or the Cafe Capri in my opinion. I know these are supposed to be dry clean only but if I wash them on cold & lay flat to dry they come out fine. For reference right now I am 137 lbs & the 6 is a perfect fit.
May 24, 2014
Rated

3

out of

5
 by
sadinri
Sizing not consitent.
I bought these pants in navy at the store and loved them so much I decided to order them in Black on-line. They are the same size and are way too tight. I cannot even zip them up. The navy pair I have in the same size fit perfect. Very dissapointed and now makes me leary to buy anything unless I can try it on, even if I already have them in a different color.
March 13, 2015
Rated

5

out of

5
 by
Flexy
Wear with everything pant
I practically live in these pants. They are perfect for my job because I need to my pants to be super flexible because I do a lot of physical labor through out my work day, but still want to look put together. The fabric is amazing because no matter how long I wear them, I.e., traveling,it always maintains it's shape!
May 6, 2014
Rated

5

out of

5
 by
Lauren
Perfection - Please don't discontinue!!!!
Minnie pants have been my staple go-to wardrobe item for at least the past 7-8 years. Cut to perfection and using the most flattering stretch twill fabric, Minnies have seen me through countless days in the office, all the way through to cocktail hours. They're perennially chic, and can be dressed up or down. I've seen women of every age and size in these, and they always look incredible. Why on earth J.Crew have decided to discontinue these miracle pants is an absolute mystery. Please, please, please bring them back - I need to top up my collection!
August 24, 2016
Rated

5

out of

5
 by
Lola
Most functional and flattering pants!
I am gutted these have been discontinued, they are the perfect pant. I have worn them for 5ish years and have only replaced them once despite being rather lazy and generally throwing them in the washing machine. Please keep them around!
January 15, 2016
Rated

5

out of

5
 by
Bg7214
LOVE my Minnie's!
Y'all, Minnie's rock. I will say though, the stretch twill is MUCH better than the full length wool. The twill is thicker than the wool and holds up much better over time. I don't find these to stretch out or bag throughout the day, although they are about a size bigger than I usually wear because of the stretch. I'm 5'5", 120 lbs and usually wear a size 2. I bought a 2 and they fit okay - not too loose but I could have gone down to a size 0. What's up with the vanity sizing J.Crew? Regardless, the size 2 is a bit more work appropriate than the sizing on the model. Less like leggings, more like cigarette pants. I'll definitely buy more Minnie's - the fit is super flattering for me and I love the comfy stretch throughout my long work days. Can't wait to buy more in different colors!
July 30, 2015
Rated

5

out of

5
 by
SoCalKim
Best Pants Ever
These pants are amazing. They fit perfectly and look fantastic. The Martie (comparable pant offered in the store) is no comparison. I wish they had more colors for the Minnie Pant! Looks great with heals or flats! Can dress up or dress down! I've worn them to work and out at night. More colors please! :)
July 23, 2015
Rated

3

out of

5
 by
jcrewshopper
Different fit from before
I have always worn the Minnies and have always been a 6. I ordered 2 more pairs this past month and they were SO small. I compared them to my older ones and there is a significant size difference. All are size 6! What happened to the size guide? Would love more of the 2014/2015 minnies... Come on Jcrew...where did the high quality go?
August 25, 2015
Rated

2

out of

5
 by
LoveDesignerFashion
Love the Style but Bad Zipper
I fell in love with these pants the minute I tried them on, but after wearing a few times my hip was rubbed raw from the inside zipper on the left side! I don't know if this is this is just a problem with the particular pair I ordered or what. I am so disappointed because I LOVE the look.
September 1, 2015
Rated

2

out of

5
 by
Mel7
Stretch-out
J.Crew, what's happened to your quality? I also have discovered that my beloved Minnies now seem to be made of a much cheaper, lower quality material. In the matter of a couple of hours, my pants are stretched out at the butt and legs so it looks like my once-fitted pants are baggy, cropped trousers - not a good look. And what's worse is I wasted my money on 3 pairs in different colours because they used to be such amazing pants. These are regular store purchases, not outlet. Please J.Crew, go back to your old materials and make your clothing worth the price tag again.
December 8, 2014
Rated

5

out of

5
 by
Katie
LOVE
I love my Minnies! After a few years of owning them (and racking up a collection) I decided to write a review. I wear them in the summer and the winter as well, as they are slim enough to go with riding boots. I'm 5'5 and 105, the 00 fits perfectly. They hardly stretch throughout the day and hold their shape well (they're usually good for a handful of wears before needing a wash). I'm so glad that Jcrew has provided well fitting, chic work-pants for those at the small end of the size spectrum, as so many other companies have us looking like 12 year olds who borrowed from their moms' wardrobes!
April 15, 2015
Rated

5

out of

5
 by
AlwaysNavyBlue
3 Pairs and Counting
Finally the perfect pants to wear with heels by day and vintage sneakers on the weekends. I normally wear a size 4. My first pair bought a 6 (because they were tight). They stretch in all the right places after a few minutes of wear, so my next two pairs I bought a size 4. LOVE and can't wait to buy them in wool for the winter!
August 27, 2014
Rated

4

out of

5
 by
Ashdel
My Go-To Pant
I love these pants! I'm 5'4 and they are the perfect length for ankle pants. I have them in several colors and wear them year round (the twill in spring / summer and the wool version for fall / winter). I hope these don't change and that more colors will be offered. The only drawback is they are dry clean only. I throw them in the wash and air dry them. They will shrink a lot if you accidentally throw them in the dryer. They stretch out slightly by the end of the day but nothing too bad.
March 12, 2016
Rated

4

out of

5
 by
taztaz
PLEASE RE-STOCK THESE IN BLACK!!!
I think these are one of the best jcrew pants. I first got them 2-3 years ago in 4 different colors! Sadly I gained weight and they don't fit me anymore. I jumped at the navy blue ones they have now and anxiously waiting for the black to come back in stock. I'm 5'5 150lbs and I wear a size 8. They felt really tight at first but then stretch out a bit with wear. Very comfortable. I had a maroon pair that I wore very frequently and the color faded a bit. I still wear it but I'm more careful about washing them now. Use a gentle detergent, cold water and air dry. I really like these pants and I hope they never discontinue them.
March 11, 2016
Rated

3

out of

5
 by
FallShopper
Change in Sizing
I love the Minnie pant, but was really disappointed when I got my new pants and they were smaller than the ones I already have. The ones I have are a little big so I ordered a petite as well as a regular to see if it would fit better. I could barely get the petite on. I realize sizing changes, but this seemed like a big change compared to the ones I already own.
November 17, 2015