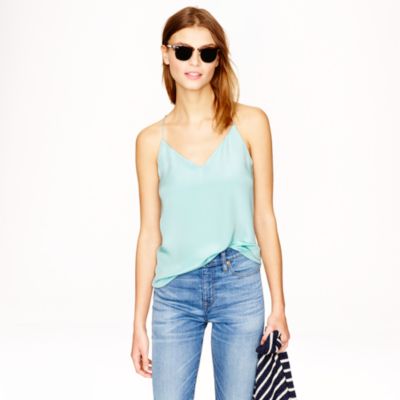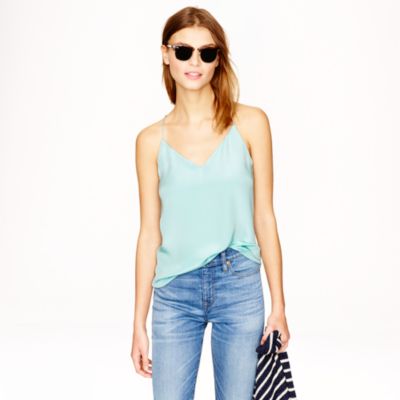 Product Details
Crafted in luxe silk with skinny spaghetti straps, this is our idea of the perfect going-out top. We're getting multiples for every day (and night) of the week.
Rated

4.6

out of

5

 by

45

reviewers.
Rated

5

out of

5
 by
chill
cami
great cami, strapless bra works perfectly underneath, hits at the waist, good with either skinny or bootcut jeans, just bought the black on sale already had orange and navy
July 29, 2014
Rated

5

out of

5
 by
Jenny
Favorite tank!
Worth every penny....look classy but can also dress down. Perfect fit and so far none of my colors have been see through (I have light blue and orange).
May 12, 2014
Rated

4

out of

5
 by
CrewGirl
Great top, runs a tad large
The style, quality, and fabric are amazing. I normally wear a 2 in J.Crew tops, but this one was a little bit big. I don't mind a drapey fit, but the armholes were too deep, showing my strapless bra. I may try the next size down or getting the straps shortened - it would be great if the straps were adjustable, but it may take away from the clean look. For ref, I'm 5'6", 125#, 32B.
July 2, 2014
Rated

4

out of

5
 by
Jillian
Very versatile!
These tops are great for casual daytime looks, or dressed up with skirts and heels at night. I bought the black and navy/white stripe, and wear both constantly, but when I ordered the ivory colour I was a bit disappointed that it wasn't lined (the navy/stripe one is). For such a light colour, I thought it surely would be. Although it was not transparent, I still felt slightly exposed so I returned it. The fit is perfect, just the right amount of drape!
May 17, 2014
Rated

5

out of

5
 by
Duchess
Perfect Camisole
I have ordered five of these in different colors. I love the drape and the fit. I am just under 5'4", but I prefer the fit of the regular size to the petite. This fits true-to-size.
May 12, 2014
Rated

5

out of

5
 by
Lisbeth
Wardrobe Workhorse.
I love love love this top. I currently have it in 5 different colors. It's perfect for work with a pencil skirt and a blazer on top but also transitions well into a night out with skinny jeans and a sleek pump. I wish it came it more colors! Sidenote, it is not too low cut to wear in a business setting. Just pop the ludlow blazer on top and you're good to go.
August 27, 2014
Rated

5

out of

5
 by
NJMOMOF1
Best Silk Cami I Have Found!
Based on prior reviews I was unsure which size to get. I called my local JCREW store and had the sales gal measure the size six (my typical size in their tops) from seam to seam under the arm. She told me 19", so I then knew the size six would fit. Because they were 30% off, I bought three of them and I think I will keep all three. My strapless bra doesn't show thru even with the pale blue color. That sold me. You can wear these year round, just add a sweater or jacket.
July 11, 2014
Rated

5

out of

5
 by
olivejuice
Perfect Cami
I love, love this cami. I had been eyeing it for months and picked it up when it went on sale – now I'm going back for more colors. I purchased the ivory cami in a size 6, my normal size is small but I don't like tight tops. This one has the perfect shape and drapes beautifully. The vneck and straps give the top a sexiness about it. The ivory silk is heavy enough that you can't see through it. Can't say enough good things about it! The only slightly annoying thing is it needs to be dry-cleaned, but perfection has a price.
June 24, 2014
Rated

5

out of

5
 by
Odalise
A staple must in any lady's wardrobe
Beautifully classic and steered by quality of material and contemporary in cut and style. I bought the white piece and teamed it up with a white linen jacket and jeans. I liked the contrasting elements of fabrics and in turn it teased out the luxury and sheer fabric of the cami. I thought it was a little on the large size but this maybe due to having a small back and bust and hence left on many occasion fiddling about trying to adjust the straps so as not to expose myself. Having said that I am a dab hand with a needle and thread so I adjusted the length of the straps accordingly which did the trick.
June 17, 2014
Rated

5

out of

5
 by
mayapple
Perfect Little Top
I liked the Carrie Cami so much I got it in almost every color. I think it will be a staple in my closet for many years to come. With a strapless bra, the neckline and cute straps really stand out. Works great under jackets and sweaters but I'm waiting for the sun to come out so I can finally bare these arms that have been lifting weights at the gym all year.
June 9, 2014
Rated

5

out of

5
 by
mbdesignchick
Fantastic Cami
I have this cami in four different colors and I love them all. It looks great with shorts and skirts and is light and breezy for summer. The silk is of really high quality and the length is just right to tuck if you want to.
June 3, 2014
Rated

5

out of

5
 by
Amanda
Perfect for summer
I bought two of these in black and white in a 4T. I'm typically between a 2 and a 4 in J.Crew tops, but this is cut completely straight, so I had to size up in the bust. I LOVE the way these fit. They fall perfectly, and the tall length (which is sometimes too long even though I'm 5'-11") hit at the most flattering spot on my hip. I plan to wear them all the time! As others have mentioned, the white is a little see-through, so it's better as a layering piece. Hoping the mint color comes back in stock!
May 30, 2014
Rated

5

out of

5
 by
Sarah
Light & Airy
This is a beautiful little slip of a top. The silk is gorgeous and I love the ivory and black colors. The racerback is the standout style of this top. The neckline isn't too low so with a sweater overtop, I can still wear this to work. Overall, I'm glad I have two simple staples in my closet now.
May 29, 2014
Rated

4

out of

5
 by
Catcreative
My go-to top for summer.
Great with jeans or shorts, the silk breathes well in hot weather and the cut skims nicely without clinging. Just be careful with washing - easy wear, not easy care. I purchased two, and one got destroyed when it was accidentally laundered.
May 5, 2014
Rated

1

out of

5
 by
Davo
Major disappointment
Seemingly a must have I ordered three colours in my usual size. The sizing was totally off - tight in chest and short. Needed at leat two sizes bigger. In addition, the fabric is very rigid and thick for a spring or summer piece. These two reasons mean all three items are returned.
April 28, 2014
Rated

4

out of

5
 by
PetiteZeros
Style is Fantastic, Quality: Not So Much
I bought one of these recently and loves the styling, which is very feminine, without being too 'sexy', especially the way the straps meet at the back - very flattering for the shoulders and back! The fit is perfect for my petite 4'-11" frame ( I ordered P00). No issues with a strapless underneath. DOWNSIDES: 1) Fabric felt a little cheap - I was expecting a true silk feel, but fabric felt more like a synthetic. 2) Poor stitch quality - especially at areas like V neck. Stitching clearly had several starts and stops with a few stray threads as a result. There was nice folded edge which helped to hide the poor stitching, but the tacking came loose and pulled the silk within the first 5 wears. No string provided by J Crew, so if I want to keep the piece, I'd have to spend a bunch of time and find a place that can match the thread color to the fabric - and have it tacked back up and see about fixing the pulls. For such a pricey piece I would expect much better quality, J Crew!
July 5, 2014
Rated

5

out of

5
 by
Christy
Perfect Basic Tank
This tank is perect for wearing alone (which is exactly what I was looking for). Simple elegant style without looking cheap. I love the substantial natural silk material. I hope Jcrew keeps this one around for a long time!
June 6, 2014
Rated

5

out of

5
 by
Ashley
Great Basic Cami
Great purchase. Extremely flattering and versatile piece. The cami is not too low so I do not worry about my bra showing at all. The piece is very slimming. Great tucked in and also untucked. I plan on buying in multiple colors.
May 13, 2014
Rated

5

out of

5
 by
AMoRo
THE ONE TANK YOU NEED FOR SUMMER...OR ANY SEASON
The Carrie Cami is perfect with jeans, a blazer, and heels for a night out, or shorts and sandals for a more casual look. Dresses up drapey drawstring pants--for a chic, comfortable outfit. Goes with practically everything in my closet! The spaghetti straps accentuate good arms. Not looking forward to parting with it, when it's time to send it to the dry cleaners.
May 9, 2014
Rated

3

out of

5
 by
Victoria
Disappointing proportions.
I have a number of J. Crew camis in various styles, and have always gotten a size 4 (I am 5'8", 34DD). That being the case, I didn't hesitate to buy this cami when it went on sale. But I was so disappointed to find that the proportions are completely different than other camis. It's much too tight across the chest, which causes the straps to fall awkwardly. I can't comfortably wear a bra with it, which is not my preference. A bummer of a final sale purchase, unfortunately.
July 30, 2014
Rated

4

out of

5
 by
Anna
Summer must have
I've been eyeing this cami for quite some time as I found it very stylish and sexy. And it turned out just as I had imagined it with one small detail - it is a little seethrough. I have a small chest and was hoping to wear the cami braless which as I can see now is impossible unless you really want everyone to see your nipples. Otherwise you'd need a bra.
May 14, 2014
Rated

5

out of

5
 by
Stephanie
My Absolute Favorite Top!
I'm so in love with this piece from J. Crew. I've bought it in every color they've ever made it in, and I wear it in one shade or another several days a week. It's so flattering and easy, and transitions from day to night flawlessly. DESIGNERS AT J.CREW, PLEASE BRING THIS BACK IN MORE COLORS!!! I'd love to see this top offered in the fall or winter in autumn shades for layering as well!
October 13, 2014
Rated

5

out of

5
 by
Genevieve
Most beautiful layering piece.
I love the cut and the silk used for these camisoles and I have several of them. As long as they don't change, I will keep buying them. I like to get them slightly big (up one normal size from my normal) so they are nice and drapey, and long enough to tuck in if I want. I always hand-wash them in water and Dr. Bronner's and they hold up quite well.
August 13, 2014
Rated

5

out of

5
 by
jchanchen
Lovely top for the summer!
I loved this top. It runs big as does everything else from Jcrew but just order a size smaller and it's perfect.
July 15, 2014
Rated

5

out of

5
 by
Aims
Perfect fit Cami
I am normally hesitant to try on loose fitting tops because the proportions are always off and I end up looking like a box or as if I gained 10 pounds, however with this Cami, that it not the case! It is loose enough to provide a slight billowy look but tailored enough to show the shape of my upper body. I love pairing it with jeans or even cute shorts during the summer. I now have three of these, in different colors of course!
July 8, 2014
Rated

5

out of

5
 by
Bridy
Perfect for spring
Love this top ! Looks great with jeans.Perfect for evening
June 5, 2014
Rated

5

out of

5
 by
Nina
Perfect shell for any occasion
Have 3 different colors. Plan on buying others. Looks great with shorts, under a blazer or with a long skirt.
May 31, 2014
Rated

5

out of

5
 by
Cind
Perfect Spring Shirt!
I love the shirt! Perfect throw on for a warm sunny day which can be dressed up or casual! Beautiful spring color!
May 21, 2014
Rated

5

out of

5
 by
marilou
beautiful fitting cami
loved this so much bought 2 more of different color
May 17, 2014
Rated

5

out of

5
 by
SaltNPepa
Sexy secretary
A great cami for under suits. Good quality silk, nice colors, reasonably priced. It is very low-cut and the straps aren't adjustable so take note - if you are larger-busted there's probably no way you could wear this to work unless you're a sexy secretary on Mad Men. Then by all means. For those of us with no cleavage it does the trick nicely.
May 15, 2014