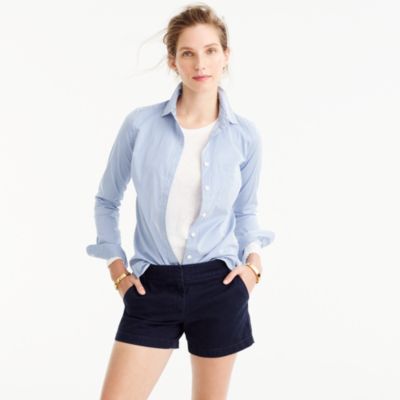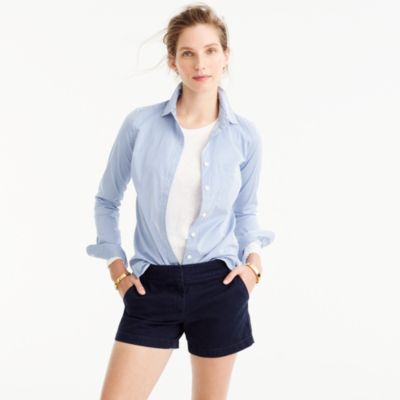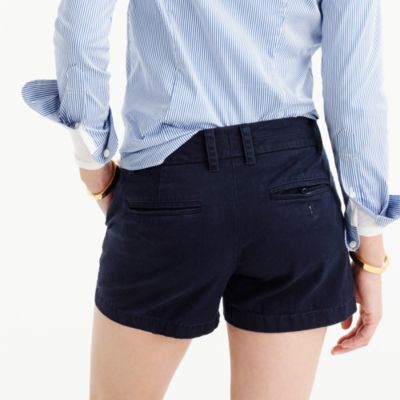 Product Details
These classic chino shorts have the perfect not-too-short, not-too-long length and come in a rainbow of hues.
Cotton.
Zip fly.
Machine wash.
Import.
Size & Fit Details
City fit—our lowest rise.
Sits just above hip.
4" inseam.
Rated

4.6

out of

5

 by

254

reviewers.
Rated

1

out of

5
 by
Isabelle
Lesser quality materials than in years passed
I always go to J.Crew for new white shorts, and I was really disappointed to see that the quality of the material has seriously declined this year. The shorts are very see-through now and the material is of a noticeably lesser-quality material, whereas when I did a side-by-side comparison with the ones I had bought just last year, I could see that previous iterations had a higher-quality, thicker, more opaque material. I was very disappointed in these shorts and returned them immediately. I hope next year J.Crew returns to their previous standards!
August 5, 2014
Rated

4

out of

5
 by
RHJ1
Good basic shorts
These are good basic shorts. I believe they run large around the waist.
May 11, 2014
Rated

1

out of

5
 by
Barbara
Smaller than last year
I ordered 2 pair of theses shorts last year and absolutely loved them. Ordered three this season in different colors and all three are a full 1 inch smaller in the waist than last year's. So disappointed that I can't wear any of the new ones but the older ones are still great. Why would you change the fit? Wish I could return them but have already washed them.
July 2, 2015
Rated

5

out of

5
 by
1234
Quality Shorts
I have these in 5" and decided to try 4". I like the 4" just as well since I am only 5'3. I buy 00 and they fit well. #108 lbs# the quality is nice and they look great wash after wash. In fact I have 2 pairs that are 16 years old and still going strong. Love JCREW.
August 22, 2014
Rated

5

out of

5
 by
CHipp
Favorite Shorts
I have these shorts in basically every color, and they are my absolute favorite! While they may be a bit over-priced, they are definitely worth the cost because they last a long time. I'm 5'3" and don't really like shorts that are too short, so 4" is the perfect length. I would have to say that they do run a bit large in the waist, as they tend to stretch out while wearing them. I'm usually a size 4 in pants, but I wear a size 2 in these, so I would recommend ordering a size down.
April 17, 2015
Rated

5

out of

5
 by
Recommender
Good shorts
I got the camel color in a size 8 (I'm pretty average body type - 5'7" and 145 lbs). I usually fluctuate between a 6 and an 8 but prefer my shorts to be a little baggier. These were perfect. A great length, nice color, and overall good fit. Highly recommend!
February 6, 2015
Rated

5

out of

5
 by
flowerchild147
My third pair
I love these chino shorts! I have two pair of the three inch but since I am 35 years old now I thought I needed longer shorts. I was undecided on the 4 or 5 inch but chose the 4 inch. They are a good length and I am happy with my decision. I am 5'7" and 150 pounds and I get the size 10. They fit very well.
October 27, 2014
Rated

5

out of

5
 by
GrayTex
Simply the best!
These are the best shorts ever! I have them in almost every color for this season. The fit is true to size. I'm 6 feet tall and the 4" is a great length.
June 2, 2014
Rated

5

out of

5
 by
Bdub
Love these shorts!
I rarely order shorts because I am pretty particular about fit, length, etc. I wanted something that was short enough to look stylish but not too short. These are perfect! After receiving these I am tempted to order a pair in every color still available. I am 5'9" and 140 lbs; size 8 was perfect.
January 8, 2015
Rated

5

out of

5
 by
Rjk8023
Great shorts!
I love these shorts - had to have the coral and aqua. At least 5 ago I bought a khaki version of these and I was pleased that the new ones fit so similarly - makes online shopping easy! I rated these 'true to size' but feel they are a touch generous, but not enough to size down - they just may have a little room to wiggle...for me a great comfortable summer fit.
June 24, 2014
Rated

3

out of

5
 by
Jekka
Not the same chino wonder as years past
I love Jcrew chino. Well, I used to love Jcrew chino. This year the chino is incredibly thin. Not the thick quality stuff I'm used to from years past. Very disappointed that this classic staple is now thin and low quality. I compared the current chino to JCrew Factory chino, and they are comparable, which is a sad statement. What has happened to Jcrew quality? Size wise, these are spot on, and I took my regular size. Size 2 for a fitted look, size 4 for a relaxed fit (5'9" 132lbs)
April 3, 2016
Rated

4

out of

5
 by
LMIM
The perfect short, but....
...the sizing is so inconsistent! I bought a zero in the lilac color. Decided to exchange for a zero in navy...and they were at least one full size smaller. The lilac fit perfectly and the navy I couldn't even zip them up. How can sizing be so inconsistent?
April 19, 2016
Rated

5

out of

5
 by
EmilyV
A Summer Staple
I have about 20 pairs of 3" chinos that I have collected over the past few years, and it seems that all of the washing and drying has somewhat shrunk them. I opted for new 5" chinos but they felt too long, so I FINALLY tried out the 4" chinos and LOVE them! I compared them to the new 3" chinos (because I know the style has slightly changed over the years) and my leg moves so much easier in the 4". They are comfy and the perfect length. I am 5'2 110# and always were a 0 in dresses and pants (sometimes a 00 if it's a shift), but all of my chinos in all lengths from all years are a size 2. I prefer a little wiggle room since I want them to be extra comfy. These are a must!!
July 22, 2015
Rated

5

out of

5
 by
MeMe
Perfect Short
This are the best shorts I have ever owned. Comfortable fits great. I have had a pair I got years ago and I must have washed them a hundred times and still wearing them, This year I bought four pair and hope to enjoy for years to come. By the way I am 60 yrs old.
October 16, 2014
Rated

4

out of

5
 by
Jes24
Quality does not disappoint!
As always, if I want quality I turn to JCrew. The material is very substantial, the cut is tailored and the coloring although fades slightly is crisp and gives them a nice unique look. I thought these ran slightly large and because they are all cotton tend to stretch out a bit, but not enough to warrant going down another size and being uncomfortable until they do stretch. The waist does not cut in like other chinos which is exactly what I love about these! I usually have to go down a size because I have narrow hips and a thick waist but the waistband on these is fairly straight and wide and helps keep the tummy in without a muffin top! Perfect for me! Overall I am very happy with them and the colors are out of this world. Very classy and even though they are short, the width of the leg is wide enough in that you do not look like you are trying to be a teenager again. I am a tall fit 46!
July 23, 2015
Rated

2

out of

5
 by
Kate
Stop Changing these shorts!
I have purchased these shorts in white every year for the last 5 years. This year I ordered in the exact same size, length, and color only to find that the shorts fit like biker shorts. I also noticed that the fabric is thinner as I can see all of the outlines in the pockets which I can't see in my other pairs. Please stop changing a good thing J Crew. These are my favorite shorts in the world and I can't buy a replacement.
July 1, 2016
Rated

4

out of

5
 by
LoveJCrewSales
Beautiful colors
Gorgeous, rich colors on these chino shorts. Originally got the 3" length but exchanged for the 4" which is more flattering on my curvy body. Slightly snug in the waist but am hoping will break in. Very happy with this purchase !
November 16, 2014
Rated

2

out of

5
 by
AnnElizabet
OK cut, but don't buy white!
I ordered these in white and they were way too transparent. Forget about seeing undergarments, the pocket lining was completely and distractingly visible through the shorts. They were unwearable. Too bad!
June 27, 2016
Rated

5

out of

5
 by
Kara
summer staple
I own these shorts in 3 colors now (something I don't typically do). They are the perfect length for my 5'4" frame. They are long enough for mom- modesty but short enough to look cute. The fabric is thick enough to get away with not ironing and wearing whatever undies you want with none of the dreaded "VPL" (visible panty lines) .
June 1, 2016
Rated

5

out of

5
 by
preppylizzy
Great Shorts that go with Everything!
I love these shorts. They are a great staple and a great deal when on sale! I have them in 3 colors and they are perfect especially if you have a bit of a booty and 3in shorts are too short but 5 feel a little too long. Very few retailers make 4 in shorts and in my opinion they are the most flattering!
May 18, 2016
Rated

5

out of

5
 by
mariou
Great color and fit!
I bought the storm grey 4 inch and I am very happy with it. The color is great and it's a true 4 inch inseam. Last year I had to return a grey 4 inch because it was very short and after I measured it, it was more like 2 inches! This one is also true to size! I'm 5'5 and 125 pounds and I bought a size 4 and it's comfy, not tight.
March 24, 2016
Rated

5

out of

5
 by
BekkiM
My favorite shorts
Great quality and great fit. I'm 5 foot 100 lbs and the 000 fit perfect!
July 9, 2015
Rated

5

out of

5
 by
Palmlyn
Perfect
The length is perfect. I find the 3 inch inseam just a little too short for me, but the extra inch makes all the difference. I have these shorts in almost all the colors. They are well made and timeless. My go to short.
August 28, 2014
Rated

4

out of

5
 by
Kelly
A good wardrobe staple
I have these shorts in almost every color. They are a great staple for your spring/summer wardrobe. I already had some from a few years ago and wanted to update my colors. I used the same style number to make sure I was getting the exact same product. The shorts from this year are cut smaller overall. I didn't have to go up a size but the newer pairs are just more snug. Not a deal breaker but something to consider. Like the fit from previous seasons better.
May 26, 2016
Rated

4

out of

5
 by
jemmb
Perfect length shorts but bit of an odd fit
I do love these 4 inch shorts - it is truly the perfect shorts length. Not short enough that you are tugging them down, but not too long that you start to look matronly. Great colours, very thick, quality material that washes well. The only problem I have with them (which doesn't stop me from buying them, obviously) is that the waist to leg ratio is off, in my opinion. I had to size up so that the leg openings aren't too tight when sitting down, but the waist is then a bit loose. I don't find I have this problem in any other brand of shorts other than J. Crew.
March 5, 2015
Rated

4

out of

5
 by
Taylor
Adorable
I adore these shorts very, very comfortable. Although the 8 I ordered is a little big, and I'm normally an 8 in all of the clothing I normally buy. I might buy a 6 in the next pair I buy, but overall I love these shorts as they are very comfortable and classic.
May 23, 2014
Rated

2

out of

5
 by
mmeme
inconsistant
hmmm got these in the 3 inch version and in red and they were great quality and material, so decided to get another pair in the 4 inch. I got the pink color. The material is sooo thin and see through that the inner accent lining of the shorts (which is navy) was see through from the outside. What am I supposed to do with that? Also the pink color shown online was more of a light pink but the shorts i received were bright pink, not at all the same. Disappointed in the inconsistency as the other pair i got were great and if they were not final sale i would definitely return them! TLDR: fits true to size, consider dark colors only.
July 21, 2016
Rated

1

out of

5
 by
0000
Poor Quality Fastener
Considering the shorts are J Crew (not Factory) I expected the hook fastener at the waistband to be of better quality and more securely affixed. The fastener has two prongs which weren't embedded/secured into the chino fabric. I had to go in my toolbox and grab a pair of pliers for a quick fix before going out. I'm a long-time J Crew customer and I know what I expect of their chinos - this fastener is of very poor quality. I intend to ask for a replacement.
December 29, 2014
Rated

5

out of

5
 by
andrea
nice basic short
These are a nice basic short that you will be able to wear for many years. The length is nice, not too short but not too long and the material is substantial. I especially appreciated that in the white shorts because they are not completely see through like so many white shorts tend to be.
June 9, 2016
Rated

5

out of

5
 by
Twmmum813
Best staple shorts
Bought the blue and black and LOVE them. Going back to purchase two more staple colors to always have on hand. Classic style, TTS.
June 1, 2016