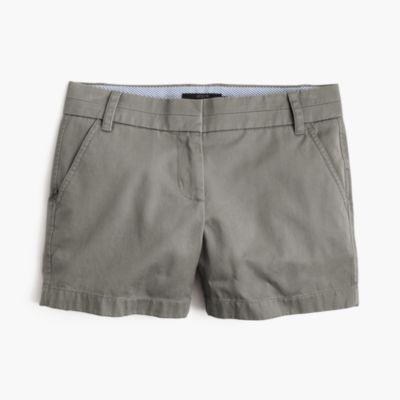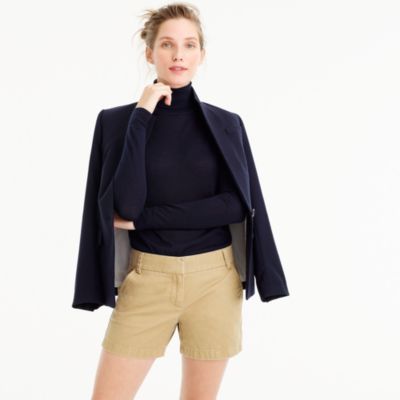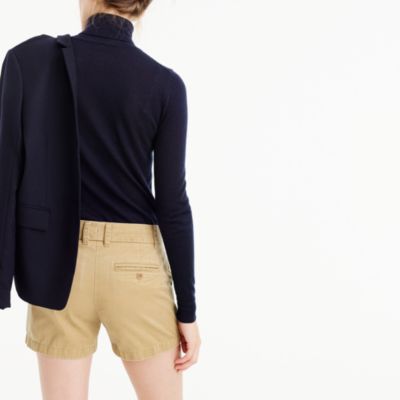 Product Details
Our classic chino short is back in a rainbow of colors and a longer, slightly more modest length.
Cotton.
Zip fly.
Machine wash.
Import.
Online only.
Size & Fit Details
City fit—our lowest rise.
Sits just above hip.
5" inseam.
5" chino short
is rated out of
5
by
191
.
Rated

5

out of

5
by
Lana
from
Flattering Fit
I own 5 pairs of the 5" chino shorts so obviously I love them. They are comfortable, great quality, and can be dressed up or down. I'm 5'7", 145 lbs and the size 4 fits me perfectly.
Date published: 2016-05-17
Rated

5

out of

5
by
HRinMPLS
from
go to shorts
These shorts are perfect! I'm 5-7, muscular frame, 140 pounds and the size 6 fit perfect.
Date published: 2016-05-17
Rated

5

out of

5
by
Fortworthgirl
from
Flattering
Love the shorts, love the colors. A nice flattering & clean fit. The shorts ran true to size.
Date published: 2016-04-30
Rated

5

out of

5
by
Mary
from
A great white short
Can be dressed up or worn casually--great twill fabric, the length is perfect for a white short (especially if you have "older legs" like I do). I love the Jcrew Chino shorts. Year on year they are my summer favorites.
Date published: 2016-04-27
Rated

5

out of

5
by
adsin
from
Love these shorts but beware of neon cantaloupe
I love these shorts and own so many pairs which is why I'm giving them 5 stars. I purchased several already this season but I'm returning the neon cantaloupe. The color looks beautiful on the site but in person it is a true neon similar to what a lifeguard might wear. Wow! Quite different from the color swatch. If you're hoping for a nice melon color, these are not for you.
Date published: 2016-04-10
Rated

5

out of

5
by
LeeH
from
Great Go To Short!
Great shorts for moms with little ones on the go! I bought them last year in a size 2 (I'm 5'3 115 lbs) and bought a size 0 this year. They seem to run a little bigger in the waist, this season (even after washing and drying)
Date published: 2016-04-01
Rated

5

out of

5
by
TrudyF
from
Perfect
I have these Chinos in about 8 colors. I purchased my first pair a few years ago and have been adding different colors ever since. I'm 5 ft 7 145 pounds and I wear a size 6. They fit perfectly and wear well. Great quality and the fit has been pretty consistent each year.
Date published: 2016-03-30
Rated

5

out of

5
by
luvjc
from
Yes Buy the White!
Definitely a good quality, great length, fits beautifully, white short. Who cares if the pockets show thru a bit? Wear taupe panties under these & you're set! Me-over 60, fit & trim, 5"4" 110 lbs. purchased 00..
Date published: 2016-03-24
Rated

5

out of

5
by
Missy
from
Perfect shorts
My first J Crew purchase and love the fit of the chino shorts. I'm 5'4" 160 lbs and the size 14 fit perfect. Not too widen the legs, which also seems to be my problem. Just purchased 2 pairs for my daughter and will be purchasing more colors for myself.
Date published: 2016-03-19
Rated

5

out of

5
by
Katkat
from
Put it on your must have summer list.
I love the 5" Chino shorts. Got them in gray. Nice go with everything color. I am 5'4", 122 lbs with a straight figure and take a size 2 or 26 waist in Jcrew... this time was no different. Easy shorts to throw on, dress up or dress down. The 5" is not too short, not too long. Get them.
Date published: 2016-03-14
Rated

5

out of

5
by
hayleyhk
from
Great length!
I was really excited that these fit as well as they did. I am 5'10", so I think that the 3" and 4" inseam chino shorts tend to look very short on me. These provide the exact look I was hoping for.
Date published: 2016-02-26
Rated

5

out of

5
by
Allie
from
Great Shorts for Private School Dress Code
Ordered the double and Triple 000 sizes in the 5" Chino shorts. Color choices are great and they run larger than size. I also ordered the Crew Cuts size 14 and it was bigger than the Adult size 000. I have a slender/narrow daughter with long legs. She loves the Triple000. The only complaint she has is that the tan/khakis are darker than what she likes. She would like a lighter shade -more of a tan than a yellow/brown khaki. We will order more shorts in the future- when there is a sale. I ordered 7 pair of shorts and only have to return a couple. I can go to a store and return them as per the customer service rep. That makes it easier for me. Note: I ordered online due to the store not having triple zero sizes in stock and no crew cuts.
Date published: 2016-01-09
Rated

5

out of

5
by
Shortsgirl
from
Store please!!!!!!
I love the 5 inch shorts. Always have bought these since I have more muscular thighs. It's a perfect length for a gal who is 5ft 2 inches. The 7 inch ones look too long. Very disappointed that JCrew does not carry this length in stores anymore. Please put them back in the stores!!!!
Date published: 2015-08-06
Rated

5

out of

5
by
Seulyn
from
BEST SHORTS EVER!
Living in Honolulu, I buy shorts all the time. Very difficult to find shorts with quality and style. Decided to try the 5" shorts...not too short...not too long. Fits perfectly to size. Slight variation between colors but not significant. I am a size 2. I am 5' 3.5" and 120 lbs. Own 12 shorts and buying more. LOVE the assorted colors. My favorite brand!
Date published: 2015-07-24
Rated

5

out of

5
by
mpicc
from
Must - have shorts
Not too short, not too long, these 5" Chino Shorts are a must-have in your wardrobe for hot summer days. Paired with the right top and accessories, these shorts can go from daytime wear to casual evening wear. There are multiple colors to choose from - I chose four colors! I saw them on a woman at a coffee shop and knew that they were the shorts I had been hoping to find. Just as I noticed that these were stylish and quality shorts when I first saw them on her, people will look at yours and think the same. Whatever color (or colors) you choose, you'll not only look good in them, but you will feel good!
Date published: 2015-05-18
Rated

5

out of

5
by
kazoo
from
wardrobe staple
Love these chino shorts, especially in the new colors, and ESPECIALLY on sale! I get a new pair of shorts every year or two, and was delighted to see my fave chinos in the light blue color this year. Great wardrobe staple, fantastic for summer casual wear, love these shorts!
Date published: 2015-05-17
Rated

5

out of

5
by
Sharon
from
Great shorts
I've been buying JCrew shorts for a couple of years now because I just love them. They wash and wear well and the fit is true to size.
Date published: 2015-05-10
Rated

5

out of

5
by
SavvyStyleLady
from
Great Fit Even For Athletic Builds
I'm 5'9" with more of an athletic build, thicker thighs and legs, ample rear. 36 28 37. I usually wear a 6 or 8 in JCrew bottoms but I generally don't like the fit of clothing with small skinny legs unless the fabric has lots of stretch. Although my other shorts are a size 6, they also only have a 3 to 4 inch inseams. I opted for a size 8 in the Fern because I wanted a more relaxed, comfortable fit and liked the idea of longer 5 inch inseam but didn't want them at all tight on my thighs. I thought that the thighs might be more snug in a 6 with the 5" inseam. The size 8 was the perfect choice for me. They're a tiny bit big in the waist but not enough to require a belt and the rise doesn't expose me when I bend over and the legs are perfect too. Soft, comfortable chino fabric. Great! I only wish that they were available in more of a variety of new colors for this year because I'd order more. A red and deep maroon would be desirable as would black.
Date published: 2015-05-07
Rated

5

out of

5
by
deedeep
from
Soooo thankful...
...to the reviewer who specified that she needed to size up in these shorts....yeah, thanks! I have always purchased these shorts in a size 8, but though my weight hasn't changed, the 8 wasn't fitting anymore in the waist and I was returning. Tried again with the 10, and fits perfect on the waist of my straight-to-slightly curvy figure without bagging in the rear. Took a risk with the eggplant color, and really glad I did...surprisingly, it goes with so many of my favorite tops, particularly the blues and the whole spectrum of warm colors!
Date published: 2015-04-10
Rated

5

out of

5
by
Lara
from
Very good basic short
I have these shorts in several colors. They are a good basic short. J Crew has also maintained consistent sizing for these shorts for the past few years. For reference, I am 5'6" and 124 pounds with an athletic build and the size 2 fits well.
Date published: 2015-04-02
Rated

5

out of

5
by
ShellyJ
from
Favorite shorts
I typically have a problem finding shorts that fit well thru the hip and thigh and don't gap in the waist.....these fit perfect! I have them in so many colors and the 5" length is perfect!
Date published: 2014-08-11
Rated

5

out of

5
by
WildKat61
from
Best Chinos EVER
I recently updated my old JCrew chino shorts with new ones due to getting older and wider!!! I have bought these chinos for over ten years (if not longer) and still have some originals when I was in a size 6!! They are durable, comfortable, classic styling and look great regardless of the size. I bought a 12 because I wanted them a bit bigger so they are slouchy and I can wear a shirt tucked if I want without a bulge!! Can't say enough good about these shorts. My neighbor loved them so much she ordered two pair!!!
Date published: 2014-07-07
Rated

5

out of

5
by
harbinger
from
Wow- awesome shorts!
Let me just start by saying that I am NOT a fan of short & tight, so I was apprehensive to try these. I'm in my mid-30's, so looking like a teenager is not my aim; the Broken In Boyfriend shorts have been my go-to's for years. However, I wanted to try something new. The first second I put these on I was impressed. They fit true to size, aren't too low (I'd say mid rise), they aren't too tight, they aren't too short, and they made me look great! I was like wow! These are awesome shorts! Really nice. Way to go, J. Crew!
Date published: 2014-07-05
Rated

5

out of

5
by
Amelein
from
Well made and great fit.
These are my go too shorts. I think I have a pair in every length now. I was hesitant to order the 5 inch short at first, but so glad I did now. I live at the beach and these shorts are perfect. So many ways to change up the look.
Date published: 2014-07-03
Rated

5

out of

5
by
joie
from
Did not disappoint
I have several pairs of these shorts in various colors. Great fit and quality, and my husband always tells me I look sexy in them.
Date published: 2014-06-25
Rated

5

out of

5
by
Robin
from
Great shorts!
Love these shorts! The quality is great and they are a perfect length. The color is definitely bright, but fun for summer!
Date published: 2014-06-24
Rated

5

out of

5
by
rodanthegirl
from
5" Chino Short
It's hard to find a great 5" short and these are perfect! As a true JCrew product, the fabric is great and they stay tailored all day. I have them in several colors but wish they 5" came in Khaki.
Date published: 2014-06-20
Rated

5

out of

5
by
MissaMae
from
Awesome Spring/Summer Shorts
I have previously purchased these chino shorts and love them. I came back to find that they are still made in the same style with new colors. After ordering several different colors I now have a complete range of outfits for the Spring/Summer. The material is also very comfortable and they are very well made. I highly recommend these shorts.
Date published: 2014-06-19
Rated

5

out of

5
by
JenniferLynn
from
Great Shorts
These were exactly what I needed for my summer wardrobe. I needed some stylish shorts that were the right length. J. Crew always comes through for me. Just as always, I can order the size I need and everything fits true to size. I can dress comfortably for warmer summer weather and still maintain some style. They are the perfect fit for me and they fit perfectly.
Date published: 2014-05-31
Rated

5

out of

5
by
MegO
from
Perfect casual wear
I got the first piece and loved it so much that I bought another. Good length and good fabric thickness. Good for the humid summer and thin enough to stay fairly cool ...
Date published: 2014-05-29