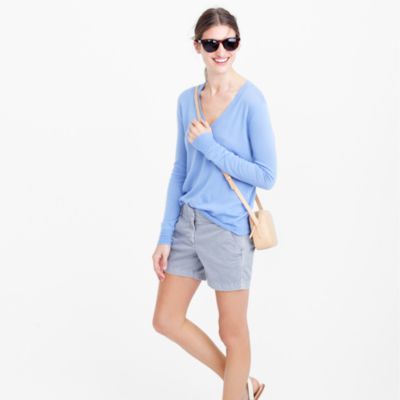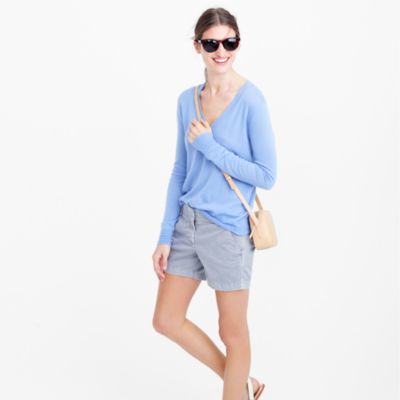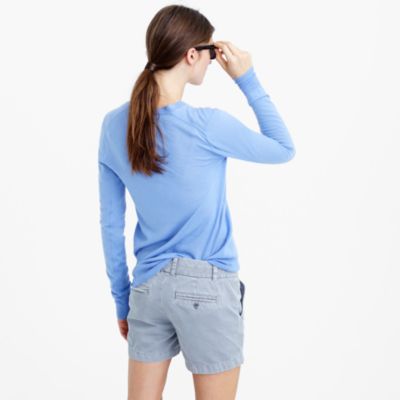 Product Details
Our classic chino short is back in a rainbow of colors and a longer, slightly more modest length.
Cotton.
Zip fly.
Machine wash.
Import.
Online only.
Size & Fit Details
City fit—our lowest rise.
Sits just above hip.
5" inseam.
Rated

4.6

out of

5

 by

191

reviewers.
Rated

5

out of

5
 by
jigisup
Great fit
the shorts are true to size and are cut in such a way that look flattering on a 20 year old as well as a 50 year old. (if you are 50 get the 5 inch and if you are 20 get the 3 inch!) there is nothing bad i can say. just a great fitting pair of short that make your legs look good. (i am 5'9" and 138lb and bought size 6...and ok, got the 5 inch inseam...)
May 7, 2014
Rated

5

out of

5
 by
Rebbie75
Perfect everyday shorts
These shorts are high quality. Perfect length. They do run a tad big. After a washing they shrunk a little (which was great), but as the day goes on they do stretch back out making them look a little less flattering by the end of the day.
May 14, 2014
Rated

5

out of

5
 by
JenniferD
Classic Chino Short
Stop looking . . . here's your short to take you through the summer, and for those of you in warmer climates, fall too. Classic, sturdy styling in comfortable cotton that for me, fits true to size (Size 6 is my "go to" for pants and shorts). I expect the pairs I purchased to last me through the next few years. I prefer the 4" and 5" shorts - 3" is a little too short, while 7" feels a little too matronly (I'm 5'7" for reference). My favorite new color is Melted Caramel, which J.Crew has styled with several items on in the Style Guide and website.
May 16, 2014
Rated

5

out of

5
 by
Missy
Perfect shorts
My first J Crew purchase and love the fit of the chino shorts. I'm 5'4" 160 lbs and the size 14 fit perfect. Not too widen the legs, which also seems to be my problem. Just purchased 2 pairs for my daughter and will be purchasing more colors for myself.
March 19, 2016
Rated

5

out of

5
 by
Katkat
Put it on your must have summer list.
I love the 5" Chino shorts. Got them in gray. Nice go with everything color. I am 5'4", 122 lbs with a straight figure and take a size 2 or 26 waist in Jcrew... this time was no different. Easy shorts to throw on, dress up or dress down. The 5" is not too short, not too long. Get them.
March 14, 2016
Rated

5

out of

5
 by
SavvyStyleLady
Great Fit Even For Athletic Builds
I'm 5'9" with more of an athletic build, thicker thighs and legs, ample rear. 36 28 37. I usually wear a 6 or 8 in JCrew bottoms but I generally don't like the fit of clothing with small skinny legs unless the fabric has lots of stretch. Although my other shorts are a size 6, they also only have a 3 to 4 inch inseams. I opted for a size 8 in the Fern because I wanted a more relaxed, comfortable fit and liked the idea of longer 5 inch inseam but didn't want them at all tight on my thighs. I thought that the thighs might be more snug in a 6 with the 5" inseam. The size 8 was the perfect choice for me. They're a tiny bit big in the waist but not enough to require a belt and the rise doesn't expose me when I bend over and the legs are perfect too. Soft, comfortable chino fabric. Great! I only wish that they were available in more of a variety of new colors for this year because I'd order more. A red and deep maroon would be desirable as would black.
May 7, 2015
Rated

5

out of

5
 by
deedeep
Soooo thankful...
...to the reviewer who specified that she needed to size up in these shorts....yeah, thanks! I have always purchased these shorts in a size 8, but though my weight hasn't changed, the 8 wasn't fitting anymore in the waist and I was returning. Tried again with the 10, and fits perfect on the waist of my straight-to-slightly curvy figure without bagging in the rear. Took a risk with the eggplant color, and really glad I did...surprisingly, it goes with so many of my favorite tops, particularly the blues and the whole spectrum of warm colors!
April 10, 2015
Rated

5

out of

5
 by
harbinger
Wow- awesome shorts!
Let me just start by saying that I am NOT a fan of short & tight, so I was apprehensive to try these. I'm in my mid-30's, so looking like a teenager is not my aim; the Broken In Boyfriend shorts have been my go-to's for years. However, I wanted to try something new. The first second I put these on I was impressed. They fit true to size, aren't too low (I'd say mid rise), they aren't too tight, they aren't too short, and they made me look great! I was like wow! These are awesome shorts! Really nice. Way to go, J. Crew!
July 5, 2014
Rated

5

out of

5
 by
Lulu
Summer staple
I have been wearing J.Crew chino shorts for over 20 years now and they never disappoint. The stone color is so soft and comfortable--I wear them every week. These shorts are a summer staple.
July 2, 2014
Rated

5

out of

5
 by
dawnyd
Love these shorts!
These shorts are my absolute favorites! My goal is to own them in every color - I now have them in 4 colors. Not too short, not too long. Wash, dry and wear, they require no ironing! They look great both casual and dressed up and they hold their shape like a champ!
May 18, 2014
Rated

5

out of

5
 by
veracious
a summer staple.
These shorts are a classic summer must-have. I think the 5 inch is the perfect length for just about everyone. I also love the 7 inch shorts if you need something more on the conservative side. I think they fit true to size, however i go up 1 size because I like to wear a belt with them and I don't like them too fitted through the hip and thigh. They are excellent quality and DO NOT shrink with proper care. ALL cotton and natural fibers will shrink over time if you use the dryer continuously! If you don't want cotton to shrink, you need to hang dry- sorry it's a fact of life. If you're in between 2 sizes, ALWAYS buy the bigger size if the garment is cotton and you want longevity of the garment. These shorts are well-made of a durable cotton and last for many seasons.
July 3, 2014
Rated

5

out of

5
 by
Hill
Summer staple
I finally gave in and purchased a bunch of these shorts and I am not disappointed. When I Initially tried the shorts on, the were a little snug in the waist. I ordered my usual size. I was debating whether I should exchange them for a bigger size. I am glad I stuck with the originals that i ordered. These shorts stretch out a lot. However, the stretching has made them fit perfectly and I would have been sorry if I ordered the size up. I also have not put them in the dryer. The fabric is also nice and thick and doesn't sag with all the stretching out.
June 9, 2016
Rated

5

out of

5
 by
rodanthegirl
5" Chino Short
It's hard to find a great 5" short and these are perfect! As a true JCrew product, the fabric is great and they stay tailored all day. I have them in several colors but wish they 5" came in Khaki.
June 19, 2014
Rated

4

out of

5
 by
AngLZ
The honey brown is smaller. The color <> khaki
I own the lilac in 00 and love it. But the honey brown 00 is tight on me. I would have rated it 5 stars based on color and quality. But jcrew sizing hasn't been consistent in the last few years. Judging by the many 4" shorts I own, the new colors coming out in summer 2016 runs half a size smaller than previous products.
July 9, 2016
Rated

4

out of

5
 by
AnnElizabet
Great cut, but don't buy white!
I loved the cut on these -- the 5 inch inseam was perfect on me, and had just the right amount of looseness in the thigh to be super flattering. Unfortunately however, I ordered these in white and they were way too transparent. Forget about seeing undergarments, the pocket lining was completely and distractingly visible through the shorts. The shorts might have worked if the lining had been a beige but, with the white lining of the pockets so visible through the shorts, they were unwearable. Too bad! Please make these in more fun colors like you do the 4 inch shorts!
June 27, 2016
Rated

3

out of

5
 by
Kate
Color was WAY off
I like JCrew's 5" shorts and was looking to add a bright colored pair to my wardrobe. Neon flame looks like a bright pinkish coral online, but in reality it's traffic cone orange. The difference is so dramatic that I feel like I ordered these from a knock-off website. Yikes!
June 10, 2015
Rated

1

out of

5
 by
Disappointed
Runs small
I already own several pairs of these shorts in a size 8 (purchased several years ago). Unfortunately, I needed to go up a size this year so I ordered the same shorts in a size 10. When I tried them on, they are basically the exact same size as the size 8s that I already own. Very disappointed that J Crew has gone skimpy on the fabric and I will be returning the shorts.
May 6, 2014
Rated

5

out of

5
 by
JFITZ
5" CHINO SHORTS
I LOVE THE 5 INCH CHINO SHORTS . THE LENGTH IS JUST THE BEST .NOT TOO LONG AND NOT TOO SHORT. HOWEVER IT IS HARDER TO FIND THE 5" IN THE STORES. PLEASE CONTINUE TO MAKE THEM,AND IN MORE BRIGHT COLORS .
July 3, 2014
Rated

5

out of

5
 by
LongtimeJCrewfan
Perfect shorts length
Not too long. Not too short. Not too high waisted. Not too low waisted. Just perfect. I'm 5'6" size 2. Classy and age appropriate for this 47 year old. I just ordered 2 more pair.
May 30, 2014
Rated

5

out of

5
 by
Amp4942
Awesome shorts!
I have always been a fan of JCrew shorts. They are thicker than Factory shorts but still comfortable to wear during the summer in southern Alabama. The 5" inseam is a good length...not too short for a girl in her 30s but not too long either. Whenever these shorts go on sale, I try to snag a couple of pairs. Just wish they came in more colors!
June 9, 2016
Rated

5

out of

5
 by
Fortworthgirl
Flattering
Love the shorts, love the colors. A nice flattering & clean fit. The shorts ran true to size.
April 30, 2016
Rated

5

out of

5
 by
LeeH
Great Go To Short!
Great shorts for moms with little ones on the go! I bought them last year in a size 2 (I'm 5'3 115 lbs) and bought a size 0 this year. They seem to run a little bigger in the waist, this season (even after washing and drying)
April 1, 2016
Rated

5

out of

5
 by
TrudyF
Perfect
I have these Chinos in about 8 colors. I purchased my first pair a few years ago and have been adding different colors ever since. I'm 5 ft 7 145 pounds and I wear a size 6. They fit perfectly and wear well. Great quality and the fit has been pretty consistent each year.
March 30, 2016
Rated

5

out of

5
 by
Shortsgirl
Store please!!!!!!
I love the 5 inch shorts. Always have bought these since I have more muscular thighs. It's a perfect length for a gal who is 5ft 2 inches. The 7 inch ones look too long. Very disappointed that JCrew does not carry this length in stores anymore. Please put them back in the stores!!!!
August 6, 2015
Rated

5

out of

5
 by
Seulyn
BEST SHORTS EVER!
Living in Honolulu, I buy shorts all the time. Very difficult to find shorts with quality and style. Decided to try the 5" shorts...not too short...not too long. Fits perfectly to size. Slight variation between colors but not significant. I am a size 2. I am 5' 3.5" and 120 lbs. Own 12 shorts and buying more. LOVE the assorted colors. My favorite brand!
July 23, 2015
Rated

5

out of

5
 by
kazoo
wardrobe staple
Love these chino shorts, especially in the new colors, and ESPECIALLY on sale! I get a new pair of shorts every year or two, and was delighted to see my fave chinos in the light blue color this year. Great wardrobe staple, fantastic for summer casual wear, love these shorts!
May 17, 2015
Rated

5

out of

5
 by
Lara
Very good basic short
I have these shorts in several colors. They are a good basic short. J Crew has also maintained consistent sizing for these shorts for the past few years. For reference, I am 5'6" and 124 pounds with an athletic build and the size 2 fits well.
April 2, 2015
Rated

5

out of

5
 by
WildKat61
Best Chinos EVER
I recently updated my old JCrew chino shorts with new ones due to getting older and wider!!! I have bought these chinos for over ten years (if not longer) and still have some originals when I was in a size 6!! They are durable, comfortable, classic styling and look great regardless of the size. I bought a 12 because I wanted them a bit bigger so they are slouchy and I can wear a shirt tucked if I want without a bulge!! Can't say enough good about these shorts. My neighbor loved them so much she ordered two pair!!!
July 7, 2014
Rated

5

out of

5
 by
joie
Did not disappoint
I have several pairs of these shorts in various colors. Great fit and quality, and my husband always tells me I look sexy in them.
June 25, 2014
Rated

5

out of

5
 by
Robin
Great shorts!
Love these shorts! The quality is great and they are a perfect length. The color is definitely bright, but fun for summer!
June 24, 2014