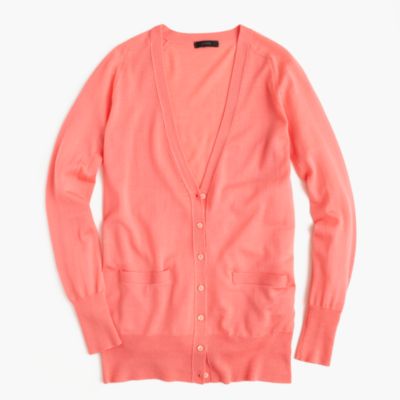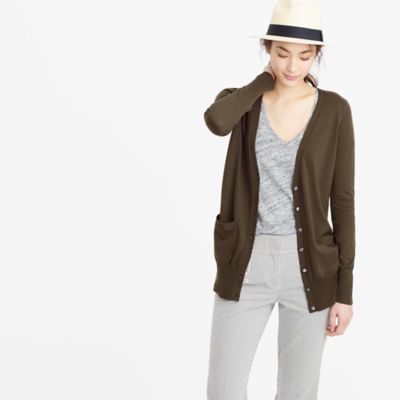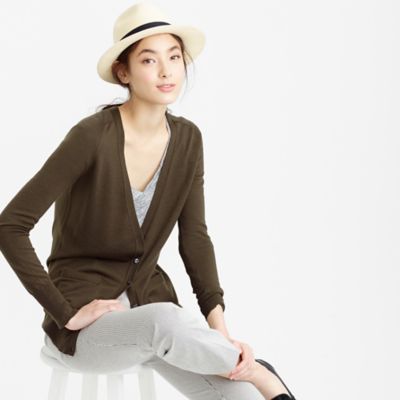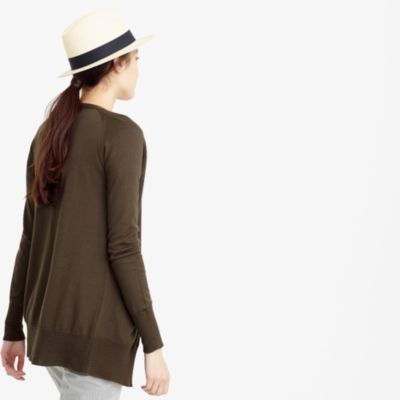 Product Details
The cardigan you can—and will—wear with just about everything.
Merino wool in a 14-gauge knit.
Rib trim at neck, cuffs and hem.
Welt pockets.
Dry clean.
Import.
Size & Fit Details
Relaxed fit.
Hits below hip.
Classic merino wool long cardigan sweater
Classic merino wool long cardigan sweater
is rated out of
5
by
97
.
Rated

5

out of

5
by
Megabeth
from
Perfect cardigan
I now own this cardigan in three colors. Would it be weird if I bought one in every color? This cardigan is that perfect. A bit oversized for a nice slouchy fit. The knit is fine so treat this well. Great for work.
Date published: 2014-12-12
Rated

5

out of

5
by
Romina
from
The perfect cardigan!
This is a very versatile and wearable cardigan, made with high quality. True to size. Just wish JCrew made it in a more varied palette of colors!
Date published: 2014-12-08
Rated

5

out of

5
by
CrewFan
from
Great basic wrap for everyone!
I love the merino long cardigans. I wear this sweater mostly three months out of the year and I have several colors. They are all great. Great when you can order on sale.
Date published: 2014-12-08
Rated

5

out of

5
by
jycinnyc
from
All season cardigan
The merino wool is super soft, fine and flat, not itchy at all. The cardigan drapes nicely, I like that it's a little longer the most (covers my tush). If I could change anything, I would make the sleeves less fitted. You can't really wear anything but sleeveless or skin tight tops underneath.
Date published: 2014-12-03
Rated

5

out of

5
by
Kate
from
A timeless classic
Thank you JCrew for providing this timeless classic. It is maddening that so many cardigans out there have no buttons and contain acrylic which pills the first time you wear it. If you are tired of disposable clothing this is for you.
Date published: 2014-11-15
Rated

5

out of

5
by
Terry
from
Light weight - spring
Love the sweater style.....wish it was a tad heavier.......
Date published: 2014-11-13
Rated

5

out of

5
by
Stella
from
Perfect Weight Sweater
I now own this cardigan in four colors and can't wait to add to my collection. I wear one to the office on an almost daily basis. It is very lightweight and holds off the chill of the air conditioner perfectly without making me too warm. I purchased my first one over three years ago and it is still in perfect condition. These sweaters do not pill! I am 5'2 and 160 pounds and wear a size small in this sweater. Therefore, I believe they run slightly large.
Date published: 2014-11-12
Rated

5

out of

5
by
kimsteenwyk
from
Perfect all around!
Great sweater! The length of the arms are great, very comfortable. I picked the Safari color because it was unique and rich- love it! The quality and style are perfect. Thank you J.Crew for designing clothes that fit tall women, like me, who have trouble finding a good fit.
Date published: 2014-11-12
Rated

5

out of

5
by
Annie
from
Delightful
I received my beautiful cardigan promptly and began receiving compliments right away. It's perfect for the season.
Date published: 2014-11-06
Rated

5

out of

5
by
Leigh
from
Classy
Love this sweater. Well-made and nice length. Not the warmest sweater but perfect for work.
Date published: 2014-11-06
Rated

5

out of

5
by
Jbcmom
from
Great sweater!
I love this sweater. It's comfortable and stylish. I will be getting other colors in this sweater. It's a classic!
Date published: 2014-10-28
Rated

5

out of

5
by
Penny
from
Fashionable, classic piece
I just purchased my third long, merino wool cardigan. This season I bought it in green - a wonderfully subtle new hue that works with so much in my wardrobe. It's soft, lightweight and a classy classic - great over a tank top on warmish days and light enough to wear under blazers. I'm so pleased with it and would recommend it to anyone.
Date published: 2014-10-13
Rated

5

out of

5
by
MaryR
from
Great, versatile sweater
Great sweater - very versatile and great quality. If you are between sizes, then go down a size. I wear a 2/4 in dresses and blouses and the XS fits me best (i typically wear it unbuttoned with dresses, blouses, or tanks underneath). I have it in 6 colors since i can wear to work and casual and pretty much year round.
Date published: 2014-09-19
Rated

5

out of

5
by
cecc
from
Beautiful sweater
I own the sweater in a discontinued brown camel color, navy, and heather gray. Size medium, 5'5" 140lb 34D for reference. Medium fits great, not too snug but not baggy either. Perfect for chilly work places and looks equally nice with casual jeans or dressy pencil skirts. Length falls right past butt level, which is nice if you want some extra coverage and has a slimming effect. Pills a little.
Date published: 2014-08-27
Rated

5

out of

5
by
RWSCT
from
Perfect Everyday Sweater
The sweater reminds me of one you had several years ago that I wore in to the ground--I was so excited to see you bring it back. It is perfectly proportioned for casual wear--I bought it in 4 different colors!
Date published: 2014-05-12
Rated

5

out of

5
by
myhusbandslove
from
Perfect cardi for the office!!!!
I have this in 2 different colors. Perfect to wear at the office with a pencil skirt and cami.
Date published: 2014-05-06
Rated

4

out of

5
by
LuckyLane
from
It's a fine Cardigan--do coordinating shells!!
I purchased this in-store. It's fine; it gets the job done, but I agree with the other customers in that it's not the same quality as the forever cardigan from a few years back, which was fabulous. Nobody did merino like J Crew. I REALLY wish J crew would do a merino "twinset system:" the long cardigan with coordinating sleeveless v neck, sleeveless turtleneck and sleeveless crewneck shells, all in fitted hip-length silhouettes (The short, semi-fitted shell thing is a strange fit and makes for not-so-neat tucking.)
Date published: 2016-03-18
Rated

4

out of

5
by
VirginiaShopper
from
Classic styling
I bought basic black, in my regular size medium and am happy for the most part. A relaxed fit, nice fitted shape on shoulder line with arms not too tight and good length over the tush (I'm 5'9", so could be even longer on others). Not as happy with the 14 gauge merino wool. This is a very fine, lightweight knit and it just isn't going to hold up well to cleaning and wear. I know it's for spring, but 12 gauge would have been a better choice in my opinion.
Date published: 2015-03-05
Rated

4

out of

5
by
KRS212
from
I like jcrew's long sweaters but...
This sweater, while perfectly fine does not equal their Infinity sweater from a few years ago. I loved this sweater (have 4 of them) and wish they would reissue this - I'd buy one in every color (and more than one in black!)
Date published: 2014-07-20
Rated

4

out of

5
by
mary
from
Great cardigan
Really like this cardigan. It is a great staple for my wardrobe. The quality is also very good, much better than other store brands I have purchased. I have already recommended it to friends.
Date published: 2014-05-19
Rated

4

out of

5
by
Lovetoshop
from
Great, but not the same as before
This sweater used to have the prettiest clear "crystal" buttons. Now they are plain plastic ones. Was a little sad to see that. With that said, I love this light weight sweater. It keeps me warm in the office indoors or in the early evening when it's cool outdoors. Great that it's not scratchy though it's wool.
Date published: 2014-04-27
Rated

3

out of

5
by
LibertyRed
from
Soft layering piece but shapeless
I bought two of these sweaters, one grey and one in dark red. The colors and texture are lovely and they go nicely over a blouse. I don't like them as much as the previous incarnation of this sweater, which was very slimming even over a blouse. This newer version has square pockets, whereas the older version had the pockets hidden in the diagonal. The new square pockets tend to pooch out a bit and look a bit sloppy. Also the shape of the sweater itself is a bit too square and shapeless, and doesn't give the slimming effect the previous version did. Overall, I still like it, and find myself wearing these often.
Date published: 2015-01-13
Rated

3

out of

5
by
ocgap
from
Not the same
I recently got this cardigan in Sea Grass. The color is really lovely but the quality of the merino is so different. I kept touching it when it first came because it feel so much lighter and almost cottony. I have these cardigans from previous years and there is definitely a difference in the quality of the wool. I really love the long style cardigans and have many colors but I'm not sure how long this will last in the long run and if its real wool.
Date published: 2014-12-07
Rated

3

out of

5
by
Coco
from
boxy styling, compromised quality
length and classic cardigan styling consistent with J Crew design of this piece in previous seasons, but cut is slightly boxier through the middle, and quality/weight of merino has deteriorated. I wish I had sized down and that J Crew wasn't compromising on product, but it still is a good classic piece at an affordable price, so I didn't return it.
Date published: 2014-12-04
Rated

2

out of

5
by
SenN
from
Disappointing Quality
I ordered this cardigan in black in size small. The fit and weight are exactly what I was looking for. However, on only the second wear a button ripped off with normal buttoning leaving a hole in the sweater. I've had buttons fall off before but never this. Very disappointed.
Date published: 2016-05-15
Rated

2

out of

5
by
spring
from
Very thin
It is much thinner than what I got in the last year. The material is too thin to drape/hang well. It is clingy to my body. If it is going to be thinner than this, it could be worn in summer.
Date published: 2015-05-25
Rated

2

out of

5
by
Asia
from
Disappointing
I have a black J. Crew merino cardigan that is 7 years old, but it has never pilled-- the fabric is as smooth as it was when it was brand-new! Successive versions of this cardigan do not hold up. My oatmeal colored one has pilled so much, after only a few months, that I question whether I can continue to wear it to work! Very disappointing and not up to the quality I expect from J. Crew.
Date published: 2015-04-12
Rated

2

out of

5
by
OnlineShoppingAddict
from
light weight boyfriend cardigan
i loved this style so much i ordered it in 4 different colors, i was pleased that its a thinner weight wool making it a nice transitional piece for fall and into winter. HOWEVER, i was extremely disappointed to see after wearing my gray cardigan only once a hole forming along the seam. It appears the quality is not what i was hoping :(
Date published: 2014-09-25
Rated

1

out of

5
by
Nicki
from
Very Poor Quality
I purchased these in two colors. They were really thin and had a few loose strands. Although they were initially comfortable, the quality deteriorated quickly after each wear and they did not survive the first trip to the dry cleaners. It was very disappointing.
Date published: 2016-07-12
Rated

1

out of

5
by
Tweety
from
low quality
After wearing four times the sweater sleeves and front are pilled as if I'm wearing some old and cheap sweater.
Date published: 2014-10-29