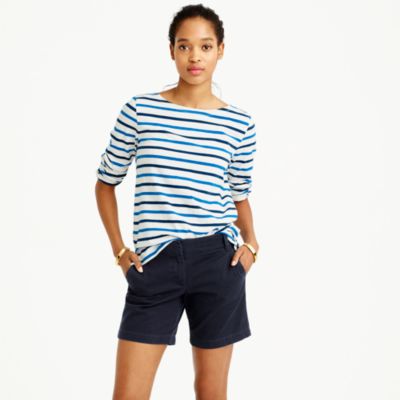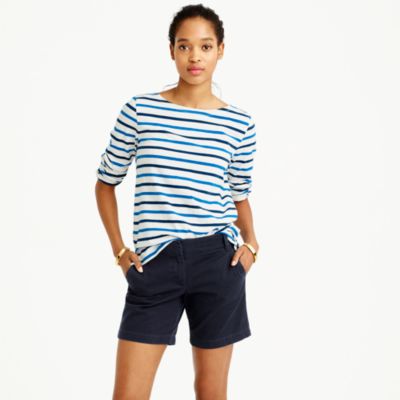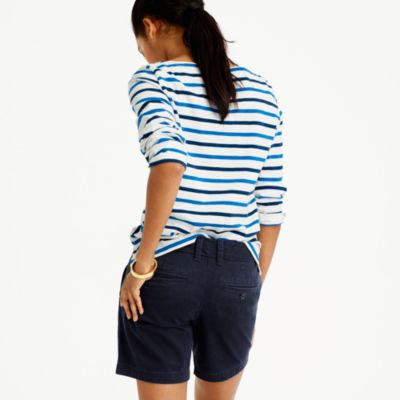 Product Details
Our classic chino short is back in a rainbow of colors and a long, polished length for more coverage.
Cotton.
Zip fly.
Machine wash.
Import.
Online only.
Size & Fit Details
City fit—our lowest rise.
Sits just above hip.
7" inseam.
Rated

4.4

out of

5

 by

141

reviewers.
Rated

5

out of

5
 by
gandb
perfect length short....
Love the 7" short. Love the fact there are so many options at J Crew with this short. It's the perfect in between length... not too short, not too long. I just would like it to be a touch slimmer in leg, but otherwise perfect!
May 13, 2014
Rated

5

out of

5
 by
AMarcoFL
My go to shorts
True to size, good quality. These are my go to shorts for the summer. I have them in several colors. 5'9" 139 lbs, size 6.
April 7, 2015
Rated

3

out of

5
 by
AmeliaIslandGirl
Different Cut
I'm consistently a 2 at J. Crew, but these shorts feel too tight. You may want to size up when buying them.
August 9, 2014
Rated

5

out of

5
 by
Joto
Classic shorts
Love these shorts. Good quality, good fit. I have thighs and often shorts are too tight in the leg, but these are not. Note about size: I am usually a size 8 in J. Crew pants but in this short, I am a size 10.
August 28, 2014
Rated

3

out of

5
 by
GoldenGal
Super cute...but they run small
Even though the length is perfect for me, they run small. I've been a solid 10 in pants from J. Crew ( 5'9/155lbs/carry weight in hips) for at least 8 years and was pretty disappointed when I tried on these shorts. They were tight in the hips and thighs.
February 16, 2015
Rated

5

out of

5
 by
sdcalgirl
Perfect Length!
These shorts are the perfect length for the woman who is conservative and yet wants to maintain style without looking frumpy. Run a bit on the small side, suggest going up a size. Look great with flats or shoes with a slight heel.
June 5, 2015
Rated

5

out of

5
 by
Lakegirl
Perfect!
i am 5'2", 110lbs and ordered a 4, I have to wear with a belt, will order the 2 next time. These are the perfect length and are great quality, I have washed and worn a couple of times
May 7, 2015
Rated

5

out of

5
 by
Hill
Summer Staple
I bought these shorts in white, black and navy. Overall, I am very pleased. great shorts for the price. The fabric seems sturdy. My only complaint is that, all though the fabric seems thick, the white shorts are a bit on the sheer side. You can't see a nude undergarment but you can see a visible outline on the pockets. I wish the inner pockets were nude instead of white. I think that would eliminate the sheerness. The length of these is short is perfect. They look appropriate for someone in their mid thirties but not matronly. I wish they came in other other colors. Maybe some pastels similar to the 5" Chino.
March 22, 2016
Rated

5

out of

5
 by
justvisiting
Review Size 2 - Positive Review
100% Cotton/Summer 2015 I bought the 7" chino shorts in a size 2 & they run true to size. I'm 5'7"/125 lbs. I'm returning the 5" chino shorts and ordering more of the 7" length because the 7" roll to 5", so they look like the broken in boyfriend chino shorts from past years (but better fitting). Also, I like the cuffed look better than how the 5" & 7" shorts look uncuffed. Pockets are visible through the White shorts but not see-through. I don't care, I want white shorts. The Honey Brown color looks 'dirtier', not so appealing, in person than on the website. It is not the softer tan shade of years past.
June 20, 2015
Rated

5

out of

5
 by
MEGirl
Great short - not too short, not too long
Great classic short, comfy, fits well on my boyish straight body (waist & hips). I am 5'7", 122 lbs. and the size 2 is perfect.
August 25, 2014
Rated

4

out of

5
 by
HouseofSpaine
Nice shorts; color a little more faded in person
These shorts fit well but are a little snug in the waste (even when sized up...maybe that's a sign??#. Also the color is a little more faded in person #worn looking) than the appearance online.
April 28, 2014
Rated

2

out of

5
 by
Loola
Itchy. The cotton quality has gone south.
What has happened to the quality of JCrew's shorts? The fabric is itchy and feels cheap. Cotton should be soft and not scratchy! Very disappointed.
August 5, 2015
Rated

1

out of

5
 by
texasjcrewlover
Disappointment
As a loyal J. Crew customer for several years, I feel as if I have a decent insight into the decline of J. Crew quality lately, in which products have gone from wonderful to inconsistent and ridiculous. These shorts were a thorough disappointment. They are nothing like they have been in past years... they have no give, are not flattering, and could barely be buttoned. I don't know what's been going on with your manufacturers/designers lately, but I think you need to step back and take a quality check on the products you are putting out and go back to your old ways of good merchandise. I see more negative reviews than positive on your website lately and I can completely understand why. Heck, your FACTORY line fits better than this line. I'm returning all 3 pairs I bought of these until your quality becomes more consistent again. I'm not putting myself through an emotional disappointment when something that is my size doesn't fit just because J. Crew doesn't have it together.
August 18, 2015
Rated

5

out of

5
 by
KMVP
Love them!
I am very pleased with these shorts. The size 2 was perfect for me at 5'4 and 115-120. Quality is great as usual and I was happy to order classic colors of gray, white and navy. I also got the 'khaki' color but was disappointed that the color is darker and uglier than it looks online. I returned it. Overall very happy. I wish the fit was just a tad slimmer in the leg portion, but that might be more because I am on the shorter side.
May 15, 2015
Rated

5

out of

5
 by
Annie
Nice fitting
These shorts fit well. They are made of sturdy material so don't stretch out, or pull, or twist. I got the white pair and they are thick enough not to be seen through.
August 7, 2014
Rated

4

out of

5
 by
Tina
Perfect shape shorts! Worst ever button substitute
I love the shape of these shorts! The quality of the fabric and the different colors are great. What is REALLY letting it down is the hook system instead of an old fashion button. The first time I hooked it on it the thing the hook hooks onto to close the shorts fell out! Already on vacation I walked around with unbuttoned shorts. I have several pair although I keep trying other (because of the button flaw) but keep coming back because the shape just fit me. All the pair have issues with the hook closure. The other ones the pieces are still in the shorts but it keeps unhooking... Pain in the backside... Well frontside I guess.
August 9, 2014
Rated

3

out of

5
 by
KMCW
Beautiful color and style but runs small
I have several pairs of J Crew shorts and pants, but these run small. I ordered the same size I usually wear but these are too snug. Bought them on final sale so can't return them. A bit disappointing.
October 3, 2014
Rated

5

out of

5
 by
chappy7
Love these shorts
I have been looking for a longer pair of shorts that look polished with a nice belt and top, but look relaxed with a simple tee. These shorts are it! The 7 inch length is perfect and they are so comfortable. The legs are not too wide so the length actually gives me a slimmer look than many others I have tried. They wash and dry beautifully. I purchased a pair in navy and in the cream color. I went back a few weeks later to grab a pair in white, green and the dark tan. For reference I am 5'5" 132 pounds and bought the size 8. Did I say I love these shorts? Thank you jcrew!
September 3, 2015
Rated

5

out of

5
 by
Lilac
Great, all round item.
Perfect shorts! I really like the way they can be ordered in a variety of lengths. The 7 inch is my choice as they are easy to wear in any situation, and can be dressed up or down.
June 1, 2014
Rated

5

out of

5
 by
Locain
Great buy
I love these shorts. The fit is true to size and the price is right! I've never bought anything from J Crew until I got these shorts in lagoon blue and they fit me perfectly. I am 5 foot 10 inches tall, weigh 140 lbs and the size 8 fits perfectly. I just wish J Crew offered these shorts in more colors. Otherwise I am a big fan of the 7 inch chinos. These will be the shorts I wear to the Kansas City Royals games!
April 9, 2016
Rated

5

out of

5
 by
chemmom
I love these shorts!
I really like the fabric of these shorts. They are not stretchy at all!!! The fabric is heavy enough weight to keep their shape but are not too clingly or snug, and the colors are vibrant and fun. The fit is "city fit" which works well for my body type--5'5'', 135 lbs. I bought one pair on sale last year and was so glad to see that they returned--so I bought 3 more pairs!
March 23, 2016
Rated

5

out of

5
 by
Jocie
The all-rounder
I needed an all round summer short that I could wear to get down and dirty in the garden or smarten up to go into town. This is perfect for everything. Short but not too short with great pockets for stuffing things in.
March 2, 2016
Rated

5

out of

5
 by
Kelly519
Perfect Shorts For Those Who Hate Wearing Shorts
I hate wearing shorts because they are usually either too short or too tight. These are perfect if you have slightly bigger thighs like me and want a pair of shorts that are flattering. I got a ton of compliments the first time I wore them. I ordered 3 colors and love them all. My new "go to" shorts for a girl who hates shorts.
September 17, 2015
Rated

5

out of

5
 by
Tennisgirl
Great quality shorts
Love these shorts! Heavier weight material which might be too warm in high temperatures. Bought them at the end of summer so have only worn them in 70 to low 80's temperatures. The dark green is like an evergreen color and matches perfectly with a J. Crew shirt I had purchased previously. I am between sizes so I purchased the larger size and they are a little snug in the waist.
September 11, 2015
Rated

5

out of

5
 by
Lilmissrph
Finally the short I was looking for
Not too short, not too long, just right. I bought a 2 and wish I had bought the 0, a little large around the waist, but shrinks up a bit when washed. I am 5'3" and 105 pounds. As a more "mature" woman, I cannot wear the short shorts and do not want to wear bermudas because they make me look even shorter. Thanks for having this option!
June 29, 2015
Rated

5

out of

5
 by
Hope
7'' will do it
I'm not a huge fan of showing too much flesh on my lower extremities, so I am glad that I discovered these shorts and another pair from J. Crew that happen to both be 7 inches. I feel very comfortable with this inseam length. I ordered my usual size 6 in J. Crew bottoms. Definitely recommend this product for those wary of shorts, but still trying to survive on hot days.
April 1, 2015
Rated

5

out of

5
 by
Nonnie23
melted caramel=perfect neutral color
I love these shorts. I have several pair of the 7" chinos, so the style is perfect for me. At first, I was a little concerned about the melted caramel color, but they look great with so many different colors...blue and white striped tee, yellow tee, pale pink tee, etc. I doubt I have anything that will not look great with these shorts!
June 7, 2014
Rated

4

out of

5
 by
Patti
Chino shorts
I purchased the red, black and grey shorts. I love the fit. No ironing if taken out of the dryer immediately. A go to apparel for weekend, travel and leisure.
February 24, 2016
Rated

4

out of

5
 by
melcat
Great Shorts
This type of item is why I shop at J.Crew - great basic. Washes well and nice cotton fabric. Waistband needs ironing at the closure to stay flat but, other than that, just perfect. I have them in khaki, white and navy. Add more colors please! Good for us who are no longer 25 and shouldn't wear short shorts. These are stylish but modest.
June 23, 2015
Rated

4

out of

5
 by
shoe
Colors aren't always as they appear
These shorts are great, as they always have been! I was so excited to order the neon seamist... despite "neon" being in the name, they look a lot like mint in the photo online, and seasmist= close to mint in my mind. I just got these are they are highlighter green! Beware. Not the look I was going for.
May 13, 2015